Well, here's a first in my illustrious (ahem) casino review writing 'career'. I am reviewing Frank & Fred before it's even live and available to the public. Never before have I been given the first glimpse of a new online casino while it's still being tested. Luckily, I'm professional enough to put privilege to one side and provide a reasoned, balanced synopsis of the gaming platform with all its various attributes and foibles laid bare. What I have found is a slick, confident and strident casino site that's well placed to make a big impression. Time will tell if it proves popular with players but the signs are positive.

Please note at the moment Frank & Fred DO NOT ACCEPT UK PLAYERS. We are assured this is temporary until they get the appropriate UK Gambling Commission license but for now no UK players are accepted.
What Does Frank & Fred Look Like?
Frank & Fred is a template for modern online casino design. It balances an excellent appearance with enough quirk to ensure its interesting without compromising user experience. This is a bold gaming platform first and foremost. The site is bedecked in a striking purple colour scheme with bold images and crisp visuals. Most of the content is direct, brash and informal, which will appeal to fans of the sort of straight-talking online casinos which are far more prevalent today than they were a decade ago. Registration is a doddle and takes just a couple of minutes. You need to input an activation code to validate your account.  Dont worry though Frank and Fred send it by both text and email. I was done, dusted and ready to play within minutes.
The blunt messaging that are littered around the site further positions Frank & Fred as a strident, edgy brand. The welcome bonus, recurring bonus promotions and loyalty scheme are all introduced in 1960s Batman style with words like Wham! Boom! and Smack! This is an online casino that uses exclamation marks enthusiastically! They're brave enough to state that 'once you're in, you'll never leave'. Time will tell if that claim proves portentous. If you were to base your decision on looks alone, however, it would be a good bet. Frank and Fred is still very much brand new at the time of writing, yet it's superbly designed. It's a gaming platform which can hold its own against some of the most visually enticing casino sites in operation like Unibet and Cashmio.
Frank & Fred Casino Games
Frank & Fred Casino have established a particularly strong relationship with NetEnt. You see the impact of those close ties in your welcome bonus, which allows you to spin the 'Wheel of NetEnt', from which you can earn up to 100 free spins on any NetEnt game. I'll revisit that bonus later, but needless to say that Frank & Fred boasts a near-complete suite of games from the Swedish software giant. It isn't all about NetEnt though. The casino boasts a mammoth selection of more than 800 slots as well as roulette, blackjack, video poker, other tables games and a decent live casino. You can count a total of 9 progressive jackpot games amongst the video slots catalogue. These include network jackpots like MicroGaming's record-breaking Mega Moolah and NetEnt's Mega Fortune and Hall of Gods.

If all that sounds fairly standard, then one aspect of the Frank & Fred games collection certainly isn't. This is the first online casino which has incorporated access to international lotto games, which you can play from the site. Players can buy tickets securely for the EuroMillions, MegaMillions, PowerBall, Euro Jackpot and loads of others. These lottery games add an interesting new dimension to what is already an impressive selection of slots and casino games. The lotto games sit in their own section of the site, and it's smartly designed to ensure that buying tickets is easy. You can easily toggle back to the casino games section too. There, you'll find some sensible subcategories to distinguish between different game types. Frank & Fred list their slots in familiar thumbnails but in a nice airy, uncluttered layout. There aren't too many filtering options at the time of writing, but that could well follow later. Let's not forget that this is a brand new online casino.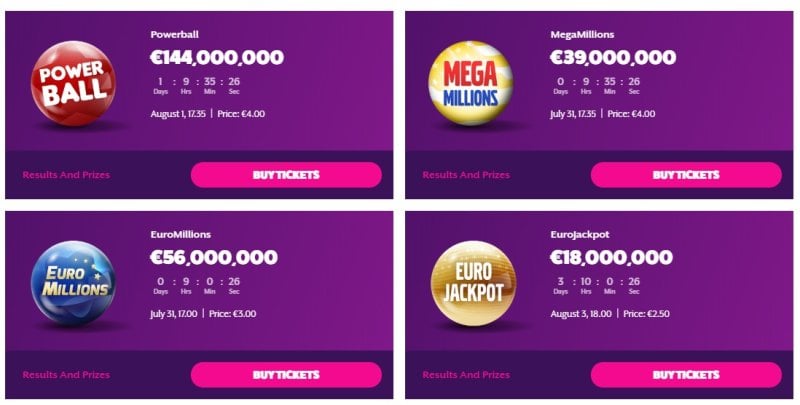 Frank & Fred Casino Bonus
The NetEnt Wheel of Fortune promotion is effectively a no deposit bonus. It's an unusual one too. The wheel of fortune concept exists as well and often rewards new players with free spins. Those bonus spins are often attached to individual games too. But it's unusual to see the wheel of fortune linked so close to one game provider and its catalogue of slots. You can win up to 100 no deposit free spins thanks to this promotion, although 10 is more realistic.
It's a good little introduction to the online casino either way. You can also take advantage of a rather more conventional bonus when you make your first deposit. You can double your money with a 100% bonus up to £100. The deposit bonus accompanied by the promise of another 200 free spins, with details of wagering requirements and other terms yet to be announced at the time of writing.
It's early days for Frank and Fred but their forthright messaging clarify their approach to bonuses. As a regular player, you can expect to receive regular offers including cash bonuses and free spins. The more you play, the further you will progress in the Frank & Fred loyalty scheme as well. The team behind the brand boldly claim that theirs is the very best loyalty scheme in the business. I can't play enough in the casino site's current beta mode to verify their claims, but I have had a gander at the structure of the VIP programme. They operate a badge system across a dozen loyalty levels. As you climb higher, your rewards increase. What I really like about this loyalty scheme is that it doesn't just reward you in bonuses and free spins (as great as they both are) but in other thoughtful and high-impact ways. When you reach the highest black badge level, for example, wagering on all bonuses is reduced to x1 only. Free spins increase in value too and you earn tangible gifts and prizes. It looks like there is substance behind Frank and Fred's bold claims. They have put plenty of effort into their loyalty programme.
Frank & Fred Casino Free Spins
We all received a bundle of no deposit free spins from the wheel of NetEnt here at 777 Casino. We'd bet that players will receive something more often than that. even if it is difficult to achieve the highest level 100 free spins on offer. Either way, you can use your free spins to settle in as a new Frank and Fred player. Plus, they don't carry wagering requirements so you may even win some real money from them too. Free spins and the casino's higher value Super Spins are an important function of both Frank & Fred bonus campaigns and their loyalty scheme. On that basis. I fully expect to see Frank and Fred use free spins in a multitude of bonus promotions when the casino site gets going. Those are the signals we have received from the Frank & Fred team.
Frank and Fred Casino Bonus Code
I signed up for Frank and Fred without a casino bonus code. However, it's early days and they may well introduce the feature when the site is fully live. Being the budding Columbo that I am, I noticed that a field that allows you to input a voucher code during registration. They may just offer exclusive, boosted bonuses to different partners and player cohorts using special bonus codes, it's impossible to say. It doesn't look like Frank & Fred is averse to the concept at the very least so I'm filing it in my 'one to look out for' tray.
Where is Frank & Fred Licensed?
Frank & Fred will open with full accreditation from the Malta Gaming Authority, which is one of the most highly respected regulators in the business. It's a license of choice for numerous online casinos operating in the European Union. The tiny Mediterranean island country has become something of a hub for the gaming and gambling industries and has developed a strong, stringent compliance network as a result. Online casinos have to work hard to secure a license form the MGA. Their authority is enough to ensure that the first players to register and hand over their details can do so with confidence. Frank & Fred will both protect your data and provide a fair gaming experience.

The casino hasn't yet secured a license from the UK Gambling Commission, which means that players based in the UK won't be able to play. We have good news though. The Frank and Fred team have assured us that they are working on it as I write and expect to achieve a UK license before too long. Not only will that permit players on British soil to play at the online casino but it will also provide further prestige for the casino site. That's assuming they pull it off of course. We're sure that they will give their credentials.
The Frank & Fred Mobile Casino
Like the web platform, the Frank and Fred mobile casino isn't yet fully live but I've been able to have to good snoop around it. It would be highly unusual for any modern online casino to launch without adapting their site for mobile devices. The mobile market is growing all the time as smartphones and tablets become more and more entrenched in everyday life. Casino games are perfect for iOS and Android devices and the standard of a mobile casino can make or break a brand nowadays.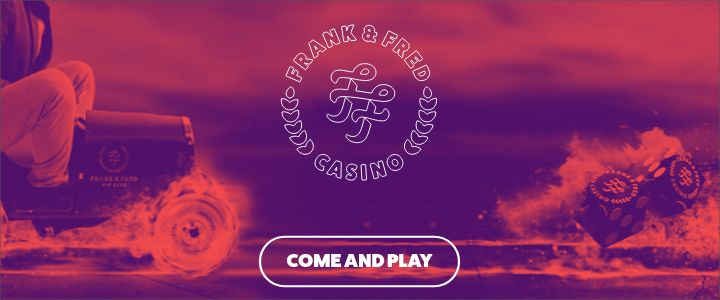 My early experiences of the Frank & Fred mobile casino suggests they will avoid any of the pitfalls. Like the web platform, the mobile casino is uncluttered and easy to use. Live chat customer support will be available from your mobile device and you can use a full cashier service. Because Frank & Fred have developed partnerships with some of the most prominent mobile game suppliers in the industry, they also provide a fantastic suite of mobile slots and other casino games which you can play on your commute, lunch break or holiday.
Our Summary of Frank & Fred Casino
It's early days for Frank & Fred, but it looks like a fine addition to the industry. The team behind the brand have done everything right. They've created an attractive web and mobile online casino which maximised game choice, usability and customer support.  The wheel of NetEnt is a quirky addition to their welcome package for new players and guarantees you a no deposit bonus too. It will be interesting to see how they develop their bonus strategy over time. The straight-talking approach of their content is a popular engagement tool these days as well. Players grew weary of unclear messaging and pages of small print. Frank & Fred seemed to have heeded the lessons of its competitors and now peers. That has given them a great chance of thriving in this notoriously competitive market. Register early before other players jump on the bandwagon.
---