It's easy to end up playing at online casinos that aren't really too different from one another. Lots of them play it safe by offering tried and tested games by reliable providers. mFortune is a different kind of online casino. Here, all of the games are created by the casino's own team of developers from Intouch Games and there are no big-name slots to be found here. However, there are some relly interesting jackpot slots to try like Cat & Mouse and Which Witch. There is also an impressive selection of bingo rooms to be found at mFortune Bingo, but more on that later.
mFortune Login
It always helps to have an online casino that's well laid out and easy to navigate. mFortune login is quite a well designed casino that's clearly intended to be accessible both for complete beginners and more experienced players. As a matter of fact, it's designed especially with mobile users in mind. If you happen to access the casino on your smartphone or laptop, you should find the experience of playing on your handheld device is smooth and seamless. There is even an mFortune app available on the Apple store and Google Play. The process of getting your mFortune player account set up takes very little time at all. Near the top right-hand corner of the screen there's a link for existing players to log in, as well as a link for new players to create their mFortune account. The registration process is quick and easy.
In terms of banking options, mFortune Casino offers deposit but phone bill, bank transfer, PayPal and also paysafecard. You will need to login to your mFortune account and select the deposit option. Should you run into any difficulties contact customer service through email or live chat 24/7 365 days a year for help.
mFortune Casino
Regulated by the Gambling Commission, mFortune Casino has been around since 2017. While it started off small, it's since grown to become an attractive online casino whose unique collection of slots should appeal to many. Some players won't like how few games there are, however it's still good to see a casino focusing on original games and not importing all the common games by the popular providers just for the sake of it. A lot of effort has gone into making mFortune a user friendly casino that even complete newbies should have no problems getting used to. The games are sorted into type-based categories (Slots, Casino and Bingo) and since there are so few games, there's no real need for filtering options. 24/7 customer support is available and plenty of widely used payment methods are accepted, with withdrawals on the faster side and the option to deposit by phone available.
mFortune Slots
One of the most appealing aspects of the mFortune casino is the slots collection. This is because the slots are developed entirely in-house and are only available at one other online casino: Cashmo Casino. The collection only includes these unique slots and no others. Players won't find slots by popular, big-name providers such as Microgaming, NetEnt or Play'n Go. There are nearly 50 slots to be found here. While the collection isn't the largest, it's certainly one of the most different and it's refreshing to come across a casino that doesn't necessarily rely on slots by the big providers to attract players.
What makes the collection of slots even more appealing is that nearly all of them have their own progressive jackpots. The slots come in a wide range of themes and are well designed. Bonus features found in lots of the slots include mini games, free spins bonus rounds and wilds. All of the casino's slots can be played on mobile devices, so you're not restricted to just playing them at home on your computer.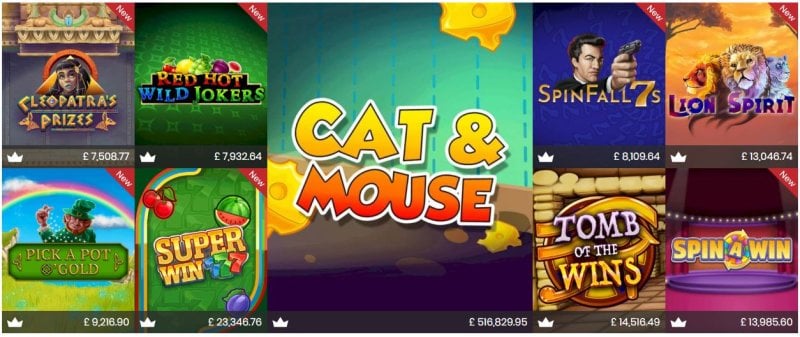 mFortune Free Spins
Free spins are available at mFortune Casino. But first things first. You can get £10 no deposit just for signing up. Your first deposit required has to be of at least £10. So long as you qualify, you'll be entitled to claim up to 100 free spins in total and up tp 200% deposit match. The way the offer works, for 10 consecutive days (the day you make your deposit, plus the nine following days). A special feature game will decide how many free spins will be credited to you. The free spins bonus can only be used on an online slot chosen by the casino. At the time of writing, the casino's chosen slot for the free spins offer is Super Win 7s. Each free spin you receive is worth 20p. The maximum amount of money you can win from this particular offer is £200. Before you can cash out, you have to play through your winnings a total of 20 times. For more free spins, there are regular bonus giveaways that you can take part in by visiting the mFortune Facebook page. Some of the bonuses given away may include free spins.
The triple bonus new player welcome bonus is as follows;
£10 no deposit bonus credit. Just create a new mFortune account and starting playing
first deposit bonus of up to 100 free spins
and 200% deposit match
mFortune Bingo
For a bingo site with a difference, look no further than mFortune Bingo. Aimed at fans of 90-ball bingo, this site has nearly a dozen rooms to offer, not to mention lively chat rooms with regular prizes and an impressive collection of slots you won't find at many other online casinos. It's well presented and laid out, so even those new to playing online bingo shouldn't have any problems.
mFortune Bingo is a great place to play if you're a fan of 90-ball bingo. However, the site doesn't seem to offer any other any other types of bingo, such as 75-ball or 80-ball bingo. There also don't seem to be any regular games of bingo with ticket prices lower than 10p. Having said that, there are plenty of regular 90-ball bingo games to play. While the line-up of bingo games could be more diverse, as it stands there are enough games to keep players entertained. The collection of slots contains a range of titles not found at many other online casinos and bingo sites. There are nearly 50 slots to be found here and most of them have their own progressive jackpot.
Like mFortune Casino, m Fortune Bingo also has a great first deposit bonus. New players depositing just £10 will get £20 free bonus to play on Big Bingo Room Jackpots or the regular bingo rooms. The mFortune online bingo bonus credit is 200% up to £100.
Fortune Bingo
The big question, is it mFortune Bingo or Fortune Bingo? Its an easy answer… Since there is no such company called Fortune Bingo. We looked high and low and couldn't even find a company which used to be called Fortune Bing. We can therefore safely say its definitely mFortune Bingo (also not m fortune bingo). So if you have gone and typed in Fortune Bingo by accident, or perhaps you were just lazy, Fortune Bingo is, in fact, mFortune Bingo. There you have it – conclusive "proof" that there is only a great online bingo site called mFortune Bingo.
mFortune Bingo Login
The mFortune Bingo login and website is well laid out and designed. It's easy enough for newbies to find their way round and get themselves signed up. To become a member of the site, you simply need to click on the 'Join' button in the top right-hand corner of the main page. Then, just fill out the registration form, which requires you to enter some basic personal details and contact information. With this done, your account should be created. The whole registration process only takes a few minutes. Before you can start gambling with real money, you'll have to link a payment method to your account; there are several options to choose from.
The site's layout is quite tidy and there's never too much clutter getting in the way. Finding your way round is easy enough and there are plenty of useful links to different sections of the site at the bottom of the main page. At the top you'll find links to the most important sections, including the promotions page and the banking page. Withdrawals are fairly fast and there are no charges for making transactions with any of the site's accepted payment methods. Customer support is conveniently available round-the-clock and you can get in touch by phone, email or live chat.
mFortune Bingo App
The mFortune Bingo app offers just about everything you'll find on the desktop site. It's designed to be fully responsive on a wide range of mobile devices and can be downloaded onto smartphones and tablets that run on the iOS or Android operating systems. It offers a seamless, hassle-free mobile bingo experience that's sure to appeal to many bingo fans. Download the mFortune mobile app onto your device takes very little time at all and if you've already signed up, you'll be able to sign in using your current username and password straight away. The mFortune brand is keen to offer the same convenience and quality for mobile users as it does for those who play on their desktop computer or laptop.
mFortune Online Bingo
At mFortune online Bingo, there are a total of 11 bingo rooms, all of which are themed after precious stones. There's the Amethyst Room and the Sapphire Room, for example. All of the site's bingo rooms offer regular games of 90-ball bingo only, with ticket prices starting from as low as 10p. For most bingo rooms, you'll pay 10p for a single bingo card and 60p for a strip of six. For the Diamond Room, however, a single card costs 25p, while a strip of six costs £1.50.
There are also some chat rooms where you can socialise with other players, ask mFortune online Bingo chat admins for help or even take part in quizzes that have loyalty points and other prizes to be won. When playing bingo, you'll win for matching one row of numbers on a card, two rows of numbers and all three rows (this is a full house). Each bingo room also has its own progressive jackpot that grows whenever someone buys bingo tickets for that particular room. Each of these jackpots is won whenever someone manages to match all 15 numbers on their card in 35 calls or fewer.
mFortune Bingo is a pretty impressive bingo site, though it does have some areas it can improve on. Most bingo sites these days offer several versions of the game and regularly have tickets costing just 1p or even nothing at all. mFortune Bingo, however, only offers 90-ball bingo and has ticket prices starting at 10p, though there may well be cheaper or even free tickets given out as part of promotional offers. The site offers 24/7 customer support, fast withdrawals and a selection of rarely found slots, most of which come with their own progressive jackpot. On the whole, mFortune Bingo is worth checking out – if you're using a handheld device, try downloading the app.
mFortune Loyalty Shop
The mFortune Loyalty Shop is the casino's loyalty scheme. It rewards you for playing the casino's bingo games only – you won't benefit from the loyalty scheme if it's only casino games you play. For every £1 that you spend on bingo games, you'll have two loyalty points credited to your account. Once you've earned enough points, you can spend them at the Loyalty Shop, which has electronic devices, special gifts, experience days and e-vouchers available to exchange for points. You can also cash in your points for bonus money to spend on the casino's games.
The value of prizes you can purchase at the Loyalty Shop is limited to no greater than three times the sum of money you've deposited into your casino account in the last month. If you haven't made a deposit in the last month, you can't make purchases worth more than £10. If more than 90% of your spending at mFortune Casino has been on bingo games, the maximum value of your Loyalty Shop purchases is equivalent to three times the total amount of money you've deposited since setting up your account.
Thanks to mFortune Bingo's Loyalty Shop, the more you play the more you win. As you spend real money at the site, you'll earn loyalty points. Earn enough of these points and you'll be able to exchange them not only for bonus money, but also for prizes such as experience days, electronic goods and e-vouchers to use at a range of leading online brands.
mFortune Reviews
mFortune Casino is a refreshing online casino that offers something different. It's an ideal casino for anyone after something new. What's most appealing about this casino is, of course, its collection of nearly 50 slots with progressive jackpots which can only be found at one other casino. Another plus is that the casino is designed to be mobile friendly, with all its games compatible with mobile devices. Though the overall number of games isn't too high, the casino is still very much worth checking out, especially if you're keen to try out some exciting new games you won't have played before.