100 Chances to Win the Mega Moolah Jackpot at Captain Cook's Casino
Register with Captain Cook's Casino and they promise to take you on a voyage worthy of the 18th Century explorer himself. He is best known for being the first European to stumble upon Australia and New Zealand of course, but the online casino that bears his name are setting sail for the African Plains of Mega Moolah. They're offering all new players 100 chances to win the jackpot on the world famous, safari-themed progressive jackpot – all for a mere £5 stake. Does it sound too good to be true? Let's take a closer look.

Deposit £5 and receive £25 Back at Captain Cook's Casino
This is an eye-catching promotion that has generated plenty of headlines. There aren't many online casinos who will offer players the chance to play a progressive jackpot game as part of their welcome package. It's a unique offer that Captain Cook's Casino have been widely trumpeting – and rightly so. We've registered ourselves to take a closer look at the package and it isn't quite what it seems – but in a positive way.
This is actually a 500% cash bonus for a deposit of just £5. You deposit your fiver and you receive £25 extra to play with, which translates into 100 spins of Mega Moolah. Naturally, we headed straight for the jackpot game and started spinning but we noticed that we had a cash balance rather than a set number of free spins. Having contacted customer service, we can confirm that you can use your £25 on any game you wish. What great marketing to attach the offer to a slot as famous as Mega Moolah, but this welcome bonus is even better than you thought.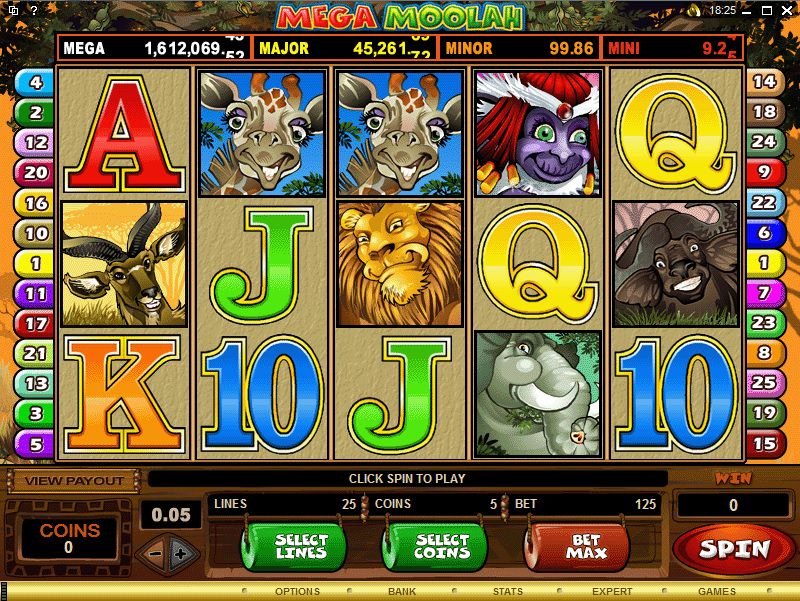 Could You Win the Jackpot on Mega Moolah?
That's not to say that you will necessarily want to use your bonus on a different slot. Mega Moolah is a sensible choice. This world-record breaking slot offers four different jackpots – the Mini, Minor, Major and Mega. The Mega Jackpot never dips below £1 million and is frequently much more. It is responsible for the largest payout from an individual spin in history (depending on how you view exchange rates). Soldier Jon Heywood won £13.2 million in 2015, becoming an instant multi-millionaire.
Could you really win the jackpot using bonus money? It's not easy of course – if it was we would all be rich. But as of January 16th 2017, there is a precedent. A player hit the Mega jackpot while playing in the Captain Cook's mobile casino, pocketing a cool €6,078,249.33 from a single 50 cent stake. It's a handy reminder that the jackpot must fall some time – and some lucky sod has to win it. Unlike other games, you can qualify to win the big prize no matter how much you stake, although betting more increases your chances. Read our Mega Moolah review and guide for more.
The Captain Cook's Casino Welcome Bonus
So, we've established that the Captain Cook's Casino new player promotion is essentially a 500% bonus for a £5 deposit. This is just the first part of the welcome package, however – there's plenty more to come. You get further bonuses with your next four deposits at this experienced online casino. The treats are shared as follows:
Deposit 1 – 500% bonus up to £25
Deposit 2 – 100% bonus up to £100
Deposit 3 – 50% bonus up to £150
Deposit 4 – 25% bonus up to £125
Deposit 5 – 100% bonus up to £100