Blackjack is a card comparing game that pits you against the dealer. Your objective is simple: to get closer to 21 than the dealer, but without going over 21. This game is hugely popular at both land-based and online casinos. What makes it such a big hit with players is that it involves some strategy and decision-making, but it's still easy enough to play and isn't too challenging.
Some casino games, such as roulette, are entirely based on luck. When playing roulette, for example, there's nothing you can do to influence the outcome of each spin of the wheel. With blackjack, your decisions and actions do indeed affect the game's outcome and this is what makes the game appealing to many players.
For those living in the UK, online blackjack is very easily accessible. The number of online casinos UK players can access is very large indeed and the vast majority of them have at least a few blackjack games to offer. You won't struggle to find somewhere to play blackjack online, but deciding on a site to play at can be tricky, especially since there are so many to choose from.
If you're new to blackjack, you'll be pleased to learn that most online casinos let you play for free. Once you've set up an account, you should be able to try out most of the blackjack games (except live ones) in demo mode, where virtual money is used instead of actual money. You can't win or lose anything, but you can get as much free practice as you want.
When it comes to finding the right online casino with blackjack games for you, the most important thing is that you only ever sign up to casinos that are licensed. If any kind of gambling site has a licence, this means it's been checked over and given the go-ahead to operate by a third-party regulatory authority; in other words, it's safe and can be trusted. You should find evidence of a licence near the bottom of each web page. This can include the regulatory authority's seal or some text explaining where the casino is licensed. If you come across a site that doesn't have proof of a licence anywhere, it's best not to sign up. Thankfully, most online casinos are licensed.
It's a good idea to read reviews on our site and see which sites are highly rated. Then, come up with a list of possibilities and compare what they have to offer. Take into account things such as the line-up of blackjack games and what other games the casino has (slots, table games etc.), what payment methods can be used, how reliable the customer support is, what promotions and bonuses there are and what the mobile compatibility is like, for example.
There are thousands of online casinos and new ones are launching all the time. There's bound to be a casino that suits your needs and offers you everything you want. Take some time to find one that ticks all the boxes – just remember to avoid the ones that aren't licensed.
How To Play Blackjack
Blackjack is classed as a card comparing game, which is a type of game where hands of cards are compared and the higher your hand ranks, the better. As mentioned elsewhere, in blackjack you play against the dealer and whoever ends up with the hand that's closest in value to 21 wins the game. Each game can result in one of three outcomes: a player win, a dealer win or a tie.
During gameplay, it's possible for you or the dealer to have a hand worth more than 21 (this is called going bust). The number of standard decks of cards varies from one blackjack game to the next. Most, however, use six or eight decks shuffled together. The way the card are ranked is as follows:
| | | |
| --- | --- | --- |
| Card | Value | Alternative Value |
| Ace | 1 | 11 |
| Number Cards | Face Value | |
| Face Card (J,Q,K) | 10 | |
The ace's value can change depending on what your other cards are. For example, if you have a 10 and an ace, you would value the ace at 11 to get 21. If you have a 10, 5 and an ace, the ace would be worth 1 so you don't go bust.
You and the dealer are dealt two cards each. One of the dealer's is face-up for you to see; all other cards are face-down. You get to act first and can carry out certain actions to potentially increase the value of your hand. When you're done, it's time for the dealer to act. Unlike you, the dealer has to follow set rules about what they can and can't do with their hand. Once the dealer's done, if nei-ther player has gone over 21, whoever is closest to 21 wins.
The blackjack as a game has many rule variations. So, depending on where you play, you do want to check what rules the online casino is enforcing. As with many games, the possibility for playing blackjack online brought a great boom to the gaming industry. The same happened to the blackjack. People nowadays enjoy the game from their home or on the go through their mobiles. Parallel to that availability, different variations of the game started occurring. Now there are online blackjack games that can suit anyone's budget, or you can even play for free.
Just before we jump on the various blackjack games, besides the primary playing process, what you should also know are two terms – hard and soft hand.
Hard hand – this happens when your two-card total does not include an ace. It is defined like this because the total consists of the risk for a bust. However, the right thing here is that in the game, this is soft as no matter what card you pull out next, there is no risk to be bust;
Soft hand – opposite to the hard side, where the two-card total involves an ace. The risk for a bust here is minimised.
Types Of Blackjack Card Games
What's great about online casino games is that they have all sorts of different versions. Blackjack is no exception. There are dozens of blackjack variants you'll find at online casinos. Some are more common than others. Most casinos offer the standard, traditional version of blackjack and at least a few variants. What makes variants appealing to players is that they bring new features to the game, such as extra side bets you can place, different rules about how the game's played and so on. Some of the main blackjack variants are listed below:
Multi-hand Blackjack – players can play up to five hands at one time after which they choose the number of hands they play;
Blackjack Super 7s – there are individual table slots where you place a chip, and you will be paid if the first dealt card is 7;
Atlantic City Blackjack – similar to the classic blackjack, with the moment where payout rates and basic rules have a slight differentiation from the original;
Double Exposure Blackjack – same to the classic blackjack game, with the only but big difference where the cards are dealt face up.
Single Deck Blackjack. This is a blackjack variant that's played with a single deck of cards.
Spanish 21. This blackjack card game is played with six or eight decks of cards and all 10s removed, so there are 48 cards per deck. If you get 21, whether it's a natural or not, you always beat the dealer, even if they have 21 too. You're also allowed to double down after splitting.
Blackjack Switch. When playing this blackjack variant, you play two separate hands with bets of equal size on each. You have the option of switching the second card of each hand, which can improve the ranking of both hands and help you win.
Super Fun Blackjack. With this variant, you're able to split a single hand a maximum of four times. There's a special rule that gives you a win if you have six cards in your hand and the combined total of them is 20 – you win even if the dealer has 21.
Although blackjack can be easily understandable, new players (or even players who haven't been playing for some time) would love to practice free online blackjack, before setting up real money on the table. Being quite a favourite game, the probability of visiting an online casino where there will be the option to play for free is huge. More prominent providers would also have mobile apps, allowing you also to play free online blackjack on the go.
The aim of the free blackjack game is precisely the same as when you play online blackjack for real money. To acquire a blackjack, you will have to make the dealer to go bust or to obtain cards which score is as close as possible to 21. Due to the simplicity of the game, many of the online casinos would not even require any download before they allow you to play for free (unless of course you prefer playing on their mobile apps). Depending on the online casino you will decide on, a variety of 'Play Now' will be available in the free blackjack game section. You would have to press Sit Down, after which you will be able to Place your Bet. Once the cards are dealt, you would have to decide what will be your next move (asking for a new card or 'stand,' i.e. call the dealer) and wait for the outcome. As with any other game, we always recommend trying some free turns. Will help you get more comfortable with the game, and maybe even give a try to something different from the classic type of blackjack.
Online Blackjack vs Live Blackjack
When you visit an online casino, there are two types of blackjack games you can play. First, there are standard online games, which are fully animated by computer. Most of the blackjack games you'll find at online casinos belong to this category. These games are designed with realistic and immersive graphics to make it look like you're playing at a gaming table in a land-based casino, even though you're at home on the computer. A random number generator is used to shuffle the cards and determine the order they're dealt in.
Then there are live dealer games. These are real-life games where an actual croupier deals the cards, oversees the game and keeps everything running smoothly, just like in a land-based casino. The game takes place in a TV studio or gaming venue and is filmed in real time. All players who have decided to play the game get to watch a live casino broadcast of it. They can interact with other players and even the croupier through a text-based messaging interface.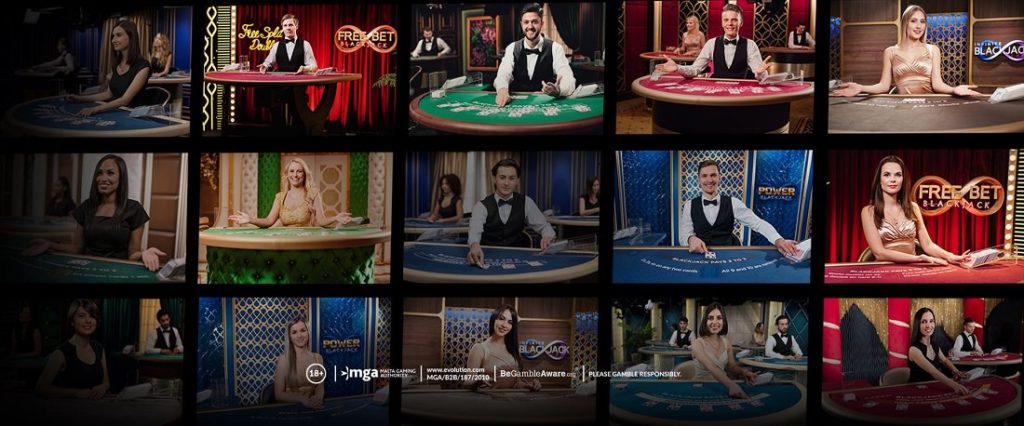 With live blackjack online, you bring the game to another dimension. You can sit home and enjoy the comfort of your environment, while still sitting opposite to a real dealer and enjoying the overall casino atmosphere. And as you can assume, with the technology advancement and players' demand, many online casinos try to bring this unique experience directly to their platforms. But in our case, we would like to discuss two of the top live blackjack providers, NetEnt Live and Evolution Gambling.
In the NetEnt situation, counting on the classic casino feel and experience, their live blackjack is filled with beautiful graphics, as well as an innovative, user-friendly interface. A wide range of table limits are available, all supported with crisp streaming quality and real-time interaction. Also, they offer table statistics and on-screen history of dealer's last ten rounds. With this approach, they make sure players have a positive experience, and more importantly, those same players want to come back. Evolution Gaming, on the other hand, plays on the card to have live blackjack as fast as the player wants to have. They make sure that everything is correctly optimised to the smallest details, so no matter if you play on smartphone, tablet or desktop, you will have the optimum experience. They praise on having the largest live tables selection, and special tabled dedicated exclusively for any operator. When you add the true added-value features like Side Bets, Pre-Decision and Bet Behind to all this, you can be sure you are in for a good game.

Both of these are online games, so if you're going to play either one, the device you're on needs to have a steady and secure internet connection. Both games are worthwhile: online ones are good for beginners, especially since they can be played for free; live ones tend to have higher minimum bet sizes and are more fast-paced, interactive and sociable. You should try online blackjack games first to get used to how blackjack works before trying out live dealer games.
How To Win At Blackjack
Winning at blackjack is straightforward: get closer to 21 than the dealer. You have a chance of win-ning right at the start of the game once you receive your first two cards. If these are an ace and any card worth 10 (a 10 or a face card), your hand is worth 21 and you win so long as the dealer's hand isn't also worth 21. If you win on your first two cards, this is called a natural blackjack, or just a black-jack. The dealer only has one card face-up; if you have 21 with your first two cards, or if the deal-er's face-up card is an ace or a card worth 10, they check their other card to see if they have 21 themselves.
It's also possible, of course, to win at the end of the game. To do this, you need to have a hand of two or more cards that's closer to 21 than the dealer's hand. As previously mentioned, the game may also result in a tie or a loss. When playing blackjack, it can be quite risky as you want to get as close to 21 as possible, and yet you don't want to take too much of a risk because just one card can put you over 21 and make you lose the game. That element of risk is what makes blackjack fun to play and an exciting game to take part in.
Best Blackjack Bonuses
When it comes to choosing the best black bonuses, certain appearances can be deceiving. You don't want to start using a website just because the bonus looks good, only later on to figure it out that they had site issues, problems with a payout, etc. A little bit of reading before you dedicate yourself to one (or few) online casinos would not be sure. Security, reputation, game selection, bonuses, and promotions are just a few indicators by which you should select your provider.
What fellow players are saying is that 777 is the best blackjack casino for real money, while Mr Green is the number one in tops casinos with live blackjack games. We are sure the following live casino sites will be able to hold your attention which providing a top live casino gambling experience. Keep an eye on the full terms and conditions as some of the welcome bonuses reduce the wagering contribution when playing table games like blackjack.
Blackjack Rules
In this section we'll have a more in-depth look at the rules of blackjack and gameplay of blackjack. When the first cards are dealt, yours are both face-up and the dealer gets to check their face-down card to see if their hand totals 21. If one player's two cards add up to 21 and the other player's cards don't, the player with 21 wins. If neither player has 21, you get to go first and there are several actions you can perform:
Hit. This simply means you get dealt one extra card.
Stand. If you stand, you agree to receive no more cards and effectively end your turn.
Double Down. Should you decide to double down, you place a new bet equal in size to your original bet, then you hit to receive a new card, and then stand.
Split. This option only becomes available if your two cards are of the same rank (e.g. 9 and 9). If you decide to split, you place a second bet equal to your first and split your hand in two. Each new hand then receives one additional card. You continue to play with two hands instead of one. In some games, you're not allowed to double down after splitting.
Surrender. Only some blackjack games offer this action. You can only surrender immediately after the dealer has checked their face-down card to see if they have 21. You lose half of your bet and quit the game.
You keep on playing until you decide to stand (or double down) or your hand goes over 21. When it's the dealer's go, first of all they reveal their face-down card and the value of their hand is added up. Then, they get to hit or stand depending on how much their hand is worth.
Blackjack Dealer Rules
In most blackjack games, the dealer must keep hitting until their hand is worth 17 or more, or goes bust. If the dealer's total of 17 is soft, rules differ. If a hand contains an ace valued at 11, it's soft. You can add an extra card to this hand and avoid busting by changing the value of the ace to 1. A hand is hard if it doesn't contain any aces, or it contains an ace that has to be valued at 1 and not 11 otherwise you'd go bust.
A soft 17 is a hand containing an ace valued at 11 and a 6. If the dealer has this hand, sometimes they'll be required to hit, sometimes they'll have to stand – it varies depending on the blackjack game you're playing. The dealer can't double down or split.
As well as the main bet, there's the optional insurance bet. You only get to place this if the dealer's face-up card is an ace. Should you place this bet, it pays out if the dealer's face-down card is worth 10 (i.e. is 10, J, Q or K) and the dealer gets 21.
If you win, you're paid 1:1 on your initial bet, though this increases to 3:2 if you win with just your first two cards. If you lose, your bet is forfeited. Should the game result in a tie, your bet is returned to you. If you place an insurance bet and it wins, you're paid 3:2 on it.
Blackjack Strategy
In any game where you make decisions, there are strategies that can hep you win. These strategies get you to think more carefully about the decisions you make and your playing style in general. One of the strategies most commonly associated with blackjack is card counting. This is a practice where you keep track of which cards have been played and which ones are in the shoe (where the cards are kept) still to be played. In online games, this isn't possible because blackjack games typically have the cards shuffled after every round.
If you're in a game where you have a soft 17, you may be tempted to stand and keep your hand as it is. However, statistics show that you have a slightly better chance of winning if you hit instead of standing when you get this hand.
There are also some betting strategies you can use. These get you to adjust the size of your bet from one game to the next so that, by the time you've finished a session of games, you should hopefully have made a profit. The Oscar's Grind system, for example, has you start off with a bet of one unit. If you win, the bet size increases by one unit; if you lose, it stays the same. Eventually, you should end up with a profit of at least one unit. The Martingale strategy is also worth mentioning. This is similar, though it requires a significant gaming budget as you have to double your bet after every loss, though after a win you reset it to its original value.
How To Use A Blackjack Strategy Chart
Using a blackjack basic strategy chart is very easy indeed. Below are three examples of basic strategy cards. All are used for a game played with four to eight decks where the dealer hits on a soft 17 and doubling after splitting is allowed. The first is for when you have a hard total (not counting pairs), the second is for when you have a soft total and the third is for when you have a pair. Note that in the section for the dealer's face-up card, the 10 covers the cards 10, J, Q and K.
Hard Totals (Not Counting Pairs)
Player's Hand Total
Dealer's Face Up Card
2
3
4
5
6
7
8
9
10
A
18-21
S
S
S
S
S
S
S
S
S
S
17
S
S
S
S
S
S
S
S
S
Us
16
S
S
S
S
S
H
H
Uh
Uh
Uh
15
S
S
S
S
S
H
H
H
Uh
Uh
13-14
S
S
S
S
S
H
H
H
H
H
12
H
H
S
S
S
H
H
H
H
H
11
Dh
Dh
Dh
Dh
Dh
Dh
Dh
Dh
Dh
Dh
10
Dh
Dh
Dh
Dh
Dh
Dh
Dh
Dh
H
H
9
Dh
Dh
Dh
Dh
Dh
H
H
H
H
H
5-8
H
H
H
H
H
H
H
H
H
H
Soft Totals
Player's Hand
Dealer's Face Up Card
2
3
4
5
6
7
8
9
10
A
A,9
S
S
S
S
S
S
S
S
S
S
A,8
S
S
S
S
Ds
S
S
S
S
S
A,7
Ds
Ds
Ds
Ds
Ds
S
S
H
H
H
A,6
H
Dh
Dh
Dh
Dh
H
H
H
H
H
A,5 or A,4
H
H
Dh
Dh
Dh
H
H
H
H
H
A,3 or A,2
H
H
H
Dh
Dh
H
H
H
H
H
Pairs
Player's Hand
Dealer's Face Up Card
2
3
4
5
6
7
8
9
10
A
A,A
SP
SP
SP
SP
SP
SP
SP
SP
SP
SP
10,10
S
S
S
S
S
S
S
S
S
S
9,9
SP
SP
SP
SP
SP
S
SP
SP
S
S
8,8
SP
SP
SP
SP
SP
SP
SP
SP
SP
Usp
7,7
SP
SP
SP
SP
SP
SP
H
H
H
H
6,6
SP
SP
SP
SP
SP
H
H
H
H
H
5,5
Dh
Dh
Dh
Dh
Dh
Dh
Dh
Dh
H
H
4,4
H
H
H
SP
SP
H
H
H
H
H
3,3 or 2,2
SP
SP
SP
SP
SP
SP
H
H
H
H
These charts might look confusing at first, but using them is easy enough. The letters in the charts correspond to the following actions:
S = Stand
H = Hit
Dh = Double down (if this isn't allowed, hit instead)
Ds = Double down (if this isn't allowed, stand instead)
SP = Split
Uh = Surrender (if this isn't allowed, hit instead)
Us = Surrender (if this isn't allowed, stand instead)
Usp = Surrender (if this isn't allowed, split instead)
To help you get used to how these charts work, we'll give you a few examples. Let's say you have a hand worth 18 with no aces (so it's a hard hand) and the dealer's face-up card is a 7. According to the hard totals chart, your best move would be to stand. If you hit or double down, an extra card is likely to put you over 21.
Now we'll look at the soft totals chart. Let's say your hand is a soft 17 (a 6 and an ace that is counted as 11 but can be counted as 1). The dealer's face-up card is 5. According to the chart, your best move would be to double down, i.e. double your bet, hit then stand. However, this may not be allowed in some games, so the alternative would be to hit instead.
Finally, to give an example from the pairs table, let's say you're dealt your first two cards and they're both 7s. The dealer's face-up card is 8. Therefore, you would hit.
Blackjack Basic Strategy
The main strategy people use when playing blackjack games is the basic strategy. The way this works is as follows: there's a chart that shows what moves are the best ones to make depending on your hand and the dealer's face-up card; you simply consult the chart to see what your best move is and make that move. A typical blackjack basic strategy card is split into three sections: one for hard hands (not counting pairs), one for soft hands and one for pairs.
There isn't just a single basic strategy chart that covers all possible variations of blackjack. In fact, there's a chart for each an every different version of blackjack out there. Most of the instructions you'll find in the tables are the same across all versions; it's actually only a small number of recommended actions that differ from one chart to the next.
If you use a basic strategy chart, the moves it tells you to make are the best ones, statistically speaking. However, even if you use one and follow all its instructions, there's still a chance you could end up losing.
For those who are new to blackjack, using basic strategy is a good way not only of boosting your chances of winning, but also of helping you get used to the game and how it works. By using basic strategy, you'll learn what the ideal move to make in any situation is. Some of the more advanced players memorise basic strategy tables; others have them within easy reach (loaded up in a separate tab or even printed out on paper, for example) so they can consult them whenever needed.
If you're playing blackjack for real money and you're keen to make a profit, you should definitely use basic strategy. By doing this, you'll be giving yourself the best possible chance of making a return on your bet.
Blackjack Cheat Sheet
When playing online blackjack, you can't just sit back and relax – you have to get involved and make some decisions. You have to think carefully because most decisions come with risk. For ex-ample, if you hit the one extra card you receive could take your hand over 21 and put you out of the game. Therefore, it's worth keeping your wits about you and taking a sensible approach when-ever you play. Below are some general tips that you should consider:
Be familiar with the game you're playing. Before you start playing a blackjack game at an online casino, have a look at its paytable to see what the rules and payout rates are.
Stick to your budget. When you're playing any kind of casino game with real money, it can be tempting to keep spending. That's why it's important that you come up with a budget and stick to it. Before you start any gambling session, set aside some money you can afford to lose and once you spend it all, quit playing for now and do something else.
Don't place the insurance bet. Another useful tip is to avoid placing the insurance bet. Though it has a decent payout rate of 3:2, the actual chances of this bet winning aren't that good.
Don't try to count cards. When playing online, counting cards is just a waste of time that won't get you anywhere.
Play games with fewer decks. Blackjack can be played with one, two, four, six or eight decks of cards. The more of these there are, the lower the RTP is. RTP is a measure of how much of your money, on average over long-term play, a game should pay you back; the higher it is, the better. The blackjack games with the highest RTPs are played with just one deck of cards.
There is no way to 'cheat' at blackjack. The game may require decision-making and strategy, but it's also got an element of luck to it and this means that no matter what moves you make, there's always a chance you'll lose. The strategies and general tips mentioned above are worth taking into account so that when you play blackjack, you'll make more sensible decisions and will have a bet-ter chance of winning.
FAQs
What is the best blackjack strategy?
The main strategy people use when playing blackjack games is the basic strategy. Its easy to follow and minimises losses.
What are the top tips for blackjack?
1. Know the blackjack game you are playing.
2. Don't place the insurance bet.
3. Don't try to count cards.
4. Play games with fewer decks.
Should i stand on a soft 17?
If you have soft 17 you should always hit regardless of what the dealer shows.
What is the house edge in blackjack?
If using the basic strategy the house edge is approximately 0.5%