21 Casino first launched in 2012 as part of the Caddell Group. It's a casino that keeps everything nice and simple, eschewing flashy gimmicks in favour of a gaming experience that's as smooth as a beached pebble. It's long held a UK gambling license and offers a secure, safe, and heavily vetted environment where you can play a fine selection of games. Throw in some excellent bonus promotions including 21 no deposit bonus spins for new players and all the foundations are in place. But does 21 Casino build on them to become a true player favourite?

How Does 21 Casino Look?
There's something wonderfully reassuring about an online casino that isn't afraid to keep it simple these days. But you know what? So many sites are obsessed with the 'novelty' value that they failt to appreciate that any casino that creates a seamless gaming experience is pretty novel anyway. Not so 21 Casino. Its interface is so intuitive that you'll forget you're playing at a new casino within five minutes of signing up. Plus, the casino looks great to boot.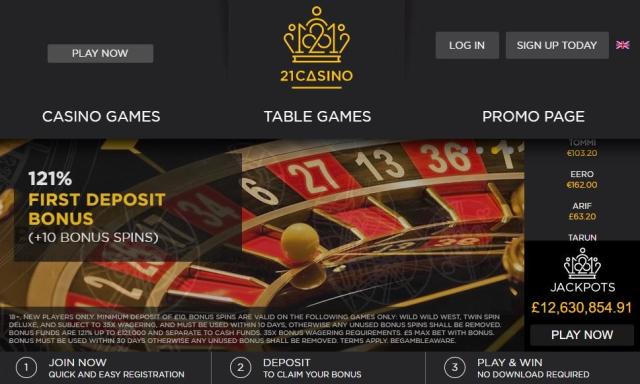 It uses a predominantly black colour scheme with a splash of yellow and white, including a chalkboard background. It's classy that design that blends a classic layout with a contemporary appearance. The games section is typically sleek, featuring tidily ordered games above a white grid, with several filtering options neatly arranged above them. The homepage is similarly uncluttered. It features a large but unobtrusive banner across the top, links to key sections via top and side menus, as well as a couple of other promo advertisements. Whatever the opposite of garish is, 21Casino is it.
Is 21 Casino Easy to Use?
The 21 Casino registration process takes about 1 minute 34 seconds from start to finish. Yes, we timed (we're sad like that). You're asked to select a username & password, share a few basic contact details and then verify your account via an emailed link. You're then ready to claim your welcome bonus (should you want it) and start playing. You get an adequate (if basic) user portal, which tells you your current cash balance, bonus amount and tracks your progress against any wagering requirements. The site is efficiently well laid out so key sections are easy to find. You will, however, need to scroll down to the bottom of the page to find detailed information about the 21Casino's terms and policies but that's it's hardly hassling. Especially given that most people don't read them.
The games section features some interesting filters. You can browse the whole collection of course, but you can also display video slots vs classic slots, for example. Or only display the slots with the biggest jackpots if you prefer. We can't make up our mind how useful it is, but it's a clear attempt to do something a bit different. The 'promo' section causes similar ambivalence. We assumed that it would filter down to the games currently subject to bonus offers. That's not quite the case – it actually shows the latest releases and most popular slots. It's still a good place to go if you're looking for quick ideas though.
Which Games Can You Play at 21 Casino?
21 Casino features hundreds of games from 16 different providers. The big boys like NetEnt and MicroGaming are there of course, but there's a nice selection of games from some of our favourite smaller studios like Aristocrat and Elk. The slots catalogue is really impressive once you delve into it. The video slots are supplemented by a small selection of jackpot games including NetEnt's three biggest progressives – Mega Fortune, Arabian Nights and Hall of Gods. MicroGaming's Mega Moolah is, however, conspicuous by its absence. We know a lot of you love that one.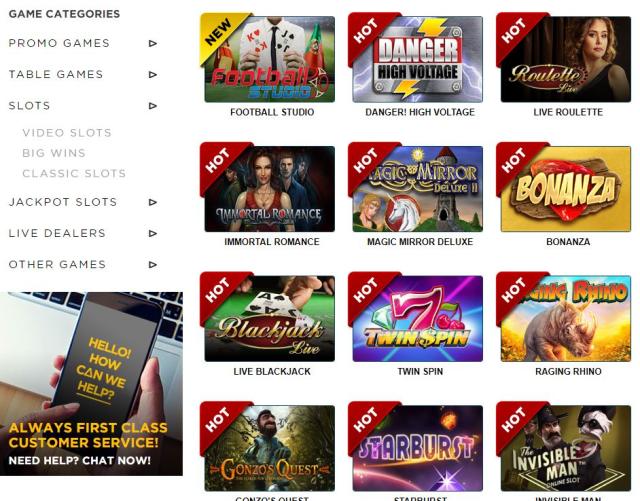 Moving away from slots, 21Casino boasts a diddy live casino with five different games. Most gaming sites will include some level of live action for those who want it these days but in truth there's better to be found elsewhere if you crave the real-life action. The list of table games is fairly middling too (21Casino prioritises slots like so many others) but there is an interesting 'High Roller' section that will entice the serious gamblers amongst you. Remember to play sensibly, kids!
The 21 Casino Welcome Bonus
Just like our very own 777, the number 21 is renowned in gaming circles, not least in Blackjack. 21 Casino's name reflects its importance and they've extended them to the first part of their welcome bonus. Spend that 1 minute 34 seconds registering, depositing and you'll immediately receive 121% bonus and 10 bonus spins on Wild Wind West or Twin Spins Deluxe slot. Any winnings you make are added to your bonus cash, which is visible from your profile. The bonus spins are subject to x35 wagering requirements, as are the other elements of the welcome bonus. This offer seems to be a direct response to the UK Gambling Commission targetting gaming companies for misleading advertising. Perhaps wisely, 21 Casino are opting to remove 21 Casino no deposit promotions in the UK.
If the inclusion of a bespoke high rollers game section is indicative of 21 Casino's commitment to big spenders, their 1st deposit bonus is similarly telling. They provide a 100% first deposit bonus with no upper limit (the dropdown when you select the bonus says it's up to €10000 but that appears to be a token ceiling). The cash bonus is accompanied by 10 bonus spins on any NetEnt game of your choice. I Went for Aloha! Cluster Pays in case you care, but that's just me. You can opt out of the welcome bonus if you prefer to play with your own cash and no wagering requirements form the start. We should also add that the description of the bonus elements in the drop-down when you deposit is really weirdly formatted and it's best the check the promo page (or this very review) for full details.
I of course talk about the UK welcome bonus (since we are a UK site) but if you are lucky enough to be residing outside the UK you will score the 21 Casino 21 free spins welcome bonus. It's almost worth driving across the channel and playing from Portugal!
Why Become a Regular Player at 21 Casino?
Aside from being a classy online casino and a supremely comfortable gaming environment, 21 Casino also provides some perks for regular players. There's a couple of recurring promos, which allow you to secure deposit bonuses on selected weekdays, although they aren't greatly exciting. The loyalty scheme is well constructed though and you can redeem your points in cash. The games selection is regularly replenished so be sure to check the new games section. Finally, customer support is available from 9am-12am GMT every day. We contacted them right at the end of that timeframe and still got a response within an impressive 5 seconds. Those factors combined with the user-friendly site make 21 Casino a comfortable home for any online casino player.
The 21 Casino Mobile Casino
The 21 Casino mobile casino for iOs and Android follows in the footstep of its big desktop brother. It's a sleek, smart site that's controlled by one simple menu and grants immediate access to an excellent game selection. It's accessed via your device's browser and optimised for iPads, iPhones, smartphones and tablets of all shapes and sizes.
The smart yet vivid colour scheme looks great and there's plenty of functionality included too. Again, we tested the live chat portal and it worked perfectly even late at night. There are no issues loading games or pages, everything is generally as it should appear. It's an impressive cross-platform online casino.
Our 21 Casino Verdict
We're big fans of 21 Casino here at 777 Casino, and not just because of the way they combine numbers with their word 'casino' in their title. This site seems to fly under the radar a bit but if you just want a straightforward, modern, hassle-free casino then you should look no further. The welcome bonus is excellent although it could do with some more exciting regular promotions here and there. It caters to big spenders but is suitable for everyone thanks to the accessibility of its interface. It's just a comfortable place to play and immediately makes you feel at home. It might lack the razzmatazz of some but that's exactly its charm. We think 21 Casino deserves a bigger reputation.
---