Captain Cooks Casino is a download only Microgaming online casino with a loosely applied seafaring theme inspired by the chap who lends his name to the brand. We say 'loosely' applied because there's no sign of any animated simulation of Captain Cook himself. Indeed, there's not so much as a pair of breeches or curly wig in sight to honour the 18th-century British explorer who became the first recorded European to discover Australia and New Zealand. There are a few compasses, moth-eaten maps and discarded playing cards around the casino to justify the theme. Despite the lack of boats, Captain Cooks Casino has certainly made some waves. Not least with a headline-grabbing welcome bonus offer that promises players 100 chances to become a millionaire. That's certainly worth exploring further.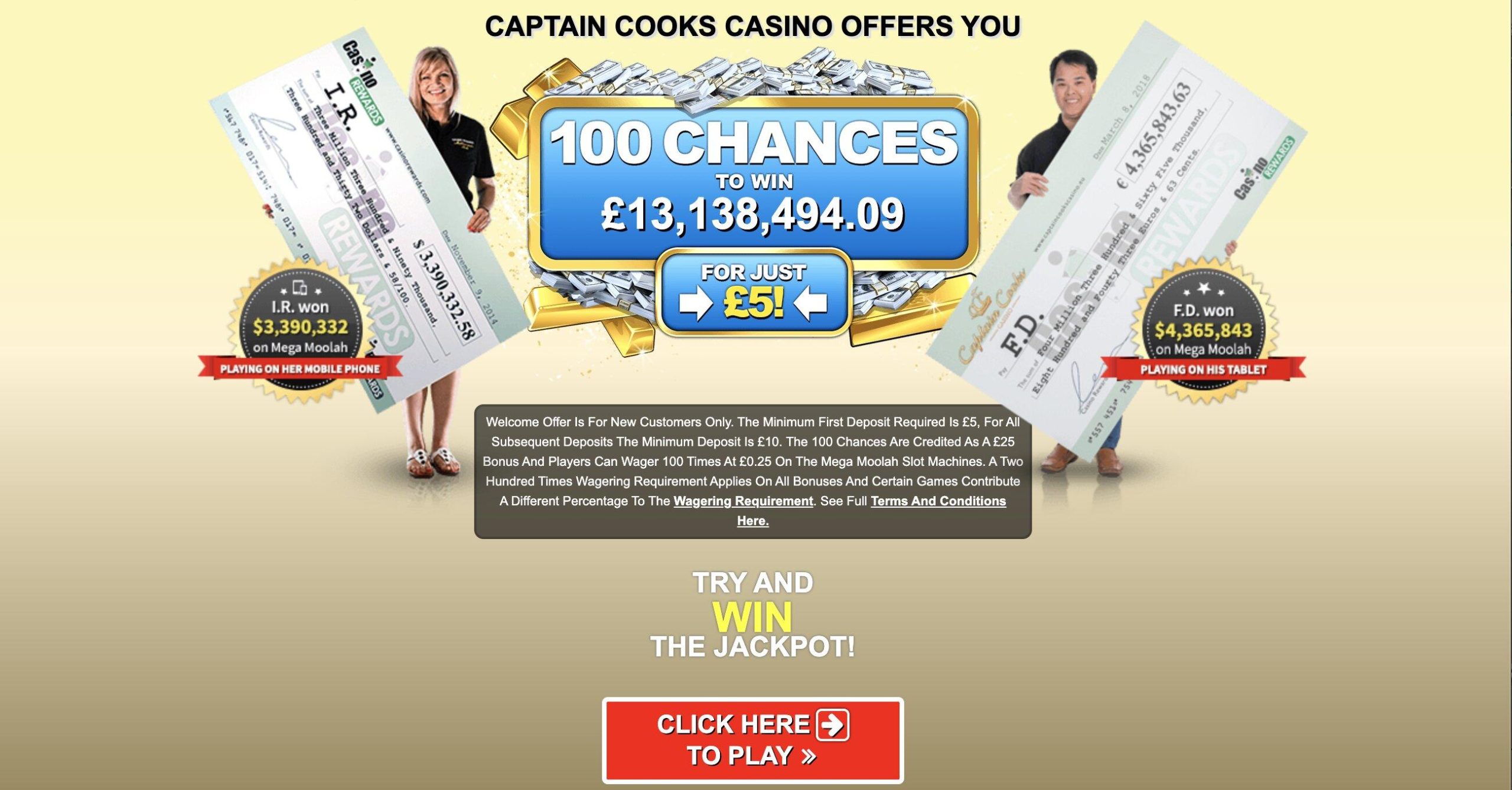 CAPTAIN COOK CASINO
Let's get a gripe out of the way early with Captain Cook Casino, we are not massive fans of download only casinos. We don't like being made to download software to our precious hard drive; you typically find that flash casinos are slower and more glitchy and they tend to look a bit blocky. We fully accept that everyone doesn't share this gripe, but it's a bugbear of ours. It also means Captain Cooks Casino gets off to a lousy start and needs to win us over. But does it do enough?
It's a bit of a mixed bag in truth. It's a MicroGaming casino, which is a good start, but the graphics are a bit fuzzy, and there are some dated-looking, Windows 97 pop-ups and loading pages around the place. It isn't using the most modern template. Beyond that though, there isn't much wrong with its appearance. The 'My Account' section is a little bit busy and could be more clearly structured, but the two games sections look good.
The design is smart, and there's no degradation in the quality of the graphics when you load the games. It's a pop-up casino, and it would be nice if you could maximise the page. However, you can attribute advantages to online casinos like this one, should as the ability to have different sections of the casino open in separate tabs. We like that. We're still grumbling a bit, but we got used to this download-only casino pretty quickly.
CAPTAIN COOKS CASINO LOGIN
You can't start playing until you have completed the download of course. Thankfully, however, it's a quick job so isn't too demanding. What of those inevitable glitches, though? Well, I switched to my crappy old computer to test it out but was pleasantly surprised to see pages loading without too many problems. Then came the dreaded freeze and I had to kill the casino altogether to get it working again. That said, I had no further problems and haven't had any issues with a more powerful laptop. Our balanced view? Captain Cooks Casino works perfectly fine. The short delays loading pages aren't intrusive, and games boot up quickly.
That's the casino's performance dealt with, but what of its design and navigability? Here, the pop-up design does inform ease of use. All the sections are accessible from the main page and can be loaded in tabs across the top. This includes the cashier, your account, games and supports sections. The latter performs well, live chat operatives responded to our queries within seconds, and we received quickfire replies to emails too. Banking is easy, and so is the registration process (although I did end up with a very random username and I'm not sure how – I've had to shove it into LastPass to remember it). It can be a little tricky to find your way back out of subsections of Your Player Account, which is mildly annoying. Overall, though, Captain Cooks Casino is intuitively designed for easy usability.
We're going to stick in a quick mention of a regular criticism of Captain Cooks Casino – their liberal use of spam. It isn't quite right to attribute this to the casino itself, it's more the preserve of the Casino Rewards group, to which it belongs. This group traditionally liked to capture your email address and make good use of it. A player or two (cough cough) have grumbled about being bombarded with literature regarding other casinos in the group, but thankfully, the situation seems to have improved hugely. It appears Casino Rewards have cottoned on to the negative impact aggressive marketing can bring about. We'll keep you posted.
CAPTAIN COOKS CASINO GAMES
Captain Cooks casino games are solely from MicroGaming software. Thus, if you're not a fan of the provider, you're unlucky to be a fan of this online casino. Most of us love MicroGaming slot games of course, and you'll find pretty much every one of their slots at MicroGaming including their jackpot bonuses. This point is very relevant. Captain Cooks Casino has positioned itself as something of a jackpot specialist through some clever marketing. The Mega Moolah slot first jackpot drop of 2017 occurred at Captain Cooks Casino and combined with the other online casinos in the Casino Rewards group; it claims to have created more millionaires than any other conglomerate. You can't blame them for plugging the fact, but boy do they do that!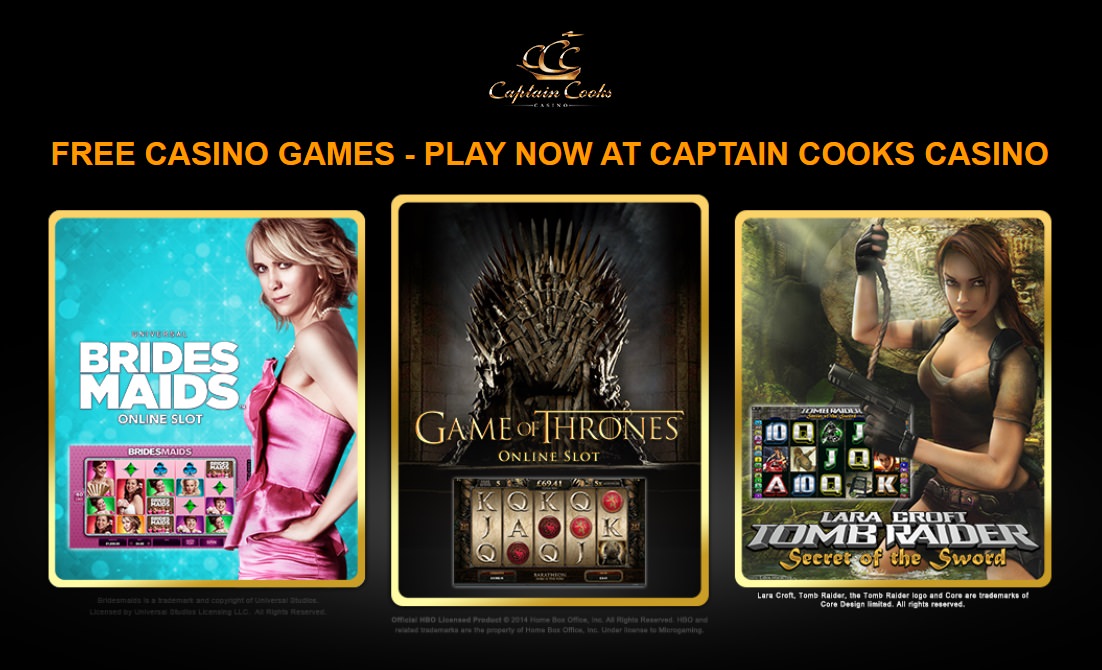 CAPTAIN COOK CASINO GAMES
Elsewhere, the Captain Cook Casino games selection reflects MicroGaming's love of video slots. There are 332 games of this type in total including all the popular 243 win ways slots like Thunderstruck II, Immortal Romance and Bust the Bank. This number includes 23 local and progressive network jackpots. There's a wide variety of MicroGaming table games, card games like blackjack and poker variations too, along with a smattering of bingo games. It's a solid collection from one of the biggest software providers in the industry.
CAPTAIN COOKS CASINO BONUS
Few online casinos have managed to generate such headlines with their welcome bonus offers. The Captain Cooks Casino bonus package features numerous extras that are stretched across your first five bonuses, but it's the first part that has captured the imagination of most players. Billed as '100 chances to become a millionaire for just £5', it allows you to play your bonus cash on the world record-breaking jackpot slot Mega Moolah Slot. How is that so?
It's a nifty piece of marketing, that's what it is. The bonus works like this. You deposit £5 and receive a £25 bonus. The gives you enough for 100 shots on Mega Moolah slot, but the bonus can be used on any game – it's not tied to the jackpot slot at all. By pushing the chance to win the biggest progressive bonus of all, they've created a great marketing ploy. The fact that a British chap dropped the jackpot using his Captain Cooks Casino bonus cemented the reputation. There's nothing denigrative about any of this. Let's look at the facts: you deposit £5 and play with £25. That's a 500% first deposit bonus with a teeny minimum deposit amount. Yes, there are wagering requirements. But this welcome deserves its attention.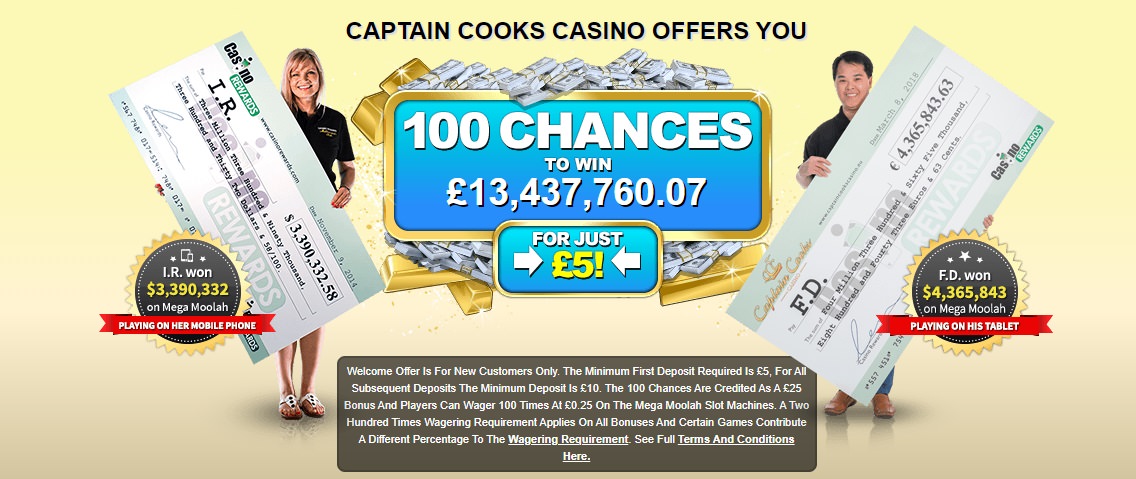 CAPTAIN COOKS CASINO UK
The Captain Cooks casino UK first deposit bonus is also followed by four more across your first four deposits. There are no free spins to play (boooo), but this is a whole lot of bonus cash offers:
+GET A 100% BONUS UP TO £100 ON YOUR SECOND DEPOSIT
+GET A 50% BONUS UP TO £150 ON YOUR THIRD DEPOSIT
+GET A 25% BONUS UP TO £125 ON YOUR FOURTH DEPOSIT
+GET A 100% BONUS UP TO £100 ON YOUR FIFTH DEPOSIT
To convert your winnings into real money and withdraw funds you will need to play through 30x. This isn't so bad relative to many other online casinos. You can find the full terms and conditions link by clicking on our link to the Captain Cooks website. There you will see the full bonus details, how bets can be placed and the types of deposit and withdrawal methods (e.g. bank transfer, debit cards) offered.
There is some who question Captain Cooks Casino authenticity; we have written an extensive piece on why some ask is Captain Cooks Casino fake?
CASINO REWARDS CAPTAIN COOKS
Once you've downloaded the software, you might as well stick around, right? Casino Rewards Captain Cooks Casino take nothing for granted and operate a potentially lucrative loyalty program (where a player can collect points across all casinos in the Casino Rewards group) to entice players back for more. There are regular promotions too, usually in the form of cash casino bonuses but often more creative. They run regular tournaments in addition to these, all of which can be found in the Games View tab of the casino. The liberal interpretation of what constitutes as 'spam' promotions is a little distracting, but the Casino Rewards is showing signs of some improvement there, thankfully. Customer Service will answer any questions you have on these points or others. The Captain Cooks Casino support team have an excellent reputation.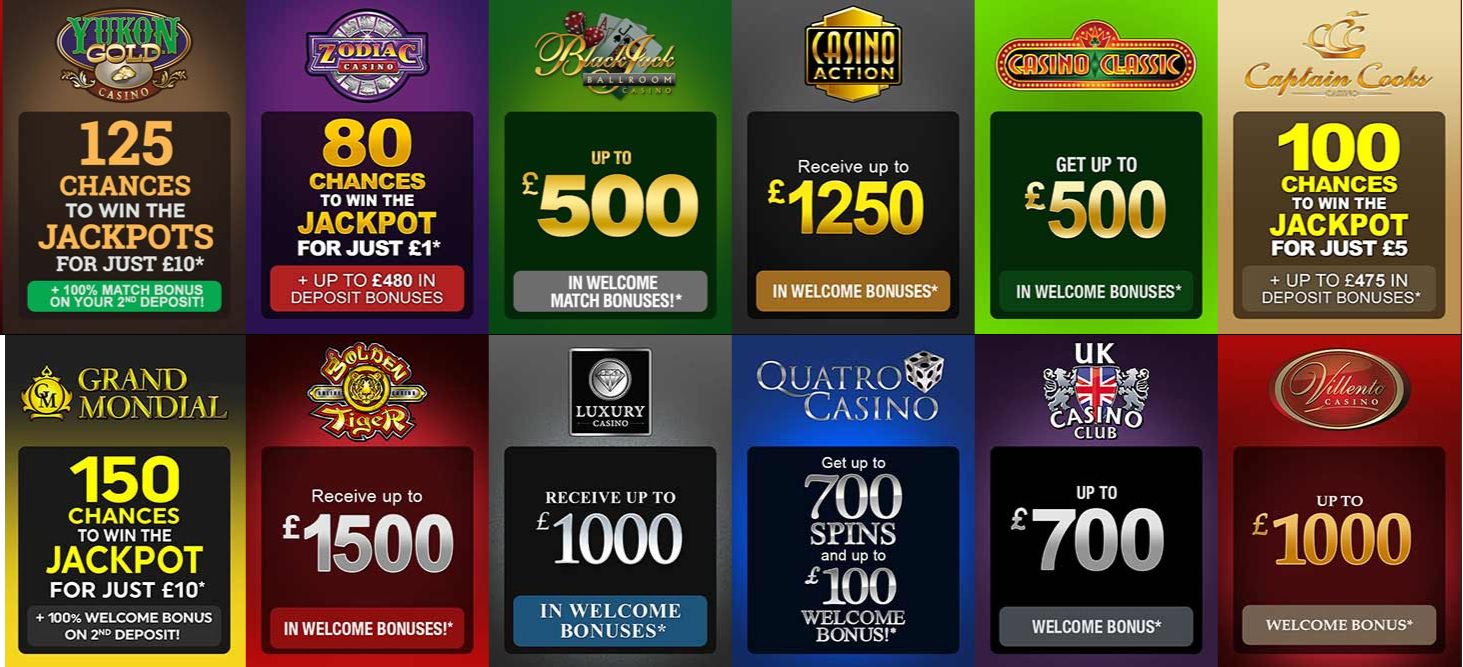 CAPTAIN COOKS CASINO MOBILE
The Captain Cooks Mobile Casino looks better than the desktop version in our opinion. It's simpler to access too, you still must click a link to download the software, but it opens in your browser, and the graphics are much smoother as a result. Unlike other online casinos, the mobile site does not perfectly replicate the desktop site, but we reckon that's for the better here.
Getting down to more practical matters, the mobile casino is compatible with iPhone, iPads and Android smartphones and tablets. The MicroGaming gaming software is mobile gaming frontrunners, so players get a huge range of slots, card games, table games and poker. Live chat is available in the mobile casino, so that gets another thumbs-up from us. Captain Cooks Casino has come up with a simple, easy-to-use mobile casino that works well.
CAPTAIN COOKS CASINO REVIEW
We started the Captain Cooks Casino review with a bit of a negative with our download-only gripes. But you know what? Captain Cooks Casino has won us over. It's an online casino that doesn't make a great first impression. The website looks dated and incorporates some cheesy marketing (grinning players (s) holding big cheques of substantial real money wins) and a dated look. Some other Captain Cooks Casino reviews on other sites seem not to be able to look past the aesthetics. Our first look at the downloaded casino did little to shift our opinion initially. However, settle down in the Captain's Quarters, and you'll find a unique, eye-catching welcome bonus, huge selection of MicroGaming games, responsive customer support and an impressive mobile casino. It's also licensed by the UK Gambling Commission and Kahnawake Gaming Commission, the most respected regulators in the industry. Casino Rewards have even taken steps to tone down the email marketing. The slightly dubious style has substance behind it, and that's the most important thing.