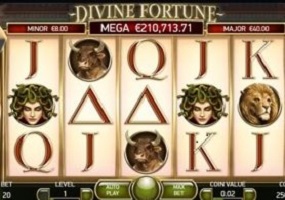 The big bods at Guts Casino are excited about their Divine Fortune slot at the moment, and it's easy to see why. The prize pot available on the local progressive jackpot game has soared to £190,000 over recent months and is just waiting to be won. Will it hit the magical £200,000 mark before it drops? And who will walk away a prize pot that will buy him/her a house (ok, perhaps not a house in London but in most other places)?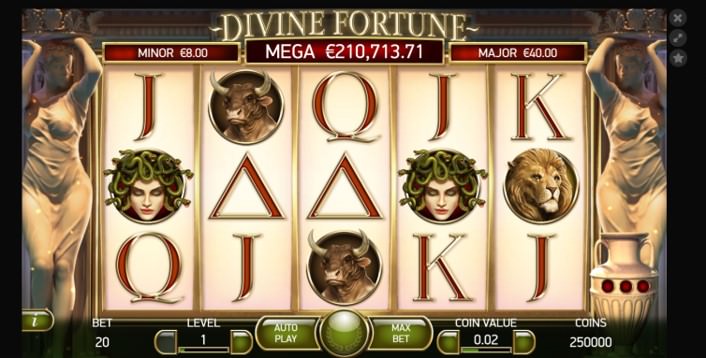 Jackpot Slots at Guts Casino
We know how popular progressive jackpot slots are with most players. That's why we pick them out for special mention in our various reviews and news articles. Guts doesn't have the biggest selection of jackpot games in its arsenal, but there's no doubting the quality. The big two – Mega Moolah and Mega Fortune – are both there, along with other NetEnt's other network progressives, Hall of Gods and Arabian Nights.
But for once, we don't want to discuss the network games. As tempting as they always are, the Guts team are currently most excited about their 'local' jackpot games, and Divine Fortune in particular. The prize pot available when you play NetEnt's newest jackpot slot has swollen to a mammoth £190,000 and counting. The Guts team expect it to tumble soon, and that would be a sensible assumption.
What Are 'Local Progressive Jackpot' Games?
You can understand why Mega Moolah and Mega Fortune hog the headlines. They regularly pay out seven figure sums, and even reached a peak payout in excess of £13 million back in October 2015. They fly so high because they accumulate cash quickly. Both are 'network jackpots', which means that the jackpot is shared across all casinos. It doesn't matter where you play Mega Moolah, you'll be playing for the same jackpot as somebody who is playing the same game at an entirely different casino.
Because a percentage of every bet made on a progressive jackpot slot contributes towards the prize pot, they can grow to huge amounts quickly. However, you're competing with the whole world as you try to drop the biggest prize. 'Local' jackpots are different. They are exclusive to individual casinos. In other words, only wagers made at Guts will contribute towards the jackpot on their version of any particular game. You can only win the jackpot at that same casino too.
Win £190,000 on Divine Fortune at Guts
As you'd expect, local casino jackpots don't reach the same skyscraping levels as network jackpots because the jackpot is built by a smaller pool of players. However, competition is less fierce so you inevitably have a better chance of scooping the big prize. Local progressives still pay out significant sums too. Especially if one doesn't drop for a while.
That's exactly what's happened with Divine Fortune at Guts. The prize pot has built over months until it's reached a whopping £190,000. As unpredictable as online slots always are, the law of averages would suggest that it should fall soon. You've got to be in it to win it.
About NetEnt's Divine Fortune Jackpot Slot
NetEnt released their newest jackpot slot in early 2017 and its proved popular at lots of different casinos. Its subject matter treads a familiar path. Like lots of other games, it draws inspiration from mythology, this time with a distinctly Greek flavour. The game features wild re-spins and a free spins round that will help keep your prize pot ticking over while you try to trigger the jackpot game. It's a welcome addition to the jackpot slot catalogue.
100% Bonus & 100 Spins at Guts Casino
PLEASE NOTE THIS OFFER HAS EXPIRED
If you want to try your luck on Divine Fortune at Guts, you can benefit from a cracking welcome bonus as a new player. It features no fewer than four cash bonuses, including a 100% first deposit bonus and a massive 200% bonus with your fourth deposit. Better still, each deposit comes with 25 free spins on Starburst – and those free spins are entirely free of wagering requirements. You need to use some bonus codes to snaffle your freebies, here's the full breakdown:
Deposit 1 – 100% bonus & 25 spins without wagering requirements using Bonus Code GUTSB1
Deposit 2 – 50% bonus & 25 spins without wagering requirements using Bonus Code GUTSB2
Deposit 3 – 25% bonus & 25 spins without wagering requirements using Bonus Code GUTSB3
Deposit 4 – 200% bonus & 25 spins without wagering requirements using Bonus Code GUTSB4
See our Guts Casino review page for more.