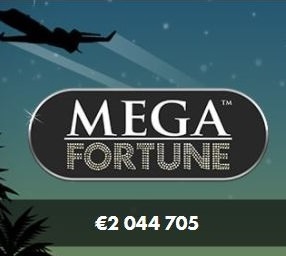 The first flowers of spring are blossoming, and the smell of freshly cut grass is in the air. If you live in the northern hemisphere, then this is traditionally a time for fresh starts. New relationships, new jobs, new socks if that's what you need – and now a brand new millionaire, thanks to Casumo, Mega Fortune Dreams, and one lucky €2.50 spin of a slot. Yes, the world of online casino has welcome its latest 7-figure winner, so let's see if we can find out a bit more.
€2.8 Million Jackpot Drop at Casumo
It's always fun when news of a jackpot drop first breaks. It begins with Chinese whispers, proceeds through the 'rumour' and 'confirmation' stage, then ends with a mad scramble to find out which online casino ushered in the latest jackpot millionaire. So, imagine our delight when we found out that the Mega Fortune Dreams jackpot had dropped at Casumo, one of our very favourite sites.
The most charismatic casino in the industry issued the big news via their blog in typically enthusiastic style. The Mega Fortune Dreams jackpot peaked at a whopping £2.4 million (€2.8 million) before it dropped, and represents the fourth 7-figure win at Casumo in little over a year.  The exact identity of the winner is a bit hush-hush at the moment, but we do know he's a 28-year-old Swedish man. Those guys have all the sodding luck.
Stake £2.50, Win the Mega Fortune Dreams Jackpot
We can list loads of things we love about NetEnt. In fact, if somebody gave us £1 for every positive attribute of our favourite game provider, we might be able to afford a night out in Stockholm with the latest winner. For now, we'll concentrate on NetEnt's democratic attitude towards progressive jackpot slots, because it's refreshingly unusual.
You see, whereas some providers insist that players stake the highest amount possible if they want a shot at a game's biggest jackpot, NetEnt take a different approach. No matter what your stake level, you have the same chance of winning the Mega Fortune Dreams jackpot as the next man. Because of this, the latest lucky winner was able to land his £2.4 million cash pot from a humble €2.50 stake. We make that a cool 1.12 million per cent profit. Not bad for a few seconds' 'work'.
So, How Can You Win The Jackpot on NetEnt Jackpot Slots?
A big win always has a knock-on effect. Sure, we all play online slots predominantly for fun, but there's no harm in dreaming of that big win. As another 'normal' player celebrates his wealth, it reminds us all of the possibilities that online casinos provide. But how can you win the jackpot on a NetEnt slot?
Despite any claims to the contrary, there are no special tricks or techniques that can help you bag the big prize. Online slots are all controlled by Random Number Generators and jackpot games are no different. Nobody expects to bag the big prize, but one thing's for sure: you've got to be in it, to win it. And remember, no matter how high or low your stake level, you have as much chance of winning the jackpot as the next man when you play a NetEnt jackpot slot like Mega Fortune Dreams, the original Mega Fortune, or Hall of Gods.
Casumo: The Numero Uno
This jackpot win has married one of the very best game providers to one of the very best online casinos. Casumo was the very first adventure casino, and remains the best in the business. As a regular player, you can complete missions to reveal casino bonuses and free spins. As you do so, you also unlock new locations to the Casumo universe so you can explore all the more.
To help you get started, they'll provide you with 20 no deposit free spins, plus a 100% cash bonus and 180 more free spins when you make your first deposit. You can access your bonus by clicking through from our main Casumo page or clicking on the banner below and taking two minutes to register. Your welcome bonus is only the start of your journey at this online casino that rewards loyalty like no other.