BGO Beat the Boss
The BGO Beat the Boss promotion quickly established itself as one of the most famous and popular online casino bonuses in the industry. In fact, it proved such a hit with players that it landed some seriously prestigious awards including the EGR's 'Marketing and Innovation' going back in 2014. It's little surprise that BGO.com has stuck with this most popular of promotions since then really. The creative, recurring promotions set challenges for players each month. If you play regularly and are lucky enough to complete your mission and 'beat the boss bgo', then you'll pocket various rewards including free spins and real money bonuses. Here's how it works.
BGO Boss
The BGO Boss isn't just a concept, it's a real bloke. You will find photos of him plastered all over the site wearing the sort of bling that was once the preserve of B.A. Baracus (ED: younger readers, you have Google if you want to understand that reference). Or at least The Boss is kind of real, he actually looks suspiciously like Verne Troyer – the actor famous for playing Mini Me in the Austin Powers movie – in various garish outfits.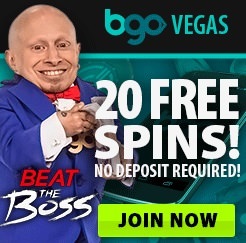 It's a fun concept and Troyer plays the role perfectly, grimacing and gurning to full effect in the promotional photos. His face adorns most promotional material introducing casino bonuses, new casino games when they launch an email marketing materials too. This isn't a mere gimmick though. BGO has built an excellent, attractive concept around the character. His challenges provide you with an excellent opportunity to pick up bonuses and even win prizes. You'll want to return each month to match up against The Boss again and again.
Beat the Boss Casino
BGO is a brash casino with a big heart underneath. They're playful them revolves around 'The Boss', a blinged up, gangster dwarf who looks suspiciously like Mini Me from the Austin Powers films. He's billed as the bad guy and the man to beat. But he's plastered all over a whole range of promotional material too, unleashing a fine range of facial expressions while informing you about the latest bonuses.
It's a fun theme that's helped BGO become one of the biggest and best known casinos in Britain, Europe and beyond. Their latest welcome bonus update is likely to further entrench their reputation in the industry. They have a fine selection of games (one of the biggest catalogues around in fact), numerous regular bonuses and ad hoc promotions (at the time of writing, they're giving away tickets to the Floyd Mayweather-Connor McGregor fight) and an excellent loyalty rewards scheme.
BGO Beat the Boss Bingo
One reason why the BGO Beat the Boss bonus offer has captured the imagination is its versatility. This promotion isn't just confined to the online casino. No, it's relevant across all areas of the BGO website including its online bingo rooms and even it's live casino. The Boss lays down new challenges in each area so if you like to mix it up, you can still enjoy the extra edge that the promotion adds to each session's play. He will lay down the gauntlet on table games as well as online slots, live blackjack as well as live roulette. You can also complete challenges in the BGO mobile casino.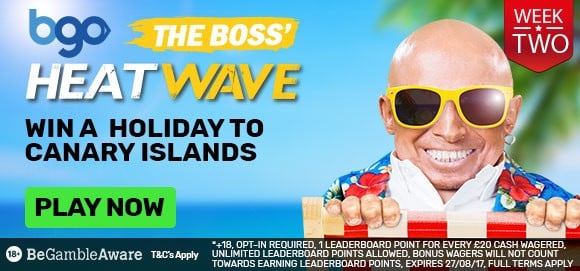 Along with the bonus's versatility, the monthly nature of the Beat the Boss promotion is sure to appeal to punters too. They freshen up the challenges regularly and you will receive different rewards as well. These aren't the only promotions on offer either. You'll have other chances to pick up free spins on a variety of slot games from different software providers and various online bingo bonuses. The site regularly hosts leaderboard challenges and tournaments so you can pit your wits against other players as well.
BGO Beat the Boss Free Spins
As of 2018, you receive both 10 no deposit free spins when depositing and 50 more as a deposit bonus when you first credit your account. You can use your free spins on four different NetEnt games including Aloha! and Starburst. Best of all, BGO free spins are never accompanied by wagering requirements so you can withdraw your winnings without risking them on a series of additional bets to fulfil arbitrary terms and conditions. You don't achieve the success that BGO has without knowing your market and audience. They know exactly how popular free spins are with players, especially when they are attached to hugely popular casino games. For that reason, and because the Boss is a generous soul at heart, you will regularly receive free spins in exchange for completed challenges. Look out for the monthly BGO Beat the Boss Free Spins offers when the Boss throws down the gauntlet each month. Given the lack of wagering requirements, you don't want to miss out on them.
BGO Beat the Boss Bonus
So, there you have it. The BGO Beat the Boss promotion remains as popular and courageous as ever, offering a range of bonuses but by making players work for them. You can play the best online casino and bingo games at BGO by registering today. That's if you fancy your chances against the Boss of course.