BGO Casino is currently not accepting UK players. See these great casinos instead.
BGO Games
BGO Casino has built an enviable collection of casino games. The fine catalogue of slots, table games and scratchcards are accompanied by a significant live casino and popular online bingo site, cementing BGO's reputation as an exceptional all-round gaming platform. Combined with the online casino's renowned marketing strategies, responsive attitude to customer service and regulatory recommendations and multitude of popular bonus schemes, this fine selection of BGO games is worthy of any player's time. Let's have a closer look at what's on offer.
BGO Online Games
There was a time when BGO Casino separated its slot games into different sections of the site based on the software provider. Thankfully, they've abandoned that ploy because it's a bit of a bugbear here at 777 Casino and always seems entirely unnecessary. It means you can now browse the full collection of BGO online slots from the same area of the site. You can access them from the home page, by selecting either 'casino' or simply 'slots' from the 2nd submenu. You can then flick through the catalogue of video slots by toggling between different pages full of thumbnails or simply click a button to reveal 'All Slots'. The sites are strangely lacking in sophisticated filtering systems, but more on that later.
BGO Excluded Games
BGO enjoys a lofty position in the gaming industry, particularly in its native UK and Europe. It's tempting to assume, then, that the casino has established relationships with all the major casino games suppliers. However, both MicroGaming and Play N' Go are noticeable by their absence as BGO excluded games, perhaps surprisingly. That I barely notice their absence is a testament to the quality of the rest of the video slots which you can play at BGO, particularly given how much I love Play N' Go. Luckily, there's a huge selection of NetEnt games (BGO attaches many of its casino bonuses and free spins offer to their games), IGT, Quickspin and PlayTech. The latter is often overlooked by major European casinos but less so by UK sites. Playtech's tendency to base many of their slots games on famous references from popular culture brings an added dimension to any games collection.
BGO Jackpot Slots
I'll return to the standard BGO video slots later, but this seems a good time to mention the site's array of jackpot games. MicroGaming's absence from BGO's roster does have an impact because it means you can't play Mega Moolah, the most famous jackpot game of all. Strangely, BGO doesn't list all NetEnt jackpots either, with only Mega Fortune listed, at least for UK players. Old favourites and fellow network progressive jackpot games Hall of Gods, Arabian Nights and Mega Fortune Dreams are missing. They are noticeable absentees, we wouldn't pretend otherwise. But BGO has some redeeming tricks up its sleeve.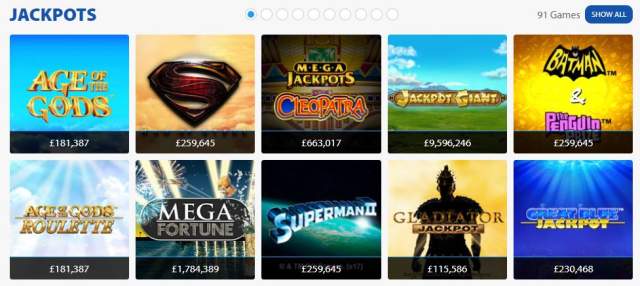 Again, we can return to Playtech's strong presence amongst the BGO games collection. It means you have every variation of the provider's fantastic Age of Gods progressive jackpot slots range. You can also play Jackpot Giant, one of the most playable jackpot games currently in circulation (even if the jackpot is notoriously hard to win because you have to place bets at the highest stake level to stand a chance). The Playtech jackpots aren't as widely discussed as the NetEnt slots and MicroGaming slots cut from a similar cloth but this is a perfect opportunity get to know them better.
There are 6 different games in the series and they all share the same prize pot, which usually sits between £500,000 and £1 million. In addition to the network progressive jackpots, BGO also hosts a huge number of local jackpot games including my personal favourite, the excellent Divine Fortune. Players who value the chance to win big six and seven figure sums have plenty of options, despite the absence of Mega Moolah.
BGO Casino Games
Live casinos are growing in reputation and popularity year upon year. I'll admit, live games haven't always been my own personal choice. I play online to enjoy virtual games and go to a casino if I want to experience live action. However, I can see the appeal and have made an effort to try out more live casinos this year, not least because it helps me write articles like this one for 777 Casino. I've trialled numerous sites, and to my eyes, BGO casino games one of the slickest live casinos on the market.
As you'd expect, live roulette and live blackjack are the most popular games, but you can also play baccarat and Texas Hold'Em live poker. There are lots of different games, all hosted by a real-life dealer. You set a nickname for yourself to begin playing and the dealer will greet you by name thanks to various trickery I'm sure. The live casino games are engrossing and enjoyable, it's easy to stick around for a longer session so be aware of your overall spend. From what I've seen, however, the BGO live casino is right up there with the very best. If you like this sort of game, you should give it a go.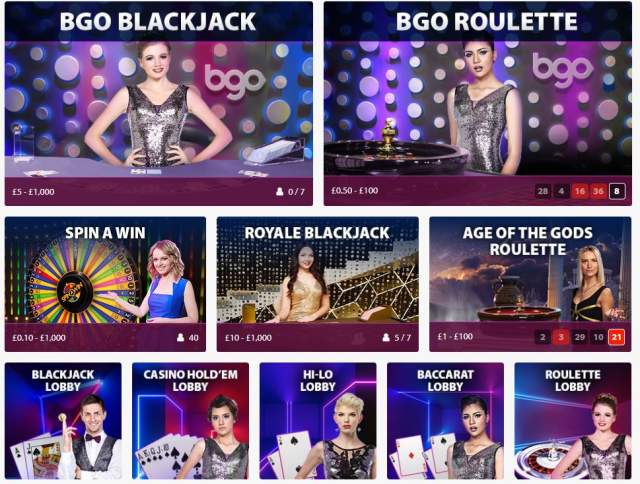 BGO Table Games
If you'd prefer to play virtual versions of the live casino games, then you can do so with some great BGO games. Online slots dominate the casino as you'd expect because they lend themselves to so many creative themes and variations that top providers can release them at a rate of knots. Table games like roulette, poker and blackjack are a little more staid but top suppliers like NetEnt and Playtech produce some truly compelling versions of these classic games. You can play many of the BGO games (table games) here and although they lack the wide variety of slots, they are often the easiest games to pick up and play. Table games are also many players idea of a true online casino experience.
This does bring me to my biggest gripe about the user experience at BGO. You can't easily view all the virtual table games together because they don't enjoy their own section of the site. Much greater precedence is given to the slots games and live casino. It can be frustrating if you want to browse. The easiest way to access the games is to search for 'roulette' or 'blackjack', for example, via the search function. The games are generally excellent and should satisfy those who favour choice and aren't likely to stick to slots and nothing more.
BGO Bingo Games
Talking of which, BGO have been busy pushing their BGO bingo site very hard in 2018. It's been around for a while but has seen a surge in popularity, helped in no small part by a new UX design and excellent games like Rainbow Riches bingo. A new welcome bonus promising loyalty points for new players, which can be exchanged for real money bingo tickets, as well as free bingo rooms for beginners has helped further enhance BGO Bingo's growing reputation. The team have sensibly integrated the bingo games into the main platform so you can toggle between the casino and BGO online bingo games in a single click of your mouse or press of your finger. The bingo site, like the casino games, is fully available on Android and Apple mobile devices.

BGO Best Games
As I round up this articles regarding BGO games and live casino, it seems sensible to revisit the slots collection and select five of the best. These sorts of lists are always a bit arbitrary because I'll probably change my mind tomorrow (or even later today) but here goes anyway: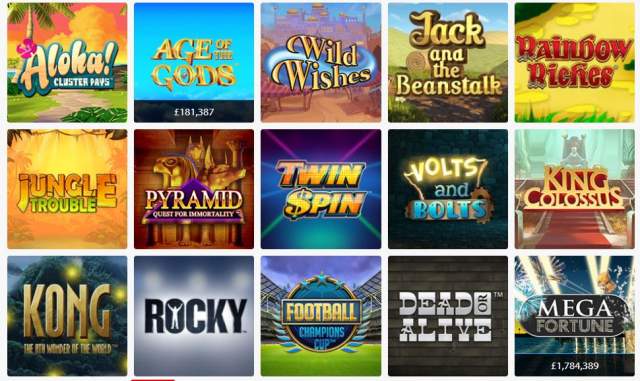 Dead or Alive
NetEnt's Western-themed slot is hugely underrated in some circles but more devout online casino players tend to know all about it. Why? Because of all the Swedish providers online slots, this is the most volatile. That means it pays out less but can drop a fortune when it pops. You can pick up significant winnings on this little gem.
Big Bad Wolf
I've got to include this Quickspin slot in the list because I have a mate who just won a shed load of real money when playing it. So yes, it powerful potential is at the forefront of my little brain at the moment but regardless of all that, this is one of PlayTech's best. The game features some beautiful animation as it tells the classic story of the Three Little Pigs. There's a handful of cracking bonus features too. One sees pig symbols turn into wilds after a couple of winning rounds and a free spins feature based around the Big Bad Wolf 'blowing the house down).
Planet of the Apes
For me, this was 2017's best online slot and deserves a place on the highest pedestal at any online casino which stocks it. It proves NetEnt can still find ways to creatively surprise players with something they haven't seen before even after all these years. You are presented with two sets of reels which spin independently of one another and can win from both. Features crossover between the two to add another dimension and the action is fast paced and exciting. With thousands of online slots now on the market, it's remarkable that something so fresh can still find its way to market.
Justice League
As I said, Playtech has traditionally focussed much of its attention on popular culture when designing new slot concepts. Justice League is the latest instalment of their relationship with DC Comics and is inspired by the highly anticipated film of the same name. The five reels slot's bonus features allow you to interact with all the stars of the show including Batman and Superman and there are four progressive jackpots. Well a look, and not just for superhero fans.
Starburst
Yes, yes, it's ubiquitous and a beginner's dream. Yet, there's a reason why Starburst is so popular. The games have been much copied but never better. The simple gameplay and low stake levels attract casual players and make it perfect fodder for welcome bonuses (it's one of the games on which you can use your BGO free spins as well) but don't underestimate the potential payouts from the respins.
BGO Games Provider
The BGO games collection is worthy of attention. Despite no presence from MicroGaming or Play N' Go, you can still play a huge of slots and other casino games. The games are available in both the standard casino and BGO mobile casino, which is compatible with any modern Android or Apple mobile device you can possibly have in your pocket or handbag. You will enjoy browsing the collection of over 90 progressive jackpot games, 600 video slot machines and scores of table games. You can then click through to the associated live casino or bingo site if you fancy a bit of variety.
BGO's reputation isn't just built on the strength of its casino games. Its promotions and loyalty program have both won awards, while the casino has shown an impressive willingness to engage with regulators like the UK Gambling Commission to ensure fair play and responsible gaming. Such actions led to BGO abandoning all wagering requirements on free spins offers in 2017 and they've maintained that approach since.
The presence of a UK and Malta license should assure you that you're in safe hands, both as a player and data subject. Your personal data is in safe hands and if you run into any problems, you can contact customer support by live chat 24/7. With no deposit free spins and an excellent first deposit bonus on offer for new players, who can make their deposit using a choice of leading payment methods, the games collection is really just the cherry on top of this all-round gaming solution. It's just a very juicy cherry. Now, to sort out some improved filtering options and we have near perfection!
There you go, its not just about BGO games – but they are pretty damn good!