Cashmio was one of the most eagerly anticipated and best-loved new casinos of 2016. It's one of those sites that was created by a couple of ambitious souls who had worked in the industry for years, paid their dues and decided to strike out alone. They've harnessed all their experience to create an online casino with mass appeal. As you navigate your way around it, you can almost see them ticking off all the elements of a positive review. Easy registration? Tick. Contemporary slot design? Tick. Informal, friendly but helpful customer service? Tick. No deposit free spins? Tick. The list goes on. These chaps clearly knew what they were doing. But can we find any fault?

Cashmio Casino
Cashmio is a site of its time. Using some modern, Dreamworks style animation, they've created some outlandish characters and stuck them on an airy, attractive web platform. This online casino really is beautifully designed. It takes advantage of its 'casino only' focus, which allows it room to breathe. Fonts are bold, colours are vibrant and it's all hosted against a crisp, white background that's pleasing on the eye. We're big fans of the games grid too. The thumbnails are still there, but they have been attractively framed and are overlaid with some useful information about the game (minimum/maximum bet and the number of paylines).
They way the Cashmio have minimised content yet maintained functionality is really impressive. You'll probably spend most of your time in the 'My Casino' section. We'll come to its practical use in the next section but allow us to be superficial for a second – it looks bloody marvellous. Your latest mission (again, more on them later) is advertised via an attractive image and your progress is easy to track. Other areas of the site display an impressive continuity of design. It's been well thought out and beautifully realised. It's impressive stuff from a new online casino.
Cashmio Login
Cashmio login is an absolute doddle. A pop-out portal on the right-hand side offers four possibilities. The 'My Casino' section sits on top and will be your first port of call. In fact, we found ourselves constantly gravitating back to this area; it controlled our entire session. Why? Well, it's where you'll find your latest missions. Complete one and Cashmio set you another. As each mission is attached to a different game, your choice of the slot is decided for you if that's what you want. The mission rewards sit in a coin grid and they're easy to activate once you've got the hang of it.
The other three prioritised sections are the ssl encryption bank, games and help sections. The former pops out when you click on it, revealing your latest balance and progress against wagering requirements, another nice touch. Depositing takes a couple of minutes at most and Cashmio supports several different methods. Those all-important withdrawals are processed with huge haste as well.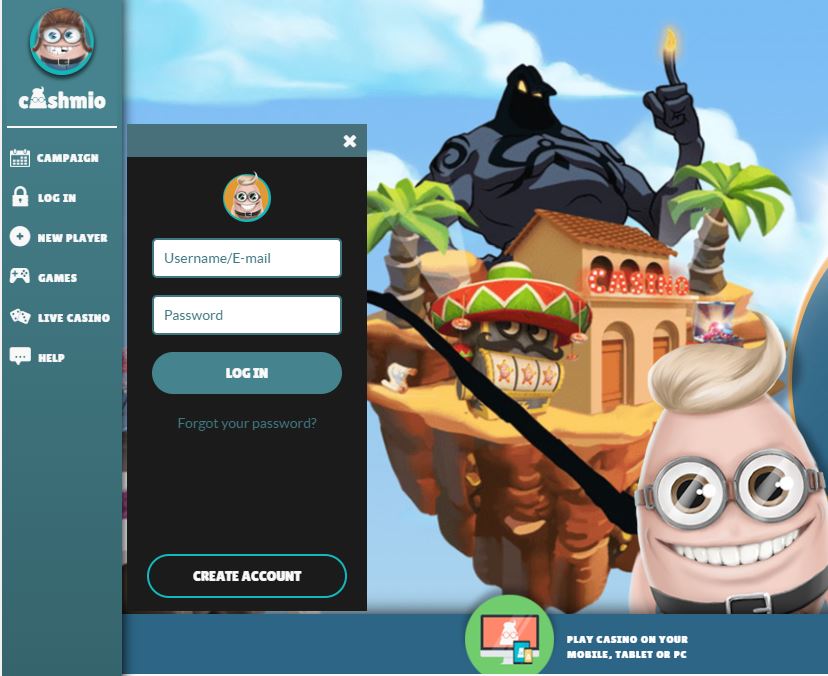 So if there is a gripe? The T&Cs could be friendlier, in line with the tone of the rest of the site (Casumo is clearly an influence on Cashmio but not in this regard). Perhaps the settings section where you can set deposit limits etc could be more clearly signposted too. But in all honesty, it's not difficult to find and a piece of cake to use when you find it. In other words, there aren't too many nits to pick.
Cashmio Games
The Cashmio team have built an impressive catalogue of online slots in a relatively short time. A wide array of software providers contribute their best titles. Net Entertainment and Microgaming account for hundreds of games, while the likes of Thunderkick, Play N' Go, Betsoft, Evolution and Bally. There are 540 titles in total and they've taken an unconventional approach to filter, which reflects the quirky characters who populate the site.
Rather than the usual 'provider' or 'popularity' filters, you get a whole pop-out section full of options like 'Furry Games' and 'Yummy Games'. It's a bit different, but more standard organisers like 'jackpot' and table' are there as well. Talking of jackpots, Cashmio stocks most of the big ones. The big progressive jackpots, Mega Moolah and Mega Fortune, both make an appearance, as do Arabian Nights, Mega Moolah Isis and Hall of Gods. This isn't a bad casino to hunt for your millions. We will end with one word of warning. This online casino is very heavily oriented towards online slots games. That's great for us, but fans of table games or poker might feel shortchanged. There's no live casino, either.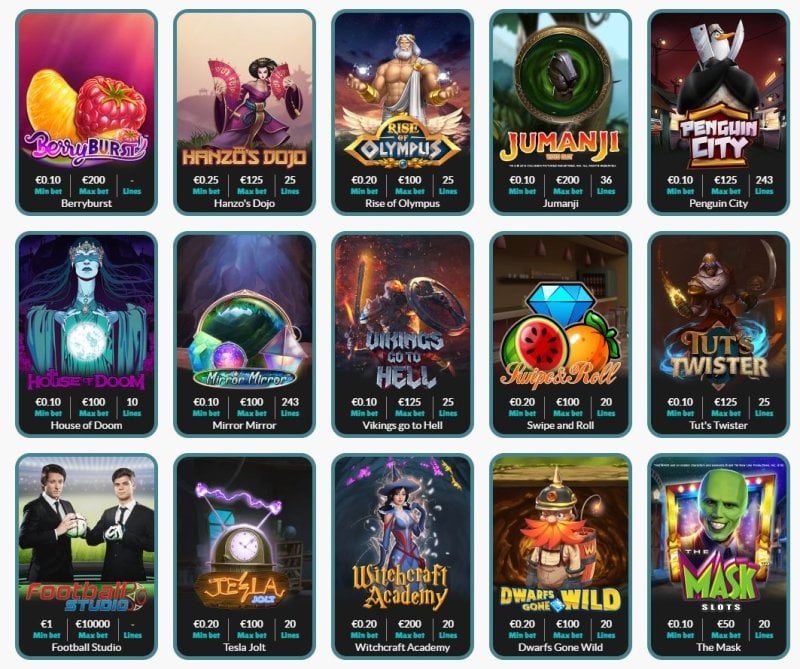 Cashmio Bonus
As we've already mentioned, Cashmio starts your journey with a bundle of no deposit free spins for some countries.
Players from Austria, Finland, Netherlands, New Zealand, Norway, Malta, Sweden, Switzerland are eligible for the 20 no deposit free spins Aloha:
Players from Canada, Colombia, Chile Mexico, Paraguay, Peru, Venezuela are eligible for the 20 no deposit free spins on the slots game Easter Island:
Players from Austria, Bolivia, Canada, Colombia, Chile, Finland, Germany (excluding players residing in Schleswig-Holstein), Japan, Malta, Mexico, Netherlands, New Zealand, Norway, Paraguay, Peru, Sweden, Switzerland, Venezuela are eligible for the 100% first deposit bonus:
Players from the United Kingdom are eligible for the 150 Spins on Starburst first deposit bonus.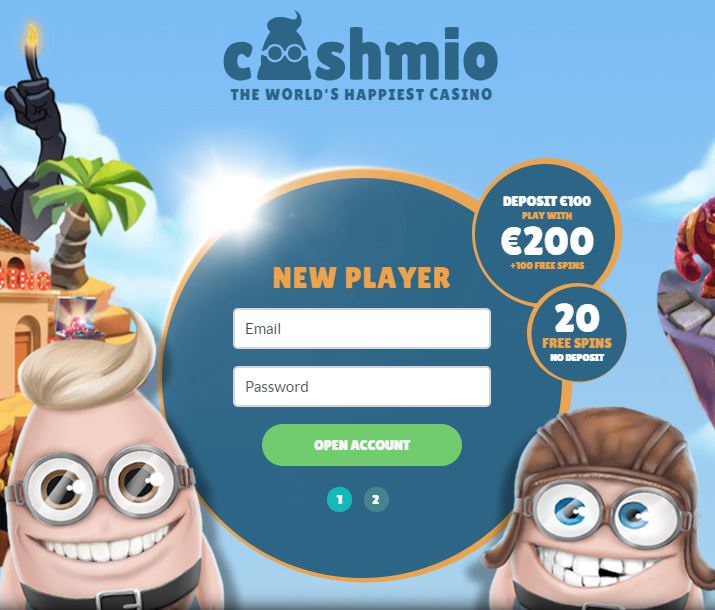 Just head to the My Casino section, find the corresponding coin in your bonus grid and click it. Aloha! will open immediately and away you go. By the time you've used the free spins, Cashmio will have set your first mission. It's a tempting carrot encouraging you to make your first deposit.
Mission or no mission, you get a tasty bonus when you make your first deposit at Cashmio anyway. Cashmio does like to mix up these games every so often though. They extend the same philosophy to the missions, which feature loads of different games. If the variety is welcome, the wagering requirements aren't so much. All casino bonuses are to be wagered 25x, a high 45x on daily missions and 45x on winnings from free spins.
Why Become a Regular Player at Cashmio?
Let us confess – we have become regular players at Cashmio. That's not the case with a lot of online casinos we review, so let us tell you why we hung around here. For a start, we've been banging on about the Cashmio missions but they are a really 'sticky' selling point. It's strangely compelling when a casino layers challenge upon challenge. It does add a new dimension to the gameplay, you find yourself itching to get to the next one. Plus, the missions are all different. Some are controlled by spins on a designated game, others by wins or triggers.
Aside from the promotions (and you don't have to use them at all), you have great service and a really quick website remember. By securing a UK Gambling Commission license to go alongside their Malta Gaming Authority (MGA) verification, they've ticked another box for us. By the way, we decided to test out the Cashmio customer support team our and found them to be convivial characters. We asked a bit of stupid (but genuine) question first up but they replied politely and diligently. What was the question? Well, we couldn't work out how to activate our no deposit free spins when we first registered. You should just find your coin in the 'My Casino' section and just click on it. We could say we'd have liked clearer instructions but we can't fully blame Cashmio for our brain farts.
Cashmio Mobile
Cashmio has managed to translate the simple layout of their desktop site to the mobile casino with ease. Somehow, the outlandish little spud-like characters seem even more prominent, welcoming your mobile session with a toothy grin. When you log in, you're taken straight to that 'My Casino' section we've been so keen to trumpet – an intelligent choice of landing page- while the side menu is replicated in full.
That last point is important because it indicates that the desktop version's functionality has also been transferred across. This means you can access live chat, deposit your money and withdraw your winnings from the Android, iPhone or iPad Casino. The games load quickly and the site runs smoothly, just like its big brother. The Cashmio mobile casino is another lovingly planned and well-implemented vision of how a gaming platform should function.
Cashmio Review
You can probably tell by now that we're fans of Cashmio. We have to review a lot of online casinos, so it's refreshing when a new one comes along and becomes a favourite that you use even when you're playing for pleasure. That's what happened with Cashmio. It's a beautifully designed casino that has been influenced by many of the biggest brands around, distilling its various points of inspiration into the perfect hybrid of classic and adventure casino gameplay. There's lots more we could have mentioned but you know what? Just give it a go for yourself. You get 10 no deposit free spins anyway. Just see how quickly you start moving through those missions once you are registered.
---