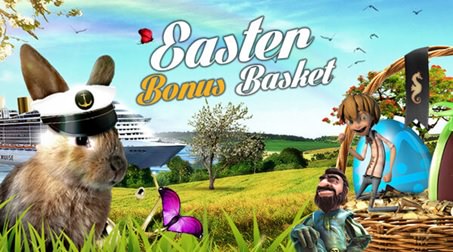 Easter has come round remarkably quickly, and most of us will spend much of the weekend stuffing our faces full of chocolate delights (then moaning about being fat next week). It's that time of the year when new year's resolutions are shattered once and for all. If you want to maintain your current waistline while still enjoying a few special treats this week, then why not feast on everyone's favourite type of online casino bonus: some delicious free spins. There's plenty about, so you won't struggle to find them. We've picked three of the best offers to help you on your merry way.
Where to Find the Best Free Spins Offers This Easter
The best online casinos always ensure that Easter is a time for giving. If nothing else, it gives their promotional pun writers the chance to dust off their best egg-based puns, so eggspect plenty of eggscellent offers to eggscite you. They never need much of an excuse to offer out bonuses to their players. Some provide cash bonuses, big prizes or seasonal challenges. But we love our free spins here at 777 Casino, so we'll concentrate on them. Here's a short list of online casinos where you can find the best free spins offers this Easter, 2o17.
Unlimited Free Spins at LeoVegas
We'll start with a trusty old favourite. LeoVegas is renowned for its generous, innovative bonus schemes, and this Easter is no different. You can chomp on as many free spins as you like when you play the vibrant and highly appropriate Easter Eggs slot. Every time you hit the bonus game, you get 10 free spins on Hugo, the gold mining game with riches to spare. There's no limit to this offer, so the more times you hit the bonus round on Easter Eggs the more free spins you get. If that's not enough eggcitement (we promise we won't pun again), you could also bag a random prize, such as an iPhone 7, Apple TV or belly load of chocolate.

20 no deposit free spins for UK players
Most people have heard of LeoVegas these days – they're everywhere! But if you've never spun some slots at this leading online casino, you're missing out on one of the best player experiences in the industry. LeoVegas continues to grow in popularity, and they provide all new UK players with 20 no deposit free spins upon registration. Further goodies arrive when you start depositing, with 100 more free spins and up to £1500 in cash up for grabs.
A Minimum 20 Free Spins Per Day at Millionaire Casino
Freshly listed on 777 Casino and starting with a bang, Millionaire Casino is another site that loves a bonus or two. Their promotions page is one of the busiest about. They regularly run weekly or fortnightly campaigns and as one ends, another typically starts. April is no different, except for they're now running bonus schemes concurrently. We're most interesting in the Easter free spins giveaway, however. And we suspect you will be too. Make a deposit between April 16th and April 23rd using the bonus code EGG to receive an Easter Egg of your own. Crack it open to reveal between 20 and 30 free spins on a different game each day. Deposit every day, and you could get your mitts on 180 free spins. That ain't bad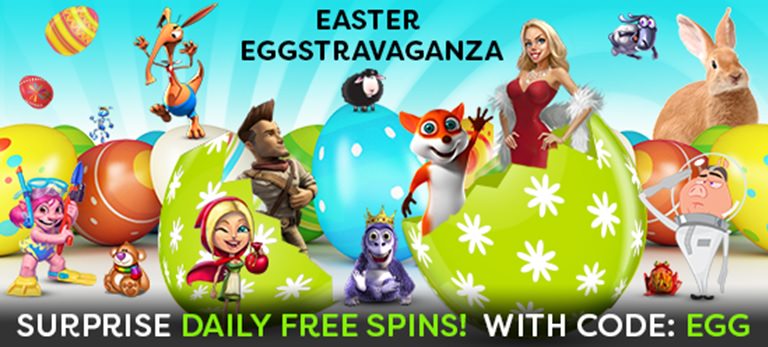 Millionaire Casino's exclusive 10 no deposit free spins
Millionaire Casino is well-established these days, but it shows no signs of resting on its laurels. They've even revamped their welcome bonus, to include a sugary bundle of 10 no deposit free spins on Starburst. They're exclusively available via this site, so click through and register from our Millionaire Casino review page to claim them. You receive a further 50 free spins when you make your first deposit, along with a 100% bonus. Stick around for a bit longer, and there's a 200% bonus up to £200 available with your third deposit, as well as a 25% bonus with deposit 2.
Free Spins and Big Cash Prizes at Cashmio
Aw, it's ages since we had the chance to advertise the pick of the new UK online casinos. Good old Cashmio has an interface and UX design that puts more experienced sites to shame. We love their site design, we love their relentless challenges, and we definitely love their Easter giveaway! Spins you way to the top of their leaderboard by playing some Easter themed slots, and you could swan off with a voucher worth £1000. Even if you don't top the tree, there's between 20 and 50 free spins available further down the prize board. The free spins are gifted as Easter eggs to lend the promotion an extra festive touch. Here's what you could win:
1st Prize – €1000 gift voucher to buy some gadgets
2nd Prize – €200 cash
3rd Prize – €100 cash
4th Prize – 50 bonus spins
5th Prize – 40 bonus spins
6th-10th Prizes – 20 bonus spins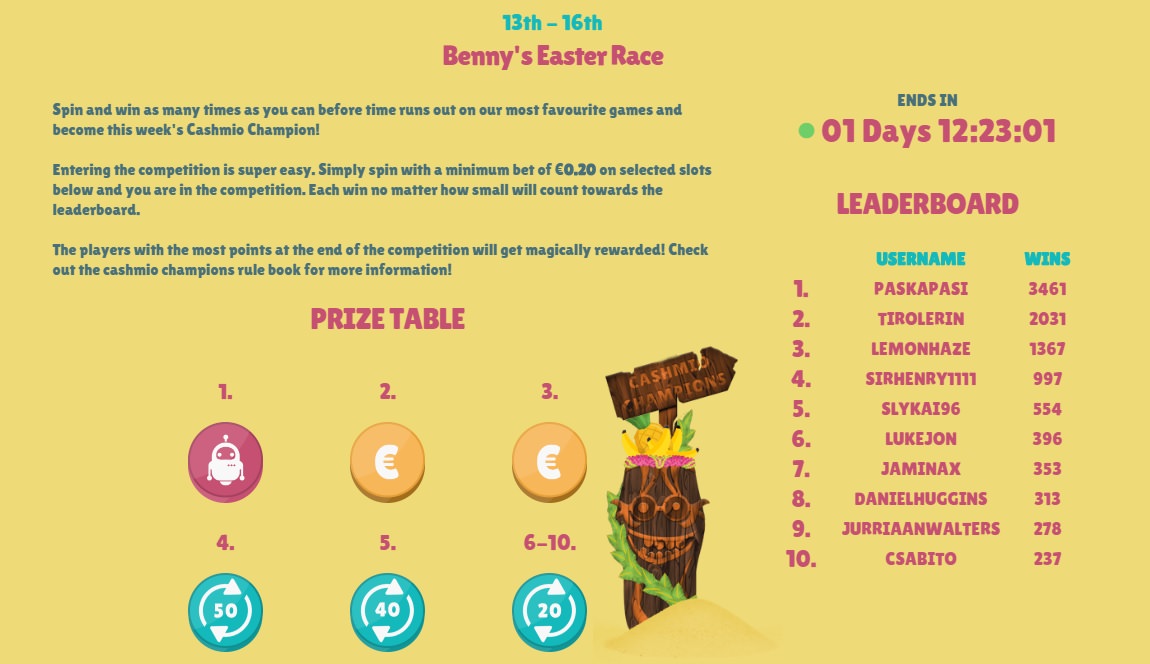 20 no deposit free spins at Cashmio
Cashmio is an online casino to love. It's pitched somewhere between an old school classic casino and new fangled adventure casino, and it works a treat. You're set daily missions when you play regularly, giving you the chance to pick up more for your money. Fulfil one challenge, and you'll move on to your next. You don't need to expend much energy or indeed spend much money to complete your first mission, however. Just click through from our Cashmio review page, take a minute or two to register and you'll find 20 no deposit free spins waiting for you. Make your first deposit to bag a 100% bonus and 50 more free spins to boot. This is just the tip of the iceberg of course. Once you're registered, the bonus missions come thick and fast.
Have a Cracking Easter
We've slipped in a 2nd Easter pun without you even noticing there (eggs…cracking…you get it?) and we wanted to wish you all a happy Easter, not to mention a jolly long weekend off work. As we always say, check the terms and conditions before you snap up bonus offers but enjoy some free spins this weekend. We haven't even mentioned the fabulous Guts Casino promotions yet, because that goes on a little longer. We'll save that for another day.