If we were chucking around awards for the most improved online casinos of recent years, Slots Magic would be amongst the top contenders. Don't get us wrong here, and it was never a bad casino, to begin with. But the team behind the brand seem to have put their foot in the floor over the past 12 to 18 months, and we now rate it amongst the very best out there. They've bagged a UK casino license, they've introduced an absolute beast of a welcome bonus, and they've revamped the site, so it looks good and moves smoothly. It was all enough to make us giddy even before they removed all wagering requirements from their free spins offers. We're quite besotted.
SLOTS MAGIC ONLINE CASINO
Not everybody can pull off the colour purple, but Slots Magic online casino can wear it well enough. The site looks like a giant dairy milk wrapper, embellished by gold trimmings and it's certainly a bold look. It's an instantly recognisable colour scheme, but if you purple ain't your thing, then your eyes might start bleeding. We think it works well, but elsewhere there is some room for improvement in the design, particularly on the instant play flash site, which you seem to end up on a lot without knowing how. Everything is designed to fit on one screen there, without the need for scrolling. That's neat enough, but it has encouraged some noticeably small fonts and ensured that only six games fit on each page. It's all a little squashed, although most key functions are easily accessible.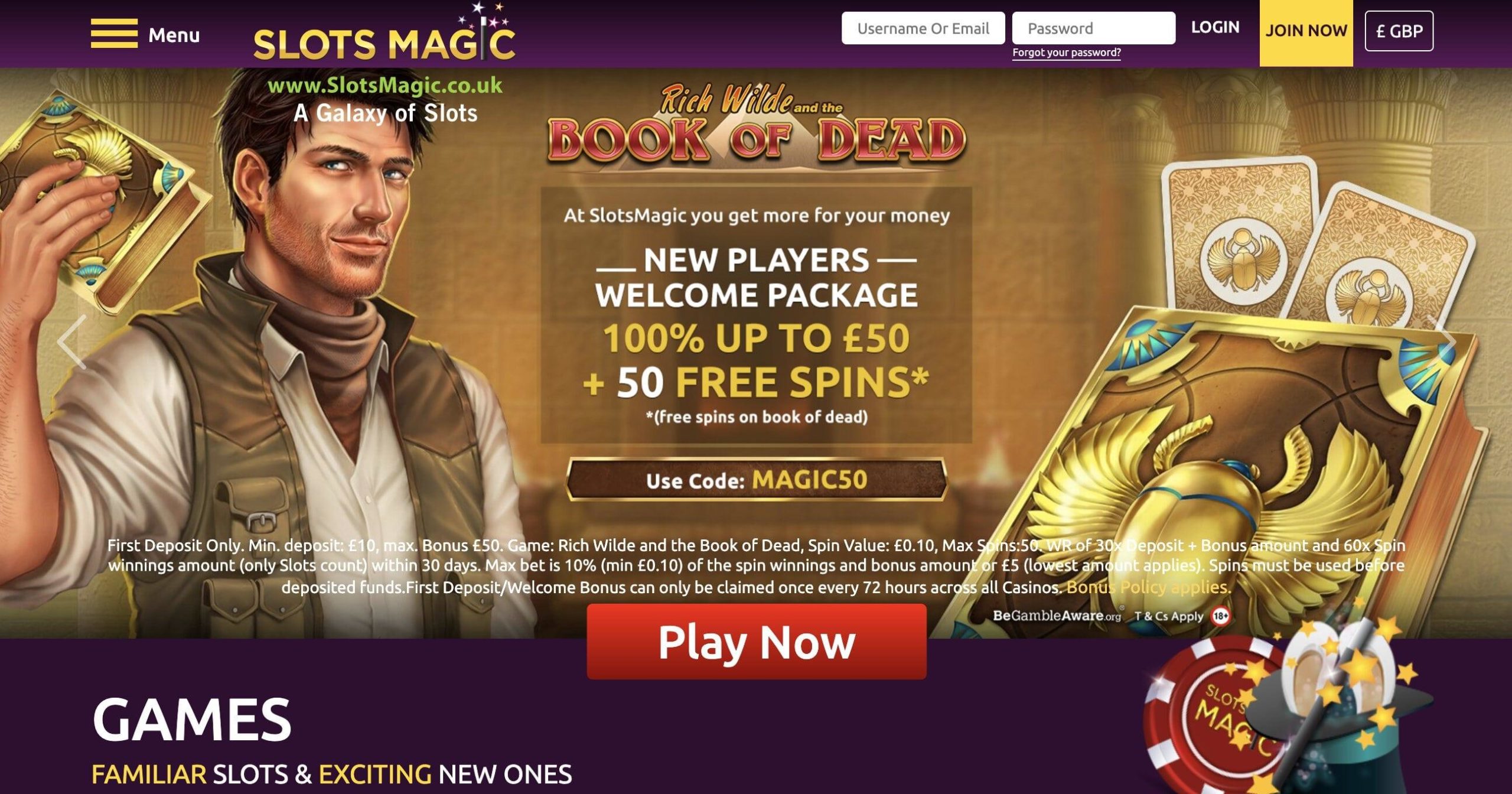 If the instant play homepage is a little busy, the standard site does make amends. There are some smart touches around the player module, including easily readable visual displays of your balance and VIP ratings. The games page is well designed here, and the layout of many of the critical functions is smart, expansive and enjoyable to browse. Both the customer service module and cashier are intuitive and easy to use. The latter has nice bold visual icons representing different payment methods and includes the fees for each, so you know what you're getting into. There are lots to like.
SLOTS MAGIC CASINO LOGIN
You'll have no problems getting to grips with Slots Magic  Casino Login page., but there's a fair old difference between the flash site and the standard casino again. Navigation is intuitive from both, and most sections can be accessed from more than one place. However, rather than toggling between articles on the flash site, any links you click will open in a new window. It's all a bit too reminiscent of dreaded popups at times and can be quite slow. But the non-flash site is different and performs much better. The game's grid is way more expansive for example, although both make use of an adequate search function and a nifty 'provider' filter (you click on the provider's logo) to alleviate any issues.
Registration is also about as easy as it gets at Slots Magic. You'll be signed up in seconds, and you get a friendly email explaining how you can get support when you need it. That same support is on hand 24/7 to provide a helping hand should you need one, and we've found the team to be both friendly and responsive. Depositing and withdrawing is a doddle, the site is well explained, as are all promotions, and that player module gives an excellent overview of your current status. It's worth dwelling on how well promotions are described because you'll struggle to find more straightforward communication anywhere else. Slots Magic isn't perfect, but it's a capable, efficient gaming platform that is easy to use, even for newcomers.
SLOTS MAGIC CASINO GAMES
Slots Magic put plenty of emphasis on the strength of their games catalogue. They advertise their list of providers regularly and allow you to filter by your favourite quickly. Slots Magic Casino Games carry the best slots from software developers like, NetEnt, MicroGaming, NexGen and Merkur Gaming contribute to the sense of variety amongst the slot selection and there's a compact little live casino offering baccarat, roulette and poker too. If you fancy a punt at a dream win, you can try your hand at loads of pooled jackpot games including the millionaire-making juggernauts Mega Fortune and Mega Moolah.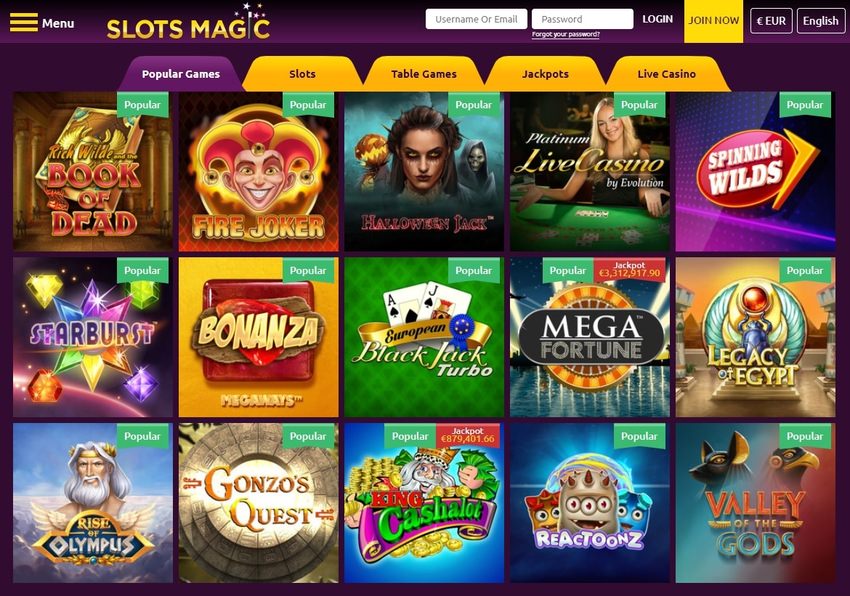 There's plenty to comment about this game selection. Most of our favourites are included, but there's still space for a few boutique slots that we hadn't played before. Given this casino's commitment to improvement, we have little doubt that they will be adding to their arsenal over the coming months and years too.
SLOTS MAGIC WELCOME BONUS
Slots Magic Welcome Bonus is 100% up to £50 plus 50 free spins using bonus code MAGIC50. Plus you can get free spins for ONE YEAR.
The Slots Magic welcome bonus does come with some fine print so be sure to check before depositing any real money. In brief its a minimum £10 deposit with wagering requirement of 30x of the deposit and bonus amount. Any winnings on the spins attract wagering of 60x. Lastly, you will need to use the bonus within 30 days.
Free Spins For One Year
Another bonus from SlotsMagic is very interesting. They offer one heck of a standard welcome bonus to their new registrations, but they are also offering free spins. Once you deposit your instantly rewarded with 50 free spins. After that, you will receive ten free spins every Thursday or Friday for 52 weeks. The chances are that you'll bag some bonus cash from your freebies, so it's quite the bonus.
WHY BECOME A REGULAR PLAYER AT SLOTS MAGIC?
Wagering requirements are not applied to any free spins offers at SlotsMagic. It's always an eye-catching feature of any online casino and one we'd like to see more often. When we find a site that's willing to turn free spins into a proper bonus, we tend to hang our hat on the stand and put our feet up. It's something that most players value very highly. SlotsMagic also runs some pretty excellent promotions. They're offering players the chance to get free spins for the whole of 2019 at the time of writing, and all for the small matter of a £50 deposit. You'd get ten free spins a week for the whole year, and there's still no wagering requirements. These offers are just the tip of the iceberg; there are regular tournaments, a lucrative VIP membership team, that 24/7 customer support and a security record that's been rubber stamped by the super-stringent UK Gambling Commission. We see no reason why you wouldn't stick around.
SLOTS MAGIC MOBILE CASINO
We love the SlotsMagic mobile casino, perhaps even more so than its desktop big brother. The colour scheme looks great on high-res small screens, and the site has been well designed, with a single side menu that contains loads of options. You can deposit, withdraw, view tournaments and daily recommendations, see your activity history, access an excellent selection games and so on. It perhaps loses a point for the lack of live chat, but it's accessible to email the customer service team from your mobile. It's a great little site.
SlotsMagic is available on both Android and iOS. We've played on iPads, iPhones and Android smartphones and found the site to be responsive and glitch-free. It all makes a lot of sense and is designed with the player in mind. We like the easy view power bars showing your balance and VIP level towards the top of each page, as well as the one-click access to the excellent mobile cashier section.
SLOTS MAGIC CASINO REVIEW
We have thoroughly enjoyed this Slots Magic Casino Review. The generous nature of the Slots Magic team is reflected in their attitude towards casino bonuses. Their commitment to free spins without wagering requirements is highly laudable and will attract plenty of players, but is there much to love beyond that? We certainly think so. This is an online casino that is always looking to improve. The sites work well, and it boasts an impressive mobile casino and excellent customer service. It's safe, it's reliable, and it's increasingly innovative. For those reasons, we are happy to sign up to the Slots Magic fan club.