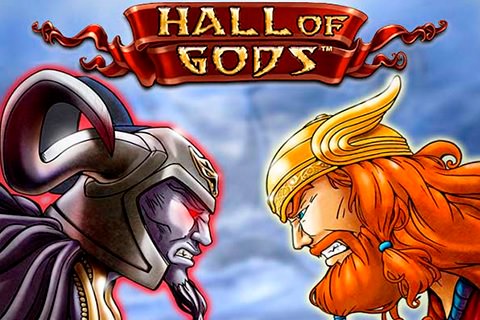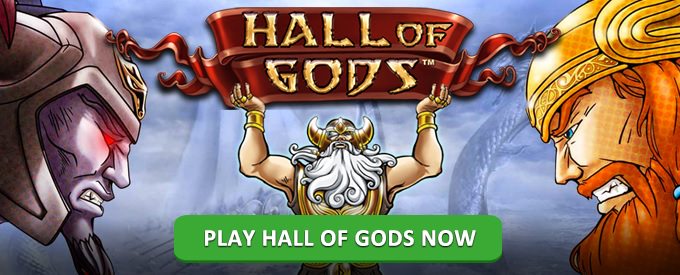 Hall of Gods is one of the oldest progressive jackpot games on the market. NetEnt's original big money spinner has been in operation for the best part of a decade. Although it's reputation has been usurped by the likes of Mega Moolah and Mega Fortune in more recent times, it remains a potentially lucrative money spinner for jackpot fans. That said, its behaviour has reflected its age lately. Like an old curmudgeon, it has refused to fall for 5 long months. Indeed, long gaps between drops have been a noticeable feature of the game over the past two years. So, when it does drop, it tends to both be big news, and ensure that somebody got filthy rich. That's exactly what happened this weekend.
Hall of Gods Jackpot Falls for £6.3 Million
Yep, the latest jackpot winner has scooped a cool £6.3 million windfall, which is one of the biggest individual wins of 2017. Whoever the lucky recipient is, he or she stands to enjoy one heck of a Christmas. The jackpot fell on Friday 17th November late in the evening, the first time it has tumbled since June 2016. That explains why it had grown so huge.
Little (well, nothing actually) is known about the winner up so far. It's all probably a bit early, but equally he or she may have decided to stay out of the limelight. No casino has claimed the big news as far as we can tell. It's all very quiet and leaves us to speculate. Could Casumo have continued its lucky run that has seen it responsible for four jackpot wins this year? As soon as we find out, we'll let you know.
NetEnt's Hall of Gods Jackpot Slot
Like all NetEnt progressive jackpot slots, anybody can play for the biggest prize on Hall of Gods. Whereas some jackpot games only allow you to qualify for the main prize if you stake at the highest level, NetEnt have always taken a more inclusive view. That means that the lucky player could conceivably have won the jackpot from a small stake amount.
The game itself has aged well too. Yes, it lacks some of the visual razzmatazz of some of its successors, but it has a cracking concept infused with great gameplay. The theme – which is based around mythological Gods – has been used elsewhere too, most famously in MicroGaming's Thundestruck games. One thing's for certain, Hall of Gods continues to be popular. It wouldn't reach a £6.3 million jackpot amount if it didn't.
Is a Pattern Emerging on Hall of Gods?
As I said earlier, Hall of Gods has developed a bit of reputation for stubborness. But if you look at its recent history, you can see a pattern start to emerge. Five of the last six jackpot wins have fallen between £6.3 million and £6.9 million, a run stretching back to early 2015. Usually, there's a 6-9 month gap between wins.
The only anomaly was a £1.42 million win in early 2016, which came hot on the heels of a big jackpot drop a month earlier. Other than though, Hall of Gods has been remarkably consistent. Recent history would suggest that you should start playing it more regularly once it hits the £6 million mark. Although we all know that online slots are never as predictable as we hope!
The Biggest Jackpots November 2017
It's been a big month for jackpot wins. Netent's Mega Fortune fell early in November and MicroGaming's record breaking Mega Moolah slot tumbled just a couple of days before this latest Hall of Gods drop. It all means that super charged jackpots are hard to come by, with the exception of Playtech's Jackpot Giant. That jackpot sits at more that £7 million but you have to play the highest stake to qualify. Plus, it's never tumbled so it's a hard one to recommend.
Mega Fortune Dreams has made steady progress since it last dropped back in October and is now back up around the £1.5 million mark. That's where most of the jackpot slots are at the moment – around £1-2 million mark. That's certainly not a bad windfall, but equally, it isn't as spectacular as some of the eye watering amounts that players can win. Hall of Gods was the one to win, but now it's gone. I wonder if we'll see another quick win like we did back the beginning of last year.
Where Can You Play Hall of Gods?
NetEnt progressive games are very popular, and that's partly because they are so widespread. Lots of casinos partner with NetEnt to gain access to their huge suite of games. Most – if not all – will also include most of the local and network progressive jackpot games, of which Hall of Gods is one.
Play Hall of Gods at PlayOjo
I've found myself gravitating towards PlayOjo a lot lately. It's one of the most important new online casinos of 2017. having arrived with the promise of real bonuses and absolute transparency. They've binned wagering requirements and introduced a 'cash back on every bet' scheme, alongside other innovations. As a reference point for the future, it's well worth a look. You can play Hall of Gods there too, indeed they predicted the jackpot's fall on Twitter just recently.

The PlayOjo Welcome Bonus
PlayOjo prefers the word 'reward' to 'bonus'. It's all part of their attempt to consign the more onerous side of traditional bonuses to the bin. Their welcome reward means you'll get a free spins for every pound you deposit up to £50. Deposit £20 and you get 20 free spins, deposit £50 and you get 50. Simple as that. Plus, all free spins have no wagering requirements, so you can access winnings straight away.
Play Hall of Gods at All Irish Casino
If you haven't won a jackpot before, perhaps you need the luck of the Irish. All Irish Casino draws inspiration from the Emerald Isle and boasts a green, white and orange website to boot. It boasts a fine suite of excellent online slots in a varied casino that's growing in popularity all the time.

The All Irish Casino Welcome Bonus
The Irish are known for their natural generosity so you would expect All Irish Casino to come up with a welcome bonus to reflect that spirit. It certainly starts of well, with 22 no deposit free spins for all new players. You just need to register to get those. A healthy 100% bonus up to £550 follows with your first deposit too. That will keep you going for a while.