July and August were busy months for jackpot wins. Numerous players became millionaires following big drops on the likes of Mega Fortune and Mega Moolah. Even Arabian Nights tumbled after 9 long months, gifting one lucky recipient a £2.5 million windfall. The good fortune carried on into September too, when a glut of jackpot wins ushered in the month. However, since a Casumo player toppled the Mega Fortune jackpot for a cool £3 million on September 4th, it's all gone a little quiet. Is this the calm before the storm? With three slots soaring about the £3.5 million mark, we think that might well be the case.
Three Jackpot Slots – More than £15 Million to Win
The September lull has allowed some of the prize pots attached to the biggest jackpot slots to build some momentum. The likes of Mega Fortune Dreams and the original Mega Fortune are gathering ground following more recent wins, but they are small fry in comparison to the three largest currently available.
Perhaps most significantly, Mega Moolah, MicroGaming's record breaking behemoth of a slot, has made quick progress since it last fell over a month ago. Indeed the Mega Moolah jackpot has reached a humongous £6.6 million. Yet, it still isn't the biggest windfall available as I write. That prize goes to a less well known slot.
The Three Biggest Jackpots September 2017
Instead, it's Jackpot Giant that holds that particular accolade. With a jackpot figure that is rapidly approaching the £7.5 million mark, it's been attracting more attention that it usually would. That said, its current lofty status comes with a couple of caveats. We'll address those as we run through out list of the biggest jackpots available this September 2017.
Win £7.2 Million on Jackpot Giant
Whereas Mega Moolah and Mega Fortune have  exchanged the world record for the biggest jackpot win ever over the years, let's not forget that British gaming giant Playtech are also in the jackpot market. Jackpot Giant is there game and it's currently stealing headlines for its huge jackpot, which sits above £7.2 million. So, what of those caveats? Well, Jackpot Giant's prize pot is so large because it's never been won, not since the game's inception. Unlike some of its rivals, you also need to stake the maximum bet level to have a shot at the biggest prize. Nevertheless, if you're prepared to stake the cash, the rewards could be incredible.
Play Jackpot Giant at BGO
You might have to work a bit harder to find Jackpot Giant that you will to find the other games featured in the list. So let us point you in the direction of BGO and their famous 'Boss', who will give you the chance to win the big prize on this Playtech jackpot slot. Given that you'll also receive 20 no deposit free spins and a 200% bonus up to £200, you have the perfect excuse to register and take a crack at the £7 million prize.
Win £6.7 Million on Mega Moolah
Mega Moolah doesn't tend to need too much of an introduction. The most famous online slot in the world now holds the record for both the highest mobile payout and biggest win from a single spin on any format. No jackpot slot has paid out more money over the course of its lifespan. That world record amount reached a ridiculous amount in excess of £13 million. And while the current prize isn't quite that spectacular, it's still a cool £6.7 Million. I'd take that.
Play Mega Moolah at Zodiac Casino
You qualify for a shot at the jackpot no matter how much you stake when you play Mega Moolah. It's part of the game's charm. At Zodiac Casino, you can even try your luck without spending any of your own cash. As a new player, you can deposit just £1 to receive a cash bonus that's worth 80 free spins on any game – including MicroGaming's flagship jackpot slot. It's little wonder we made Zodiac our Casino of the Week.

Win Over £3 Million on Hall of Gods
It's a nice and tidy top three, with one representative from each of the three biggest games providers in the world. While usurped to a certain extent by Mega Fortune, Hall of Gods remains NetEnt's oldest jackpot slot. The game takes inspiration from Norse mythology and includes some terrific stand alone bonus features. But it's the jackpot game that creates the real interest, as well as the potential millions. It's three months since anybody won the Hall of Gods jackpot, and the potential payout has now risen above £3 million. Not bad at all.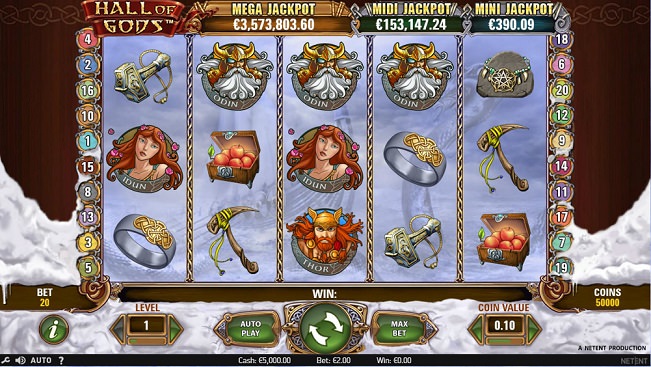 Play Hall of Gods at Casumo
Again, anyone can play for the Hall of Gods jackpot, no matter what their stake level. Whether you bet 0.25 or £25, you have a chance of pocketing the big prize. NetEnt games are incredibly popular and most of the online casinos we've reviewed here at 777 Casino stock their games. We've picked Casumo as our Hall of Gods casino of choice though. Why? Well, try three huge 7-figure wins already this year! That's what's happened at Casumo. Not only one of the most beautiful and fun casinos around, but also a lucky one.
How to Win the Jackpot
Despite claims from some, there's no magic formula that can help you predict when casino jackpots will drop. However, the longer it's been since a slot paid out its big prize, the more chance you have based on the law of averages. Of course, time also gives the jackpots the chance to build in size. All we know is this: you've got to be in it to win. So the only way to win the big prize is to chance your arm. Yes, the odds are against you, but somebody has to do it. And there are hundreds of online casino millionaires who would tell you it's worth trying.