PlayOjo epitomises an increasingly noticeable trend amongst new online casinos. It launched in 2017 with a bold tagline proclaiming 'No Wagering, No Bullshit' and promptly set about establishing its philosophy through a series of promises. The signs are certainly positive. They have binned the much-maligned wagering requirements that are typically attached to bonuses, pledged cash back on every bet made in the casino and committed to tailored daily bonuses. They claim to be completely transparent and the fresh approach is accompanied by some bespoke terminology that further established PlayOjo as being a little different from its peers. The whole package makes us want to scream 'it's about time an online casino behaved like this'. PlayOjo has talked the talk, but can it walk the walk? We think Ojo wager free bonuses will become the industry standard.
How Does PlayOjo Look?
The look of the casino reflects the intentions of the site. It's bright and fresh, with vibrant pastel colours and modern fonts. The predominantly blue and purple scheme is used throughout and continuity is maintained elsewhere too. The pages are never anything other than bold, making use of logos where possible (when displaying payment options for example). Text is used sparingly but effectively, fulfilling PlayOjo's 'No Bullshit' promise with straightforward, plainly expounded messages. Only the T&Cs page is a little disappointing. It's very bland and matter of fact, if reassuringly short. As PlayOjo has been so keen to promote its abandonment of oppressive terms and conditions, they miss the chance to drive home the message.
Elsewhere, we like the games catalogue. The thumbnail images are attractively arranged and ripe for a browsing. You can also use a nicely designed Advanced Search function to tailor your hunt for a game to play. The About Ojo section is worth a look as a newcomer too. An entertaining animated video runs through the premise of the site and better explains the OjoPlus scheme that rewards every bet with real cash returns. It may be a promotional tool but provides a useful overview of PlayOjo's approach to the gaming market.

Is PlayOjo Easy to Use
Your PlayOjo experience is controlled from a side menu from which you can access the games grid and other key sections. You won't find a familiar list of casino terms here, PlayOjo has created their own descriptors for their unique features. The 'kickers' section is worth a visit every day. An Ojo kicker code is a special treat awarded to PlayOjo players every day. You can ignore them if you want or wait for one that suits. The OjoPlus section tracks all the extra cash you earn from PlayOjo's pledge to pay out on every bet, win or lose. This cash sits separately from your main account cash but is not subject to wagering requirements like everything else at PlayOjo. It can take a little while to get used to the new functions but they're all positive remember so it's worth the effort.
One such kicker to keep you playing is the 75 free spins plus an extra free spin surprise when depositing £75. The offer can be used once per day and can be claimed on selected games only, the maximum amount of free spins is 75, spins value is £0.10, extra free spins will be given the day after the deposit is made, all wins from free spins are paid in cash with no wagering requirements and Ojo Rewards and Game Play Policy applies. After you have logged in click on Kickers in the right menu.
That's not to say there aren't a couple of snags. The casino is very new at the time of writing so some teething problems are to be expected but two UX issues stood out. Firstly, I kept on getting logged out of my account and I'm not sure why. Secondly, that wouldn't be such a problem if the pages loaded a bit quicker. You see the PlayOjo smiley face logo a little too often because he appears every time a page is loading and it can take a fair old time to even login. Occasionally, we were transported to a random page we weren't expecting. We wouldn't want these minor issues to detract from the great concept so we hope they iron out these problems soon. They're little more than a distraction for the time being so shouldn't negate your enjoyment of the site's unique functions.
PlayOjo 500+ Games You Can Play
Ojo Slots launched with an impressive 500 games. Its predominantly video slots – including a decent number of progressive jackpots – supplemented by table games, poker varieties and a small live casino. The software is provided by a number of design houses. There's a sizeable chunk of NetEnt games, as well as scores from MicroGaming, Evolution, Amaya, NextGen and WMS. PlayOjo is a SkillOnNet casino and also has access to the in-house GVG brand responsible for games like NinjaMaster and Hot Wheels.

The Advanced Search function is an impressive addition to the games page. It opens up a little filtering portal, from which you can narrow your search to include only titles from certain providers, hot rated slots or games with shared characteristics such as special bonus features. Unlike other sites, you combine these filters to pinpoint the games that are best for you. It works really well.
The PlayOjo Welcome Bonus
PlayOjo doesn't really talk in terms of 'bonuses'. Why? Well, because bonuses are associated with those pesky play-through requirements that PlayOjo has thrown out the window. They prefer words like 'rewards' as well as their own freshly formulated 'kickers'. And you get the first of your kickers from your very first deposit.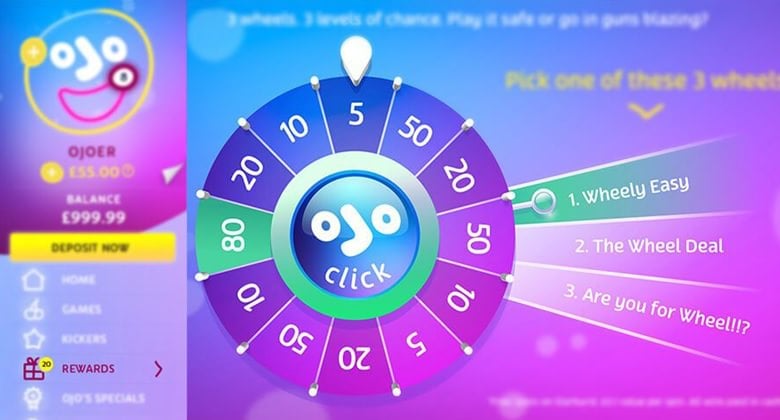 The welcome offer is really easy to understand. For every pound or euro you deposit, you receive a free spin. So, deposit £20 and you'll pocket 20 free spins; deposit £40 and you'll bag 40 free spins. You can earn a maximum of 50 free spins so it makes little sense depositing more than £50 first up. Most importantly, remember there are no wagering requirements on the free spins so you get to keep your winnings without running through an onerous qualification period. Plus, when you start using your cash deposit, you'll start benefitting from the OjoPlus cashback scheme that applies to every bet.
You can follow these easy steps to claim 50 free spins:
Register an account
Deposit £50 to get 50 free spins on the first deposit. The minimum deposit is £10.
Start enjoying your free spins on the Book of Dead video slot!

Why Become a Regular Player at PlayOjo?
It's these new features that are going to appeal to returning players. The move towards no wagering requirements on casino treats is something that is gaining traction elsewhere too and we expect to become even more prominent. It's not PlayOjo's only selling point though. In fact, it's worth resorting to bullet points to explain some of the perks.
* Ojo Plus gives you money back on every stake. If you lose, you get a little consolation prize, if you win then you still get a little boost on top of your earnings.

* Free treats or 'kickers' every single day.
* Move through the Ojo Levels by playing more and you'll be rewarded for your loyalty with extra benefits.
* The Ojo Wheel is one of the perks of the Ojo Levels scheme. Reach a certain level spin the wheel of fortune and see what it wins.
* Play Moments, a nice profile portal that tracks your history, so you can see your biggest winnings, total earnings and most successful games.
* A license from the UK Gambling Commission so you can be sure that the site has been heavily scrutinised to ensure safety, security and fair play.
* No wagering requirements. Rewards and rewards, the winnings are added to your account straight away.

* 24/7 customer service via live chat, telephone and email.
* A genuinely different gaming experience. It's early days and we don't feel like we've tasted everything PlayOjo has to offer yet but it's great to see an online casino that's doing something completely different.
The PlayOjo Mobile Casino
The PlayOjo casino is faithful to the desktop site. It's shifted the side menu into a burger menu accessible from the top left, drops you straight on the games page and if you scroll down, you still get to read the casino's pledges of transparency and watch the promotional video. You can't fault the effort, so much thought has gone into the creation of the brand and it's always good to see the same effort extended to the mobile casino.
Its browser hosted and compatible with all Android and Apple devices. That's iPhones/iPads both old and new, as well as Android smart phones and tablets. Pages are still occasionally slow to load but our experience in that regard was better than the desktop site. There's a really good help section with loads of information as well as the opportunity to live chat from your mobile if you need to do so. It's a tidy little mobile offering.
Our PlayOjo Verdict
PlayOjo might just be our favourite online casino of 2019. The team behind the brand clearly intend to shake up the industry. They have heard players calls for increased visibility, transparency and the removal of onerous small print that limit the benefits of standard casino bonuses. They do have a few UX issues to iron out but we're confident that they'll do that in good time. The casino is brand new at the time of writing so we're not too worried. Certainly any minor issues are far outweighed by the promise of schemes like OjoPlus and the no wagering 'Kickers'. The potential is huge and it'll be interested to see how many other casinos follow suit in the next 12 months. It's a thumbs-up from us. We're hoping it breathes new life into the industry.