Zodiac Casino is part of the Rewards group, which is also responsible for Captain Cook's Casino. It won't take you long to notice the similarities between the two sites either. Both are download only (or mobile) sites for one. They have a very similar interface for another, including a retro (or 'dated' depending on your spin) login page that looks like it's been beamed in from MS DOS, circa 1995. Perhaps most importantly, however, they also share a very similar welcome bonus. That's pretty crucial because you won't find bonuses like this outside of the Rewards Group. It's what my old sports teacher used to call 'a humdinger', but you'll need to read on to find out more.
ZODIAC CASINO 80 FREE SPINS
So here we go then. It's time to discuss the Zodiac Casino 80 free spins welcome bonus. As is typically the case with any casino in the Rewards group, it's their introductory offer that steals many of the headlines. From our communication with our readers, we know that they love the Captain Cook's Casino welcome bonus, which is billed as '100 chances to win the jackpot for a £5 deposit'. Now, Zodiac Casino is similar but different. With them, you 'only' get 80 chances to win the jackpot, but there's a trade-off. You only have to deposit a measly £1 or €1 to get it! We've never found a welcome bonus that sets the minimum deposit level so low, ever. Let alone one that gives so much in return. Now, we should say this. The offer is a bit of triumph of marketing. You absolutely get 80 chances to win the jackpot, but the deposit bonus is actually much more versatile than that. It's actually credited as £20 bonus cash.  Questions have been asked about this offer and more generally is Zodiac Casino fake? Well, we can tell you, that it is 100% not! It's the real deal.
You can use that £20 bonus cash on any game you like. By our maths, we make that a 2000% bonus on a £1 deposit, and no that isn't a typo.  That includes the progressive jackpot slots, and if you do the maths that gives you 80 chances to win the jackpot at the minimum £0.25 stake amount. As Mega Moolah famously allows you to qualify for the bonus no matter how much you stake, then you have the chance to play for the big daddy. If you want to play something else, you can. It's a ridiculously generous offer for a £1 deposit. Act fast though, you need to deposit within a week of registration if you want to take advantage of the deal. Once you're done with, you can start working your way through a series of other bonuses on top. The full welcome bonus breakdown runs as follows:
For a £1 first deposit you can use to get 80 shots at the Mega Moolah jackpot
100% cash match bonus up to £100 with your 2nd deposit
50% cash match bonus up to £80 with your 3rd deposit
50% cash match bonus up to £150 with your 4th deposit
50% cash match bonus up to £150 with your 5th deposit
ZODIAC CASINO UK
Zodiac Casino UK is identical to other jurisdictions like Canada and Europe. With the ongoing crackdown by the UKGC on bonuses and other fun things, a lot of casinos are offering substandard bonuses to UK players relatively to players from other countries. In the case of Zodiac Casino, however, UK players get all the bonus and game perks enjoyed globally. In other words, its a ubiquitous offering. The big difference UK players face is that of deposit and withdrawals.
Zodiac Casino UK is not permitted to process deposits or withdrawals using credit cards like Visa or Mastercard. There is also a bunch of documentation required to evidence source of funds. These are;
Bank statements displaying consistent inflow of income from identifiable origins

Proof of earnings, such as recent salary/wage slips/pension

Recent income or dividend statements

Trust deed or Estate documentation with relevant information

Documents to substantiate winnings from any gaming, lottery or similar activities

And any other forms of legitimate documentation to support the origin of the funds deposited.
This requirement applies to all UKGC licenced operators.
ZODIAC CASINO ONLINE
The visual similarities between Zodiac Casino and Captain Cook's are stark. Punch the URL in for either and you're transported to a promotional homepage featuring various happy (is it unfair to say smug?) souls holding the sort of giant cheques that are only ever handed over to charities or gamblers. The slightly cheesy promos serve a purpose of course. They reflect the Zodiac Casino's marketing strategy, or at least the one used to publicise their welcome bonus. It's advertised as '80 chances to win the jackpot' for a £1 stake'. The reality is perhaps not quite so black and white, but more on that later. The overall impression we get from the site is that it all errs a little on the side of kitsch but in a way, it's pleasingly low rent. It's something a little different to the bright, cartoon graphics you find elsewhere. It's earthy.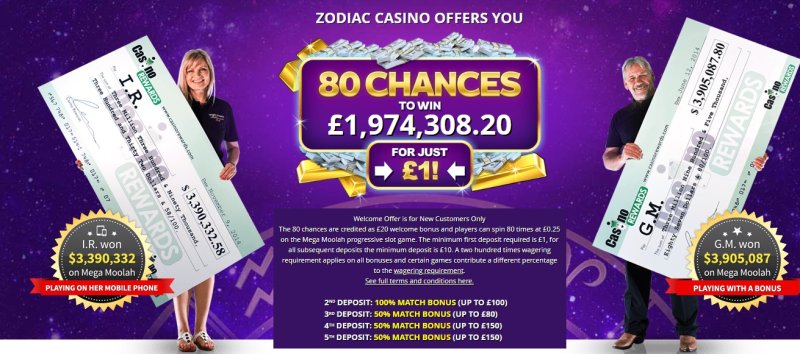 Of course, the homepage doesn't provide any glimpse of the online casino itself. That's download only, so you need to scroll down and click on the orange 'Click Here to Play Now' link to begin the download process. Now, we never hide our disdain towards download only casino software sites. We much prefer to play from our browser in this day and age, but at least Zodiac Casino downloads quickly. Once you're done with registration, you'll be asked to log in using the same silver, Windows 97 style overlay that the Rewards Group uses for Captain Cook's Casino. If you're of a certain age, it's retro quality will make you chuckle. You're then transported through a short video intro featuring star constellations, which match the theme of the site. As with most download casinos, the site's graphics are a bit grainy too and again look a little old-fashioned. Even the casino's logo looks like it was designed in 1980s Las Vegas. You know what though? We don't mean to be negative about this at all, quite the contrary. We've grown to rather like the unpretentious, nostalgic qualities of Zodiac Casino. You'll find slicker sites elsewhere.
ZODIAC CASINO SISTER SITES
Zodiac casino is part of the Casino Rewards Group. The collection of casinos cover most countries which allow online gambling – or at least don't specifically say its illegal. Each casino offers a different bonus which should cover most of new players needs.
Check out Zodiac's sister sites Casino Action, Quatro Casino and Captain Cooks Casino.
ZODIAC CASINO LOGIN
Well, it's not as easy to use as a casino that loads from the browser, is it? At least not initially anyway. But once it's downloaded to your desktop, you can just double-click on it to open it up. You're prompted to register the first time as soon as the download finishes, and we found that process nice and easy. Indeed, you only have to fill in a one-page sign up form to get going. That said the first time the casino opens, it takes an age to load. We were relieved on our subsequent Zodiac Casino login ran much quicker, so we don't have too many complaints. Now, we may have missed something during registration here but we were also assigned a nonsensical account holder 'username' of the sort you would never have a hope in hell of remembering. The same thing happened when we signed up for Captain Cook's Casino too, but luckily both sites auto-populate the information so you don't need to remember it every time.
The casino itself is easy enough to use. It does suffer from some minor issues that are typical of download only casinos, but there's nothing too obstructive. Indeed, the site is remarkably faithful to the Captain Cook's Casino design in many ways, and even employs the same icons for the key menu items, although there are more of them.  The games catalogue is a bit clunky to scroll, but they have at least incorporated some filtering options. There's no need for a 'provider' filter because this is a strictly MicroGaming online casino, so they've stuck to familiar sub-categories (video slots, jackpots etc) and 'feature filtering', which means you can see all games with a free spins round together, for example. The My Account
ZODIAC CASINO GAMES
Zodiac Casino lists MicroGaming games exclusively, so if you're a NetEnt or Play N' Go fan then look elsewhere. However, there are enough MicroGaming fans out there to support plenty of online casinos of this type. As you'd expect, such a narrow provider focus allows Zodiac to go to town with their sole provider, and stock virtually every game it's ever produced. This includes 787 video slots, tens of jackpot games and scores of table/card game varieties such as blackjack, poker and roulette. That adds plenty of variety, but those of you who follow the fortunes of MicroGaming will be acutely aware that the company's core focus is on the provision of the very best slots in the business. That's why we love them so much at 777 Casino, because slots are our priority too.
Given that Zodiac Casino makes such a song and dance out of their jackpot collection when promoting their welcome bonus, it makes perfect sense to discuss that particular type of game in more detail. When they claim that the welcome offer gives players '80 Chances to Win the Jackpot', they are of course referring to the famous, consistently seven figure Mega Moolah jackpot.
Some of our favourite Zodiac Casino games include Thunderstruck II – High Limit, The Finer Reels of Life, Lucky Riches Hyperspins, Immortal Creatures and Diamond Force – all having a history of big wins.
ZODIAC CASINO PAYMENT METHODS
Zodiac casino, like all good online gambling sites, accepts all major deposit and withdrawal payment methods. This includes bank transfers, Skrill, Visa, Mastercard, paysafecard, Neteller, instadebit, PayPal and bizarrely enough Diners Club. Does any actually own a Diners Club card any more?
Unlike other casinos Zodiac does not discriminate on your payment method; you will still receive the casino bonus and rewards program benefits even using Neteller and Skrill. An important side note is that you can only withdraw any real money winnings using the same deposit payment method and use the same account name. The terms and conditions section on the Zodiac website explain these details in more detail. If in doubt, contact the customer support team using live chat.
WHY BECOME A REGULAR PLAYER AT ZODIAC CASINO?
The welcome bonus will be enough to convince most players to register. But what else does Zodiac Casino have to offer? Yes, we'd like an instant play option and a few more providers ideally (notwithstanding how good that MicroGaming casino catalogue can be). However, Zodiac Casino likes to engage their players and encourage regulars to return time and time again. Once upon a time, Rewards Casino got a bit too excited about their levels of email engagement and used to drown inboxes. They are much more controlled now, but you'll still have the chance to pick up plenty of personalised bonuses and loyalty rewards. Once you've downloaded that software to your phone or computer, you might just as well use it. There is nothing revolutionary about the overall casino experience beyond that incredible welcome bonus, but Zodiac Casino is a safe (with licenses from the UK Gambling Commission and Malta Gaming Authority), secure (using ssl encryption and well-supported place to spend your game time.
The casino rewards loyalty program is another reason to stick with Zodiac Casino. As soon as you register with Zodiac Casino or any Zodiac casino sister sites you are enrolled in the "Casino Rewards" program. The loyalty program gives away over $50million in casino bonuses each year. You will earn VIP points which can be redeemed straight to your casino account and enjoy exclusive weekly promotions.
THE ZODIAC MOBILE CASINO
The Zodiac Casino mobile casino is faithful to the desktop version but accessible to the browser. It's actually a bit tidier to use as a result, and the registration process, although identical, feels a bit better. The site feels quicker to use as well, which is a bonus. Zodiac certainly encourages you to download the software, but it's not compulsory. The mobile software has seen off some of the blockier, more dated graphics too as an added bonus. Nobody would ever deny that there are better mobile casinos out there, certainly from an aesthetic point of view. Just like the desktop site wouldn't win any awards for its looks, the mobile site isn't as slick as a Mr Green or LeoVegas. It works fine, however, and you can use that headline-grabbing welcome bonus on mobile games too. We find Zodiac Casino a smidgen easier to use from a smartphone or tablet than a computer. You might find yourself reaching for your mobile when you fancy a session at this casino.
ZODIAC CASINO REVIEW
Zodiac Casino and its fellow Rewards Group sites have really shaken up the industry over the last few years. We imagine that the depth and sheer generosity of their welcome bonus have left many rivals scratching their head. Whether you view it as 80 shots at the jackpot or £20 free cash to play on any game, the 1st deposit bonus is unbelievably good. And that's even before you take into account the fact that you only have to deposit £1 to get it, and it's backed up by four more bonuses with your next four deposits. The welcome bonus deserves to grab headlines, not just in this review but in the industry as a whole. Players love it and will keep coming back for more too. Once you have the software, the site is easy to use if a little dated in design. There's a fine (near complete) catalogue of MicroGaming slots to get your teeth into as well.