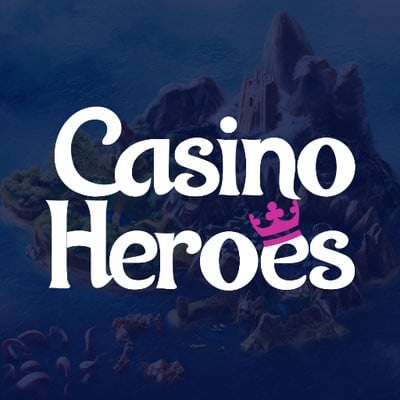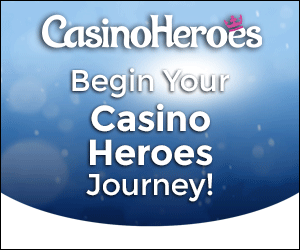 Casino Heroes has never really played according to traditional rules. This intriguing adventure casino sometimes comes across more like the RPG games that all 90s kids remember so fondly. It has different worlds to explores, loads of big, bad bosses to beat and a rolling rosters of player characters to choose from. You get the distinct impression that the brains behind the brand enjoy their work immensely. They want their users to enjoy an immersive experience that's unlike any other. As if to prove their commitment to their players, they've introduced a new concept in free spins – and for one day only, they're selling them off on the cheap. Better still, the free spins are entirely without wagering requirements.
Casino Heroes Ruby Store Free Spins Sale
Casino Heroes' Ruby Store concept is typical of their innovative approach to gaming. Players collect valuable rubies as they play, and can then exchange them for all manner of casino rewards and bonuses. Now, the casino is helping you get even more from your precious stones. For one day only, they've slashed 10% off the cost of their various bonuses in the Ruby Store, ensuring that your rubies go even further.
There are loads of reasons to be excited by that. The Ruby Store doesn't just stock free spins. No, it stocks higher value free spins worth up to £4 each. Better still, these are free spins no wagering requirements so all winnings generated from them are yours to keep straight away. During the sale period, you can exchange your rubies for free spins on Tiki Tumble, Lucha Maniacs or Legacy of Egypt.
High Value Free Spins with No Wagering Requirements
Casino Heroes have given their higher value free spins an entirely apt name: King Spins. There are three types of King Spin, but are share certain characteristics. Firstly, they are worth more than your average free spins bundle. Most free spins are pegged at the lowest stake amount on a valid slot. This, of course, limits your flexibility as well as your chances of winning significant amounts of money. King Spins aren;t subject to such restrictions.
Secondly, all King Spins are entirely wager free. Again, most free spins bundle are subject to wagering requirements, which dictate the amount of times you need to play through the value of your bonus (or winnings generated from the bonus) before you can withdraw your cash. With wagering requirements removed, King Spins provide a fairer experience for players. The 10% discount makes them even more appetising.
Three Levels of High Value King Spins
The most recent sale lasts for one day only, so you have until 11pm tonight (UK time) to claim your discounted free spins. Don't worry too much if you miss out, though (or indeed if you have never played at Casino Heroes do don't have any rubies to exchange. Casino Heroes regularly run sales of this type. Keep an eye on their blog and promotions page for details.
There are three different levels of high value free spins bundles for you to take advantage of them. The higher value ones cost you more rubies as you'd expect, but again, that 10% discount can ensure that they last a bit longer:
King Spins are worth £1 per spin
Super King Spins are worth £2 per spin
Mega King Spins with £4 per spin
Check the Casino Heroes terms and conditions for further information about the offer.
Casino Heroes – the Adventure Casino
Casumo was the first adventure casino but Casino Heroes has taken the concept to new levels. Every game you play and every spin you make contributes towards your journey. Your chosen character wanders around various worlds exploring the landscape and seeking out bosses to fight. Boss fights are played out on some of the best online slots in the Casino Heroes catalogue. It's an intriguing experience.
Just this week, Casino Heroes has launched three more 'islands' for players to explore. It's the sort of creativity that negates any boredom and elevates the experience of visiting the site regularly. The House of Doom island, developed in homage to the new Play n Go slot of the same name, looks particularly interesting. You'll find it hard to be bored at Casino Heroes.
Free £5 No Deposit Casino
You will need to play before you can collect rubies but Casino Heroes offer the perfect flip for prospective new players. In an increasingly rare move, they provide a free £5 no deposit casino bonus  so you can begin your Casino Heroes journey on your house. Your free cash will help you start exploring the Casino Heroes landscape and make yourself at home. Then, when you make your first deposit, you can choose between up to 600 free spins or a 100% cash bonus. See our Casino Heroes review page for more detail.