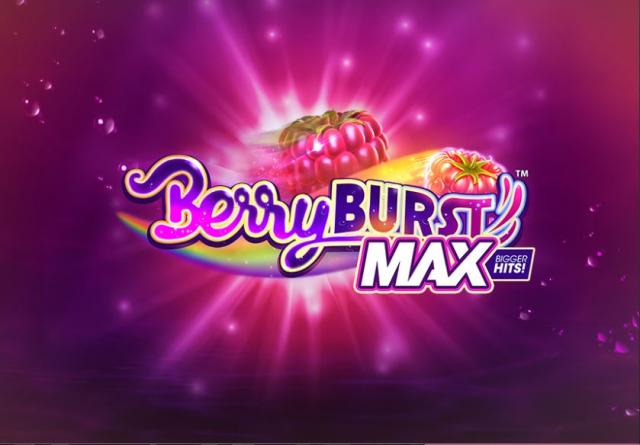 We all have our own reasons for playing and enjoying slots. While most online casino enthusiasts play for fun first and foremost, some have higher ambitions than others. Serious online casino player who predominantly spins slots in search of big wins sometimes express frustration at the pay patterns of most of the online slots on the market. NetEnt is now the first games supplier to formally recognise this exasperation. That's why they have announced that their new Berryburst video slot – due for release next month – will launch in two different versions – Berryburst regular and Berryburst Max. The latter will encourage the prospect of less frequent but higher value wins to satisfy high rollers. It's a really interesting concept so let's explore it further.
NetEnt's Berryburst Slot
In many ways, NetEnt's Berryburst slot follows tradition. Casino games using fruit symbols are nothing unusual, not only online but in real life too. Lest we forget that Brits call old-school, land-based slot games fruit machine or 'fruities' for short. The moniker acknowledges the regularity with which standard slot machines used fruits like cherries, oranges and plums as symbols.
Anyone with even a passing interest in online casino games may also have noted the appearance of the word 'burst' in the title. Yes, I can't believe how long it's taken them, but Berryburst is effectively a sequel (or continuation) of the 'burst' concept that proved so successful in the ridiculously popular Starburst. Players will know Starburst well because it's used in conjunction with so many welcome bonuses.
Berryburst Regular vs Berryburst Max
You can watch the preview video on this very video to get a taste for Berryburst. Its exceptionally contemporary design and cutting-edge graphics belie its traditional them. We can't wait to play the game here at 777 Casino because, like Starburst, it fuses vibrant colours with moreish gameplay. However, it's this week's announcement of an entirely new gaming concept that's piqued our levels of anticipation.
NetEnt has confirmed that Berryburst will be released in two different versions. The games will look identical but play very differently. While the regular Berryburst game will play more like Starburst, a low to medium volatility slot that's more likely to pay out small, regular wins than infrequent, large ones. You can expect Berryburst Max to be the opposite. It's been specially conditioned to pay out less frequently but maximise your chance of a significant win when it does drop. It's what High Rollers have been waiting for all their online casino lives.
What Is Slot Volatility?
The volatility of a slot is sometimes referred to as variance too. It described the behaviour of the payout patterns for any game and is built in the algorithms that inform the random number generators which ultimately control the game. Most slots are low to medium volatility games. This means that players can expect to win regularly but usually only 1 or 2 times their stake. For those who enjoy a prolonged gaming session with less risk, they are perfect. As that's most of us, low variance slots appeal to a mass market. Hence their popularity.
High volatility slots are less common but highly coveted by pockets of serious online casino players. You need either a strong nerve or plenty of cash (preferably both) if you're going to stomach playing them. You may go tens of rounds without winning anything but when you do strike a winning combination, you're more likely to secure a significant windfall. As ever, there are no guarantees though. High volatility slots can bleed you dry, but they are thrilling games that can make you rich too.
NetEnt's Max Series
We try to cater for all players here at 777 Casino. However, other review sites will often give preferential summaries of high volatility slots. In some quarters, they definitely carry more prestige. There's a feeling that they transform online casino gaming into something more than just a hobby. While that's a legacy of slightly snobbish opinion from the days when real casinos were frequented by a select few, there's no point ignoring some players' frustration with low paying games. NetEnt certainly think so anyway.
When announcing the format of the Berryburst slot games, they made it clear that players will notice a tangible difference between Berryburst Max and Berryburst regular. The difference in Return to Player Rate may seem very small – 96.56% compared to 95.23% – but Berryburst Max behaves very differently. Plus, from the noises coming out of NetEnt HQ, we don't think this is a one-off. Berryburst could well be just the first of many games released in both regular and 'max' formats.
What Have NetEnt Had to Say About It?
NetEnt announced the split-slot release for Berryburst in a recent press release. Their CEO Henrik Fagerhand is clearly delighted with the concept and the opportunities it provides for different types of player. He said:
We are certain that the MAX releases will add another dimension to our already hugely popular portfolio, and we are pleased to increase the standard of the gameplay experience for players
Make no mistake, this is an innovative move by NetEnt. It might lack the obvious punch of 3D graphics or huge in-game features like the '2 games in 1' concept of their Planet of the Apes slot but it's hugely important. They are providing players with a choice that simply didn't exist before. It will be interesting to see whether other games suppliers follow suit.
Where and When Can You Play NetEnt's Berryburst Slot?
Berryburst always had the hallmarks of a big NetEnt new game launch. Now, with the news of the Berryburst Max, it could just be their biggest of the year to date. You will have to wait a month or so, however. The game is scheduled for release on August 24th.
Given the importance of the game, I'd fully expect every online casino which has a relationship with NetEnt to stock it. We'll have our eyes open for launch day free spins offers from the likes of ComeOn, Royal Panda and Cashmio, who always seem to celebrate game launches in style. We can't wait to play both Berryburst Max and regular Berryburst. It's going to be a an exciting new game.