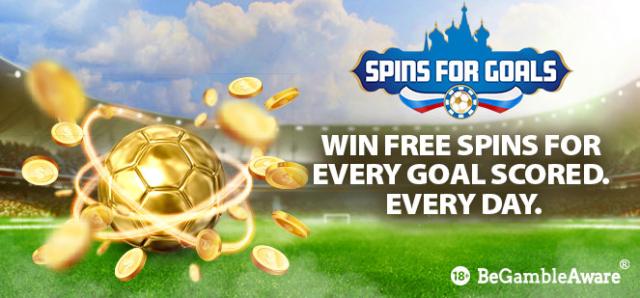 I like to cast my net far and wide when I search for topics for our 777 Casino news articles. But if you're a regular reader of this site, you could be forgiven for thinking otherwise recently. Indeed, you might just assume I go straight to bgo.com and pitch up. I promise you, however, that the recent proliferation of BGO articles is attributable to the top online casino's incessant busyness, rather than any favouritism on my part. This weekend, I simply wanted to find the best World Cup-themed bonus. I should have known where to look first.
World Cup 2018 Casino Bonuses
The best online casinos UK employ huge teams of marketeers to devise a stream of promotions and bonuses. Most tend to celebrate special dates and huge events in style. And it just gets much bigger than the football World Cup. It provides the perfect excuse for a bonus or two, and most casinos take it. Some just do it better than others. BGO is at the front of the queue.
BGO Free Spins for Goals This Week
BGO has actually been running their World Cup promotion since the tournament began on June 14th. It isn't in place for the whole four weeks, however, which means you only have a couple more days to take advantage of the offer. It's one of the more creative World Cups casino bonuses we've seen, yet it's also really simple. When teams score goals in the tournament, you get free spins.
I'm sitting writing this article on Sunday, right after a stellar day which saw 14 goals in total – 6 of which were scored by England against Panama. I can only curse my luck that I hadn't opted in for BGO's offer in good time so I could take advantage of the offer. Not least because there are additional free spins up for grabs when England score. Here's how this casino bonus works.
5 Free Spins for Every England Goal, 1 Free Spin for Others
Missing out on today's England goal extravaganza is a bit galling because BGO has pledged no less than 5 free spins for every goal that England score during the group stages. The budding mathematicians among you will have calculated that today's England win would have bagged you 30 free spins if you opted in for the promotion. The free spin's can be used on NetEnt Football: Champions Cup online slot.
It's not just about England though. BGO also provide 1 free spins for every goal scored by any other nation too. This means that today's goals by Panama, Colombia, Japan and Senegal were worth further 8 free spins. You still have four more days of this promotion to enjoy, including England's game with Belgium on Thursday. Hit the opt-in button on BGO's promotion page and you can start profiting from all goals scored in the Greatest Show on Earth.
Free Spins with No Wagering at BGO
BGO free spins are better than your average free spins. It's been 8 months since they decided to dump many of their bonus restrictions, which means that all the free spins you ever receive from BGO are free spins without wagering requirements. In other words, any winning generated from the free spins are yours to keep straight away. You don't need to play the value of the money through loads of time over before you can withdraw it.
As we recently told you, BGO had stopped calling their free spins by their traditional name until recently, partly in celebration of their more relaxed terms and conditions. They're using the name again now although there are still a few small restrictions to know about. Most importantly, your free spins expire after three days so use them quickly and use them wisely.
NetEnt's Football: Champions Cup Slot
Football: Champions Cup is the perfect online slot to play during this World Cup year. NetEnt released the game a couple of years in celebration of the Euro 2016 tournament. The game allows you to pick a country and then help them negotiate their way through a tournament. There's even a penalty shoot-out bonus round to add an extra dose of jeopardy to one of the most exciting sports themed slots on the market.
The New BGO Welcome Bonus
One of the reasons why we have ended up writing so many BGO news posts of late is their ever-changing welcome bonus. No sooner had they introduced a cash back bonus did they replace it with a new free spin offer, which probably has wider appeal.
New players now receive 10 no deposit free spins with no wagering requirements when they register, followed by 100 wager-free free spins when they make their first deposit. This week seems like a great time to sign up if you haven't already. You never know how many goals are going to be scored in the final round of World Cup group games, so there could be lots more free spins coming your way as a registered player at the BGO online casino.