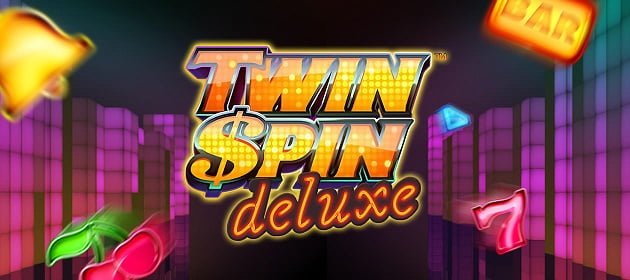 Twin Spin Deluxe is a long awaited sequel to one of NetEnt's most popular games. This is no carbon copy of the original though. There are similarities of course but the structure of the game is significantly different, particularly with regard to the ways you can win. Indeed, although the layout and theme of the game is clearly reminiscent of the original Twin Spin game, Twin Spin Deluxe also features elements of a couple of other NetEnt favourites. Intrigued yet? Let's take a closer look.
Twin Spin Deluxe – Exclusive to Unibet
Before we do that, let us share some important news about the imminent NetEnt release. You won't be able to play Twin Spin Deluxe at every online casino you see. It's been exclusively developed for Unibet and other online casinos within the same group and as far as we're aware, there are no plans to put it on general release.
So, if you're a fan of the original Twin Spin online slot, then you might want to make sure you're registered to Unibet. Luckily, it's one of most complete and well-designed online casinos on the market. The Unibet team boast years of experience and it shows. Indeed, its their reputation for quality that allows them to develop a strong enough relationship with a software giant like NetEnt and secure an exclusive deal.
How to Win on Twin Spin Deluxe
The original Twin Spin hinted at a path that NetEnt have followed over the last couple of the years. The game introduced players to the concept of two linked reels, which spin together with identical symbols. This of course increases your chances of securing a winning payline. The game's structure also provides players with 243 ways to win. It's little wonder that its become one of the most popular online casino games on the market.
Twin Spin also boasted a retro 1980s design complete with bright colours and lots of flashing neon. That's all retained in Twin Spin Deluxe, although the graphics are a bit crisper. There are still two identical spinning reels as well of course, it just wouldn't be a Twin Spin game otherwise. However, there aren't 243 paylines here. In fact, there aren't any 'paylines' at all. Instead, you create 'clusters' of matching symbols to win the cash. That places the game in another group of NetEnt slots.
The Latest in the Cluster Pays Series
Although its name doesn't reflect it so clearly, Twin Spin Deluxe shares the same winning concept as Aloha! Cluster Pays and The Legend of Shangri La: Cluster Pays. You create clusters of 9 touching, matching symbols or more to win the bigger the cluster, the bigger the prize. The Cluster Pays games are extremely easy to play. Perhaps that partially explains their popularity with a wide range of players. If they weren't so popular, NetEnt would stop making more slots with the same concept.
Twin Spin Deluxe has an advantage over the other two Cluster Pays games though. Lest we forget those two matching reels with their identical symbols. It's not difficult to appreciate how they could help you create clusters and therefore win some cash. The demos we've seen bear that out. It's an interesting combination of two different, unique NetEnt features and we can't wait to see how it plays out at Unibet.
Play Twin Spin Deluxe at Unibet from January 10th 2018
The game also boasts a maximum payout of 1000 times your stake, but we expect it to be a low volatility game like Aloha! so it will appeal to a wide range of gamers and shouldn't leave you too far out of pocket. Remember, it's only available a select number of online casinos from its release date, which is January 10th.We'll be playing at Unibet and we fully expect them to offer some launch day free spins to usher in the new year in style.
We've got no qualms about spending a week or two playing exclusively at Unibet to celebrate the release of the latest game from our favourite provider either. After all, this is one of the very best online casinos around and its many awards prove it. If you haven't played there yet, register now for 10 no deposit free spins plus a 100% bonus and up to 200 free spins when you first deposit.