When a casino chooses to name itself Casino 2020, there can be little doubting the year of its launch. But in truth, if it were called something completely different, then I would have assumed it was a new online casino as soon as I landed on its homepage. Why? Well, because I've never seen a brand with so few games. I was clicking through all the different tabs, refreshing the page, looking down the back of the sofa and still I couldn't find the 'rest' of its slots. I genuinely assumed I was looking at a filtered version of 'popular games' or something. But no, Casino 2020 really does have just 21 games at the time of writing in May 2020's Coronavirus lockdown. But guess what? I LOVED my time playing here, no word of a lie. Let me try to explain why in our 777 Casino 2020 Review.
Now, we're used to extolling the virtues of casinos which hit the market having already partnered with the biggest software companies in the business. Names like NetEnt, Microgaming and Play n' Go. But Casino 2020 isn't like that. It's a maverick, determined to take a different approach. So, its team have decided to build their own in-house games based on their own concepts from scratch in the UK, then release a new video slot every month. It's little surprise, then, to learn that its sister brand is Pocketwin, which does the same. Indeed, the two share some games. But to ensure that they aren't replicas for each other, the Casino 2020 team are building games that are unique to their site alone and not even shared with sister casinos. This means you genuinely get a unique experience when you play here.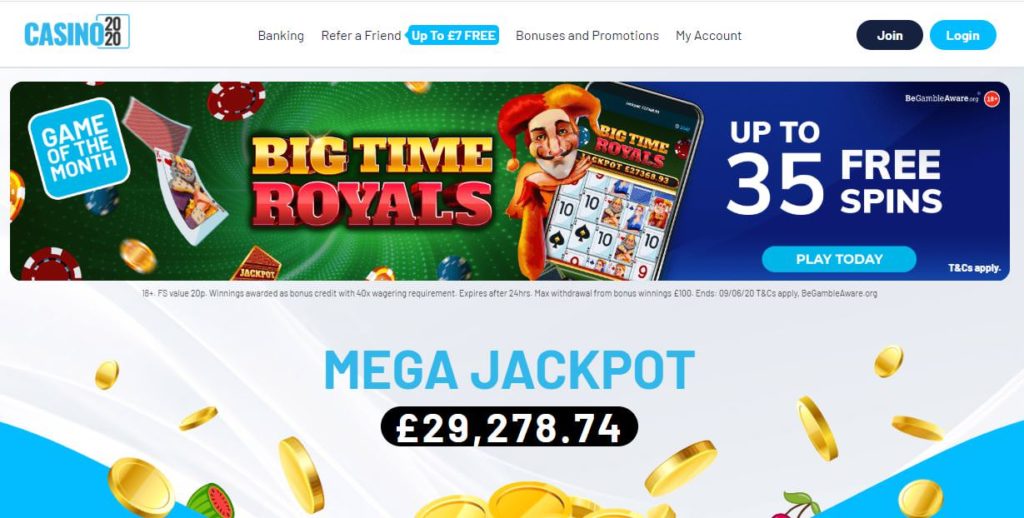 The small number of games helps keep the site design tidy as well. This is an online casino that a toddler could navigate around, whether on desktop or mobile. This site is supported by some of the clearest content we've come across too. Full marks for both the jargon-free explanation of wagering requirements and the little explanations attached to each of the games. The latter helps you pick a game which suits your style. The 'My Account' section is similarly easy to use, and I like who your deposited cash is so clearly removed from bonus cash, so you're never in any doubt about your cash position. Casino2020 also provide you with a fully updated view of your progress against any outstanding wagering requirements, which brings me nicely on to bonuses, because boy do they know what players want in that regard. Starting with one of the best no deposit welcome offers you'll find anywhere.
Casino 2020 Mobile Casino
You can play Casino 2020 on the move via either a browser or by downloading their app. The simplicity of the site translates well to smaller devices and is optimised for smartphone and tablet use. You can make deposits and withdraw your hard-won cash from the mobile casino, and all the games are available too. You don't really lose any functionality at all. It's so close to the desktop version that there isn't too much else to say, everything works great.
Casino 2020 Bonus
I only signed up with Casino2020 to complete this review. I've played for about 2 hours and yet I've already had an extra bonus chucked at me, even though I've benefitted from an almighty registration promo. I suspect that Casino 2020 appreciates just how competitive the market is and how new online casinos can sink as quickly as they arrive. By providing a new player with a whopper of a no deposit bonus and indicated their intention to provide more bespoke bonuses quickly, they are likely to earn followers.
Casino 2020 No Deposit Bonus
Like Pocketwin, Casino 2020 offers new members a chunk of no deposit cash to play with. It's the same process to collect it too. You register and then receive a code by SMS to verify your account. You will then you get to spin a 'wheel of fortune'. There are lots of different bonus amounts on the wheel, and you receive the sum you land. The maximum you can pocket is £20, and to my surprise, that's exactly the amount I got. Cynicism reigns and you usually expect the highest amounts to be nigh in impossible to land, so I was pretty chuffed. There's a good chance you'll end up with at least a £10 no deposit bonus judging by the wheel – more than try out some of those new games. There's more too – because you also get a bundle of free spins – with no deposit required.
Casino 2020 No Deposit Free Spins
Yep, not even Pocketwin handed me both no deposit cash AND no deposit free spins. This is why the Casino 2020 welcome bonus is so clearly one of the best in the business. I'll admit I was confused about how to collect my free spins when I first wanted to use them. Having spun the wheel of fortune, I played through some rounds before I was offered the free spins. Having finished my first session, the wheel popped up again, and I spun it to claim 8 spins on the Cleopatra Prizes slot. I even managed to pocket a couple of quid's additional profit from those spins, which was converted into bonus cash.

Casino2020 Cash Match Bonus
Your no deposit bonus provides the perfect introduction to Casino 2020, and there's more to come when you make your first deposit too. That activates a cash match 100% bonus up to £100. Your second payment triggers a whopping 200% bonus up to £200 as well. Perhaps even more excitingly, your 1st deposit also activates the first of 400 free spins on various Casino2020 games. You'll receive 20 free spins every day for 20 days, but you do need to use them on the day they are credited because they expire at midnight.
Casino 2020 Bonuses
I mentioned earlier that I was presented with more freebies before I'd even made a deposit. It all happened quickly too. I played my spins on Cleopatra's prizes, and the wheel of fortune appeared again, I spun it and landed 12 more extras this time on the Cosmic Wilds slot, which I'll discuss more later. Indeed, the Casino 2020 team pledge lots of bonuses by text message as long as you opt-in. This approach stands in place of a loyalty scheme, providing a personalised experience. If you deposit £20, you also gain automatic entry into a monthly prize draw, and they attach regular bonuses to newly released games. With a £7 refer-a-friend scheme and social media competitions, you won't want for promotions. You don't need any bonus codes to collect your extras; they are credited automatically.
Casino 2020 Bonus Terms and Conditions
Casino2020's clear explanation of wagering requirements and how they work is commendable. They don't bury much in small print. You can win a maximum of £100 using your no deposit bonus presuming you can play through the monetary value of your bonus x40. The same terms apply to the cash match, and you need to credit your account with at least £10 of your own money to secure that too.
Casino 2020 Games
With only 21 in-house games developed at the time of writing, Casino 2020 is possible the smallest, new online casino I've ever visited. But the limited choice means that I can plunge into an unusual amount of depth about some of the ones I played. I must impress upon you the rudimentary nature of the site to avoid disappointment. There's no live casino yet, nor are there table games like roulette or blackjack. It's 21 video slots, and they're releasing a new one each month. But there's absolutely no compromise on quality from what I've seen. Here's three of the games I played in a bit more detail. I played each for 15 minutes so I can give a good indication of how they perform and pay out.
Lion Spirit
This was the first slot that caught my eye when I scrolled the games grid (clearly I share plenty in common with the eponymous lion which adorns the thumbnail). I enjoyed the game hugely, it's relatively basic but nicely visualised and has a beautiful ambient African soundtrack. I found that in-game wins arrived regularly, but I didn't manage to trigger the free spins or jackpot, which is your best chance of a big win. I did enter the 'Lion's Share' bonus feature a couple of times. Here you pick one of four boxes which hides either a lion symbol, which activates a free spins round or a multiplier. I got a x35, and x40 multiplier on my first two goes. Having bet the lowest stake amount of 20p across all win lines, I ended up £3 down after 15 minutes. You need to the free spins round to achieve more.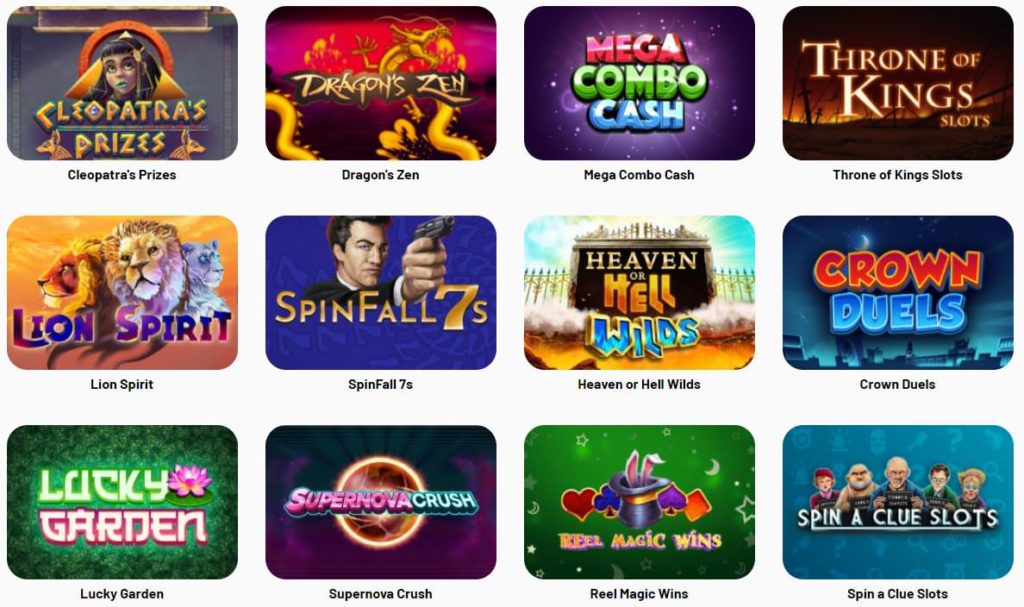 Cosmic Wilds
This is one of the slots that Casino2020 shares with Pocketwin and boy for such a simple theme (space – it's nothing new) with a basic 5×3 reel structure, it's addictive. I absolutely loved this game! Of course, it always helps if you're lucky enough to win big. I hit the free spins round twice during my 15 minutes, and the 2nd type in particular was very lucrative. The round has its own set of higher paying symbols and some very cool Wilds which stay on the screen until they count down to zero, helping you win multiple times. There's often more than one wild on the grid so you can accumulate quickly. Another natty feature of the main game allows you 'gamble' any win in a little wheel of fortune game with three difficulty levels. It's loads of fun. I ended up over £10 up after 15 minutes despite only betting 18p on each round.
SpinFall 7s
SpinFall 7s is clearly inspired by 'Skyfall' and '007'. Yep, it's another British agent, James Bond game! But what it lacks in a unique theme, it makes up for with its gameplay. Its deceptively simple games grid belies some great animation as you play and excellent audio and while my session started slowly, it quickly accelerated. I managed to land the bonus game where you get to play Blackjack, and the value of your hand translates into a win no fewer than four times, two of which led to big wins of x60 and x80 respectively, the latter worth a giant £7.50 from a 30p stake. Just as I was about to finish up, I finally hit the free spins round as well, although it's pretty bog-standard once you are in. Overall, I ended up about £4.50 up after 15 minutes, playing the minimum bet of 30p per round
Best Slots 2020
Those were the three games I played most, but I also dabbled with some of the others like Supernova Crush and Throne of Kings (read 'Game of Thrones' tribute). There's nothing too flashy about any of them – the whole range is built around a simple 5×3 reel layout. But they look and sound modern, and the gameplay is unquestionable. The selection may be limited in size but it doesn't lack for fun.
Casino 2020 Mega Jackpot
One final point to note about the games at Casino 2020 is that all of them contribute to the same Mega Jackpot that is shared across the whole site. I guess this is another advantage of building your own cool features like this. The Mega Jackpot stands at just under £26,000 as I write but is likely to grow bigger as more people join Casino2020.
Casino 2020 Customer Support
Although they're a newcomer, Casino 2020 provide customers with support by live chat, dedicated phone line and email. You can also text a free number with the word 'HELP', and they'll call you back if you need help. The chat and call back functions are available 24/7 – it's a really impressive service for an online casino in its infancy. I received a friendly live chat response within 30 seconds when I tried (in the middle of the afternoon immediately), so there's no cause for complaints. Registration was a doddle anyway, so I didn't need to contact anyone to help with that, nor did I experience any issues activating my bonuses. And as I said before, all the content is very clearly explained. I'd say their support is better than you'll find at many more established sites, although it's only available in English. Let's hope they keep it up.
Casino 2020 Cash Withdrawals
Here's where Casino 2020 does perhaps betray its youth. Banking options are minimal, and you can only withdraw via bank transfer, Visa or Mastercard (debit cards only – remember that credit cards are now banned at UK online casinos). Because they don't support any of the major or indeed minor eWallets, you can expect to wait a few days for your money. Your options are also limited when you deposit, although they do let you make payments via your phone bill, which is unusual. Other than that, you're confined to debit cards or Paysafe. We'll see if they start offering more options as they grow.
Casino 2020 UK Licence
Casino 2020 has a license from the hugely respected regulator the UK Gambling Commission as well as the Malta Gaming Authority. Players from most countries which allow gambling can play. They operated from a safe platform so you can enjoy playing with barely any risk to your personal details or payment information. You will of course need to submit ID documents before you can access any winnings but that process is painless.
Summary
This is one occasion where a new casino surprised me. When I realised the selection of software was so sparse, I didn't expect much. But you soon forget about the lack of games from the bigger providers, largely because the titles they've developed in-house are so full of features. By registering at Casino 2020, you will gain access to a set of slots which you won't find anywhere else. They obviously appreciate the risks their taking – as evidenced by the no deposit bonus – but you can sense the time and effort they've put into creating this excellent gaming platform. With excellent customer service, no-nonsense communication and a rolling Mega Jackpot, this little brand might just be a genuine casino to watch in 2020.