Happy Hugo is likely to grab your attention from the outset. It certainly captured ours. This can be attributed to a major selling point, that you don't find too often elsewhere. In fact, I've been canvassing opinion at 777 Casino HQ and we're all in universal agreement – Happy Hugo might just be doing something that no other site can currently offer. We've given it the big build up now, so it had better be good if we don't want to end up with egg on our face, right? We'll, we're pretty confident. That's because every bonus at Happy Hugo comes without wagering requirements – no ifs or buts. Free spins, cash bonuses…the lot. Any winnings are yours to keep straight away. The bonus strategy is impossible to avoid and discuss, but it's not the only reason why we love Happy Hugo.

HAPPY HUGO LOGIN
This online casino has been put together by experts, and it shows. It's neither fluffy or stuffy, gimmicky or dull. Happy Hugo is just a classic casino design with a crisp colour scheme and attractive layout. The structure of the site gives prominence to two sections in particular – the games grid and 'Club Hugo', where you'll find the latest promotions, bonuses, news and winners' roll of honour. Both sections are indicative of the design team's simple approach to design. Pages are given room to breath thanks to a predominantly white colour scheme, wide and uncluttered borders, as well as minimal written content on the main pages. The end result is a tidy, attractive online casino that's engaging without being at all garish.
We presume that the site's mascot is Happy Hugo himself. He's quite a familiar looking character, whose probably best described as an alien (although I do have a friend with a very similar shaped head, and he is human). Happy Hugo proves to be a cutesy addition to the site's bonus promotions, and he pops up quite often. He's fun enough, if not particularly unique. Creatures like him are a common feature of online casinos these days by the looks of it. Casumo led the way, and others like PlayFrank and Cashmio have followed suit. But these mascots serve a purpose; firstly by providing a theme for animators to work with, and secondly because they're fun. The character compliments Happy Hugo's minimalistic site design beautifully.
IS HAPPY HUGO EASY TO USE?
As we've already discussed, Happy Hugo favours ease of use above all else. It's one of those sites that makes you appreciate how simple a site can look, and equally how badly some online casinos cock up their UX. The fact that the design team have stripped the whole shebang down to those two main sub categories without leaving you clutching in the dark says it all really. Along with the games section and Hugo Club area, you only real need your player portal, from where you can deposit, withdraw and manage your Happy Hugo experience. As if they hadn't made everything easy enough already, the team also ensure that customer support is only ever one click away as well.
Talking of customer support, the live chat function is open between 10am and midnight CET every day. We always prefer 24/7 coverage of course, but this is still a relatively young site. They may well increase their customer service hours over time, but for now it's adequate and the team are friendly and happy to help. A helpful, sub-sectioned FAQ question supplements the 'human' contact as well, and you'll often find the answer to your query there. The content is opaque and clearly written so it should be your first port of call if you hit any snags. Finally, Happy Hugo commit to 24 hour withdrawal processing, which is impressive again from such a new online casino. The site gets a thumbs up from us. From registration to withdrawal, we've found it incredibly easy to use.
HAPPY HUGO GAMES
You can filter the Happy Hugo games catalogue by provider, so it wins some brownie points for that. The filtering system couldn't be easier to use, just click on the corresponding logo to show games from just that supplier. You can even filter by more than one provider at once. So, for example, you can see NetEnt and Betsoft games together, but nothing else. Those two studios provide the lion's share of the online slots for Happy Hugo, but a smattering of offerings from the likes of GameArt, iSoftBet and Hollywood TV provides a bit of added variety. The latter was a completely new name for us, and it turns out that they only supply table games, so that probably explains why. But we're all for something a bit different.
The providers list is relatively small compared to some of the industry's behemoths. There are no Play N' Go, Playtech or Quickspin slots. MicroGaming is also absence, so there's no place for the most famous progressive jackpot of them all – Mega Moolah – in the Happy Hugo games suite. Strangely, Happy Hugo doesn't compensate for that absence with a full range of NetEnt network progressive games. Quite the contrary in fact! Despite a huge selection of NetEnt video slots, none of the jackpot games feature, which is a shame. There is some salvation though, thanks to a whacking, big collection of Betsoft local jackpots. Plus, the standard games collection is more than good enough elsewhere, especially for slots fans. You won't lose interest in a hurry, unless you only want to play for millions (or indeed in a live casino, because there isn't one of those either).
HAPPY HUGO BONUS
As we said right at the beginning of this review, we haven't come across another site that approaches bonuses in the same way as this one does. Sure, some online casinos have dumped wagering requirements in favour of an entirely new concept. But Happy Hugo is different. The team have kept the same bonus structure, but removed the wagering restrictions that are typically attached to them.
This all casts your welcome bonus in a whole new light. The 'no wagering requirements' approach applies to both free spins and cash bonuses, but only the latter feature in the welcome package. You receive a fresh cash bonus with each of your first five deposits. Bonus money is credited to your account on top of your own cash, but any winnings generated from the funds are made available for withdrawal. The value of the bonus is simply removed at the point of withdrawal where necessary. It's a lot cleaner, and much better for the player. That's you by the way. Your first deposit bonus is a 100% bonus up to £200 as well. Here's the full breakdown of the others:
5% BONUS: For every deposit of £20 – 49
10% BONUS: For every deposit of £50 – 99
20% BONUS: For every deposit of £/€200 – 299
25% BONUS: For every deposit of £/€300 – 499
30% BONUS: For every deposit of £/€500 – 1000
WHY BECOME A REGULAR AT HAPPY HUGO?
If you can't guess the answer to this question, then you clearly haven't read much of our review. Just as the 'all bonuses with no wagering requirements' shtick is attractive to new players, it's a great way of retaining the ones you have too. Happy Hugo know this, yet they don't overplay their bonus philosophy. The strategy is in place, however, and it can only benefit players. Check out Club Hugo for the latest bonus promotions, and remember that all free spins comes with no wagering requirements as well. You'll have plenty of opportunities to pick up a bundle or two.
More than anything, the bonus strategy is indicative of Happy Hugo's overriding attitude towards its players. Stick it with their pledge to process all withdrawals within 24 hours, and you have two of incredible ingredients for success. Happy Hugo is still building up its player base, but you get the impression that it might just take off. If you want to beat the crowds, register and start playing soon. There's lots to love.
HAPPY HUGO MOBILE CASINO
The Happy Hugo mobile casino looks very identical to its desktop counterpart. The subsections and menu items are virtually identical, and mobile players have pretty much the same functionality too. It's an impressive exercise in continuity that will help those of you who play on a combination of desktop and mobile toggle between the two effortlessly.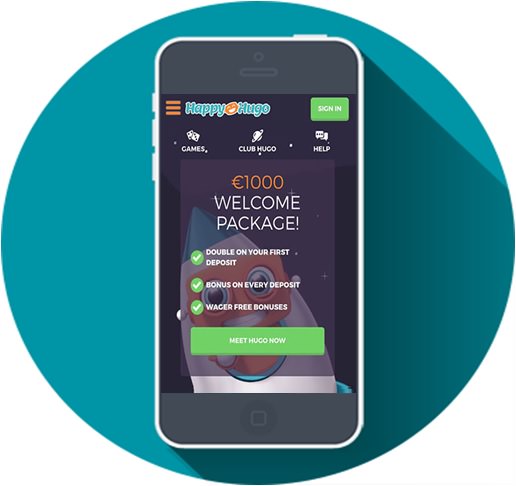 The mobile casino is fully optimised for Android devices of all shapes and sizes, as well as iPhones and iPads. It loads directly from your browser, so there's no need to download a bespoke app. Again, the Happy Hugo team have provided a lesson in UX and effortless design. The mobile casino is an beautifully signposted, awash with concise but useful content and generally a doddle to use. It's up there with our favourite portable sites.
HAPPY HUGO REVIEW
We've spoken about some of the Happy Hugo features that we love already in this review. But for all the excellent UX, uncluttered site design and excellent range of NetEnt games, we can't help feeling that these attributes are the supporting cast to Happy Hugo's obvious stand out feature of wager free requirements.
The commitment to 'no wagering requirements on any bonuses' is gaining some traction, as you'd expect, and we wonder how long it will be before other brands catch on and the concept becomes the norm. There are signs that more new sites are likely to follow suit, and bonuses are changing. But Happy Hugo is ahead of the curve, and given its other likeable attributes – excellent UX, friendly customer support, fast withdrawals – it should be rightly considered one of the best new online casinos of the last couple of years. We'd like to see even more games variety added over time, but that's nit picking really. Sample what life without wagering requirements feels like at this excellent little site.