PocketWin is the sort of online casino and gaming platform that's a household name to some, but completely alien to others. The UK operated site is only small in comparison to many of the industry behemoths, certainly when you compare the size of the respective games catalogues. In fact, you could describe it as positively tiny! However, its selection of slots, bingo and other casino games is smaller for a reason.
You see, PocketWin develops all their own software in-house, meaning their games are unique. Other than a few which are shared with its sister sites, you can't play them anywhere else. It hasn't partnered with any of the industry giants like Microgaming or NetEnt and steadfastly sticks to its guns. They openly state their intention to release a new game each month as well. It's a refreshing formula and one that has won them a significant following of loyal players – as proven by the popularity of PocketWin as a Google search term.
PocketWin Bonus
When you do the job I do, you end up spinning slots at a LOT of online casinos. I'll level with you though; I had never signed up with PocketWin before I came to write this review. That gave me a great opportunity to register from scratch as you, the reader, would. My experience certainly started with a nice surprise – in the form of a free cash no deposit bonus.
Yep, PocketWin is one of a select group of online casinos which still offers a genuine cash bonus rather than no deposit free spins to welcome newcomers. Cash bonuses are more versatile than free spins because the latter tend to to be attached to a specific slot or group of slots. They've pretty much died out like the dodos in recent years, so it's a pleasant surprise to see a successful online casino and bingo site continue to offer an exclusive free money bonus to new players.

PocketWin's Terrific Tiki Treats!
Date: 7 July – 4 August 2020
Promotion: Win a holiday or share of 50,000 FREE SPINS!
Hula! It's totem-ally time for a getaway! PocketWin has hooped-up the chance for players to win a holiday, or a share of 50,000 Free Spins this summer with these Terrific Tiki Treats! Players have from 7 July – 4 August to enter! The PocketWin clocks are tiki-ng down!
PocketWin Free Bonus
Here's how the PocketWin bonus works. Sold as 'up to £10' free, you are invited to spin a wheel of fortune as soon as you join. The wheel contains various cash amounts from a couple of quid up to a maximum of £10. You spin the wheel and wherever it lands dictates the bonus amount you receive. I earned £5, and it lasted long enough for me to try out at least of dozen of PocketWin's bespoke games.
PocketWin Free Spins
The cash bonus is a cracking little sweetener for newly registered players and is utterly versatile. You can use it to play any game you like! There's less need for free spins in that world but allow me to let you in on a secret – I got some anyway!
I can't promise that every new registration will result in no deposit free spins, but it's certainly a good indicator of how Pocket Win looks after its members.
PocketWin Promotions
The beauty of all these no deposit rewards is that they let me try some of the games, none of which I'd played before. My bonuses and the winnings generated from them kept me going for quite a while. When you've used the bonus up, however, you can make your first payment into your PocketWin account to get a massive 200% match bonus up to £100. This effectively doubles the value of your deposit in bonus cash. So, if you pay in £20, you'll get £40 worth of bonus money to play some great online slots. You can use the reward across any of the website's sections – casino games, slots or bingo.
You will also receive regular bonuses as a frequent user of PocketWin. If you like, they'll email you bespoke offers from time to time. Plus, every time they release a new game, you can take advantage of opportunities to play it for free. Finally, there's a £5 refer-a-friend scheme, and you can earn a further reward if you engage in social media activity on PocketWin's various platforms.
PocketWin Bonus Terms
The free cash bonus and extra spins expire within seven days so it makes sense to claim and use them quickly. x40 wagering requirements do apply to these promotions, so you will need to play through the value of your bonus 40 times before you can access any winnings. As ever, wagering requirements decrease the odds of you making any money with your bonuses, but it is possible to win. Plus, they give you the best opportunity possible to try out Pocket Win without risking your own hard-earned cash.
PocketWin Games
It's quite refreshing to embark on this section of a review and not mention the usual suspects like NetEnt and Microgaming, as much as I love them. PocketWin's decision to limit their catalogue to their in-house games only is a brave one, and on balance, it pays dividends. Yes, it does mean that the volume of available titles is somewhat more modest than a LeoVegas or 888 Casino. But you soon forget about that as you work your way through a new suite of software that you've never seen before. Most of the games are unpretentious with simple gameplay. But they look good and generally offer excellent RTPs. It's easy to see why PocketWin has gained such a good reputation with those who use it.

PocketWin Slots
Let's start with the PocketWin online slots, of which there are 44 in the range at the time of writing. It's easy to be sceptical about the quality of these games, so I found myself approaching them with quite low expectations. I tried out a good dozen in total, and the layout of each game is basic in comparison to some of the innovative releases from more prominent software companies. All of them are arranged in a classic 5×3 reel/row grid format, and most have between 10 and 20 bet lines. Nor are there too many flashy animated intros. Some of the themes seem familiar too. Spinburst is a fairly faithful tribute to NetEnt's Starburst, while Monkey Mask Madness will remind you of Aloha! Cluster Pays. Elsewhere, you'll find Viking themes, crime games and traditional 'fruit machine' style games. Nothing seems out of the ordinary right?
But then you start playing the games. Sure, they may not be the flashiest, but they are all brightly rendered and look good. You'll find plenty of attention to detail and little in-game animations. 7 Deadly Spins was my favourite of those I played and featured plenty of blood splatters and tributes to famous movie villains, in keeping with its bloodthirsty theme. Every game has a bonus feature, ranging from 'pick a box' and match games to potentially lucrative free spins rounds. I landed these rounds with a good frequency, leading to some solid wins. Ultimately, I enjoyed all the slots and found myself coming back for more. It's exciting to have so many new titles to try out! Furthermore, Pocket Win include both a standard prize pot AND a hefty progressive jackpot in many of their biggest video slots.
PocketWin New Games
I mentioned this earlier, but it's worth reiterating. PocketWin aim to release a new game every month, and they celebrate by offering players all sorts of freebies to encourage them to play it. I'm pretty sure this is why they gave me Viking Slots free spins when I registered! You can check out the games grid to find out what's new. The latest online slot release is always sat in the top right-hand corner of slots section. Make sure you opt-in for emails too because you'll often find out about newly developed games and their accompanying bonuses through that source.
PocketWin Jackpots
You can see the available jackpot on any of the slots which offer a progressive prize before you click on it and play. It's displayed on the accompanying thumbnail image. Considering they are unique to the site, some of the prize pots are very decent too – reaching well into six figures. I've picked out a couple of the best for you below.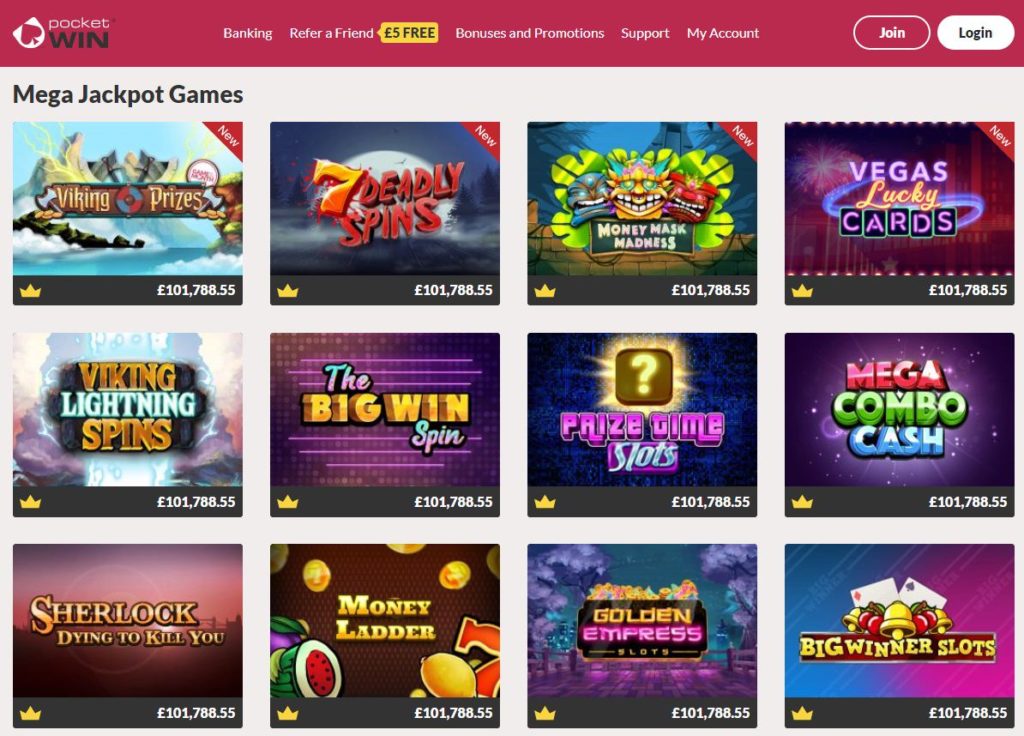 Jackpot Agent
Jackpot Agent is unashamedly inspired by James Bond and it's the most popular PocketWin game. The slot is faithful to its theme, from the agent in silhouette holding a gun to the blood dribbling down the screen. It's also one of the oldest games in the Pocket Win repertoire, which shows a bit. The audio is a bit 1990s, and the board is basic, but the real attraction is here is the generous paytable and 6-figure progressive jackpot. Wins come along at regular intervals, particularly if you play with a full complement of paylines. I ended a 20 minute session about £3 up from a modest £5 outlay.
Cheese Chase
I must admit, I found wins harder to come by in this game. Cheese Chase is another ratings hit for PocketWin and again includes a progressive jackpot. There are only nine paylines in the main game, perhaps explaining why the wins don't come thick and fast. But if you're lucky enough to trigger the bonus, then you roll a dice to direct a mouse around a board full of multipliers and prizes. If you land on the wrong symbol, your mouse gets splatted, and you go back to the main game. But land five jackpot symbols and you win the big prize. It's a really fun little slot game! I finished my 20-minute session on Cheese Chase with a 40p loss.
PocketWin Casino
I could spend a good while longer talking about the PocketWin games given how exciting it is to have new slots to talk about. But it's high time I moved on to the site design. The platform certainly makes a good first impression. It looks great and the registration process is straightforward enough, although I did experience a couple of minor issues. Firstly, the site couldn't find my exact home address but wouldn't let me free type it either. Secondly, they ask you for mandatory details of your 'occupation' without explaining why! These are minor issues but issues all the same. When you're through all that, PocketWin sends a four-digit code to your phone. Punch that in to spin the wheel of fortune and secure your bonus.
The rest of the website is an absolute doddle to navigate too. There are dedicated sections for the casino games, slots and bingo games. You can also click through to a special promotions section which clearly lays out all the latest deals. Deposit and withdraw money from the 'Banking' tab although simplicity trumps wide-ranging choice here. You can only withdraw via bank transfer, debit card or Paypal. The inclusion of the latter is good to see. Paypal's model doesn't always appeal to online casinos because it tends to charge them for transactions, but players like to use it. If you're in the UK, you can also deposit via your mobile phone bill. That's not something you see very often!
PocketWin Download
When you click on a slot game, you're presented with three options – Play Now, Download or Demo. The former is the instant play option, which you can use within a browser. The latter gives you the chance to play try the game out for free before you bet real money, which is a nice touch. The 'download' option, however, directs you to your mobile device. PocketWin sends you a link so you can download a mobile-friendly version of the game as an app.
PocketWin App
There are a couple of important things to note here. Firstly, while you can play slots within your browser, you can only play the bingo or casino games (they only offer roulette or blackjack) by downloading the game to your phone. Secondly, you download these games as separate 'apps' which is highly unusual. Or at least that's how it seems.
Fear not, however, because there is a PocketWin app which includes everything you find on the desktop site, with the bonus that you can play bingo or table games as well. If you want to play from a phone or tablet, it's best to just download the app rather than mess around with individual games. The app is available for iPhone, iPad and Android devices.PocketWin Customer Support.
PocketWin is a UK operator with a 24/7 customer support centre. Players can contact the team by email, live chat, or telephone . You can also message the team and request a callback, which is a nifty little addition you don't see too often. The team respond quickly and clearly from what I've seen, and the feedback around the internet is generally positive too. The only complaint we've come across related to the ID verification process but I didn't personally have any issues with it. PocketWin takes its duties towards responsible gaming seriously as well, with regular reminders about deposit and session limits. I've got no complaints about the PocketWin customer support!
PocketWin Bingo
Finally, I promised I would mention it, and I'm not one to lie so here goes. PocketWin Bingo is just as popular as the PocketWin Casino. They've worked damn hard to create a great community feel where you can chat to other players and it shows. Sure, you'll find more game choice elsewhere, but what's there is great and works perfectly for PocketWin Bingo. They haven't attracted legions of followers in a saturated market by luck alone.
Summary
I don't think I had the highest expectations when I clicked 'join' and started to register with PocketWin. Here's a site that's out on a limb with a bespoke set of games, and none of the familiar slots which I play every day. But you know what? Within a few hours, I was sold! The games are outwardly simple but deceptively moreish, and the site is just so easy to use! Plenty of players will enjoy the community spirit of the bingo section and if you're a regular casino player, then it's just great to have such a large collection of untapped games to play. The slots pay well and look good. Plus the no deposit bonus you get when register with PocketWin helps you get a proper feel for the platform right from the off. I like it a lot, and there's absolutely no reason why you won't too!