You could never accuse Rizk Casino of following the crowd. For starters, is the only casino that's run by an apparent 'superhero'. Yes, on the face of it, Captain Rizk does look like a fairly skinny model in a lycra suit but Spiderman hardly had the physique of Thor and there are photos of the Cap'n flying and everything. Yes, the theme is unashamedly gimmicky but it provides a strong piece of branding that has been accompanied by no-nonsense marketing material. It seems to be working too. Rizk is doing well, helped by its relationship with established casinos like Guts. There's an experienced team behind this online casino and such knowledge usually translates into an excellent gaming experience.
RISK CASINO LOGIN
Rizk is unashamedly brash. There's no attempt made to be subtle, it wants to be noticed and wants you to remember it. on the Rizk casino login page, the titular superhero appears everywhere, clad in his red and yellow suit complete with cape. We can't decide whether he's modelled on Flash Gordon or Captain Incredible so it's probably a mixture of the two. He even has a Batman style searchlight signal. But then there's the Captain Rizk mask, which looks like it's been bought from one of the shadier shops of Soho. It's all good fun though and provides a focus for many of the site's offers and promotions. He really does appear in every promotional piece, the many who plays him has earned his corn.
Elsewhere, their design of the site is attractive. The brashness can occasionally be a little distracting but this is not the casino for you if you're looking for a super sophisticated and straightforward site. They also tone down the more garish design touches on the games page, which has a traditional look with thumbnails set atop a black background. Captain Rizk is much less prevalent here than he is in other section of the casino. The lack of distractions when you're playing are welcome.
Beyond the brash exterior, Rizk is an intuitively designed site when you get down to the nitty-gritty. It's keen to signpost some of its unique sections, including the Wheel of Rizk and Rizk Insider section, which are both given direct links from the homepage's side menu, along with the games grid. We'll come to the Wheel of Rizk later, but the Rizk Insider is a useful section containing information about the latest promotions and tournaments all in one place. Live chat is also available from each page should you need to speak to an operative. Response times are usually seconds, not minutes from our experience.
Depositing is easy, withdrawals are quickly processed and there are few concerns of note. We did have a problem registering because Rizk didn't like the fact I was registered and inactive at sister site Dunder, however. It was all a bit odd and I received different messages from the separate support teams. It was eventually resolved and I'm sure it's unlucky to affect your own experience but we're an honest bunch at 777 Casino and like to mention these foibles. Plus, I like a grumble once in a while (I'm English). It shouldn't be a problem for you. The site is very easy to use when you are signed up.
RIZK CASINO GAMES
The Rizk games collection is growing all the time. They have a well-structured catalogue, featuring lots of titles from NetEnt, MicroGaming, BetSoft, Play N'Go and Evolution. There are some simple filtering options to allow you to search by provider or shared characteristic (always welcome) but elsewhere they are a touch more creative. They've grouped games together by theme such as 'Hollywood', 'Action and Adventure' or 'Horror'. It might be a small feature but it's different. And when you play at loads of different online casinos, you always appreciate something a little different.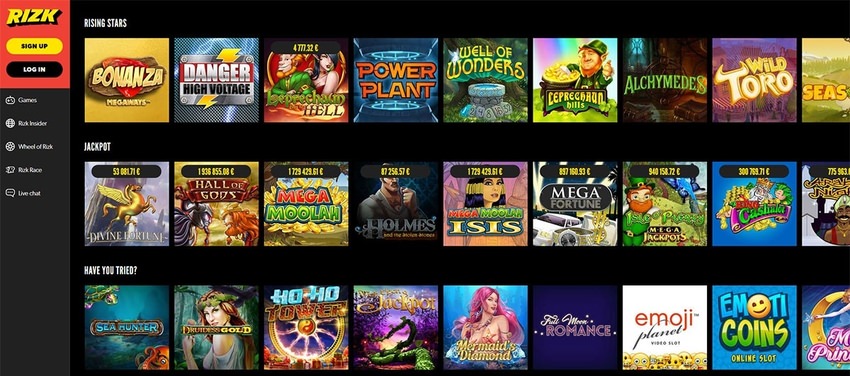 Of course, there's a Jackpot category in amongst them all. Rizk has stocked it up too, with progressive favourites like Mega Moolah, Mega Fortune and King Cashalot joining a host of local jackpots to form a catalogue that totals 21 games in all. The Live Casino is also found in amongst these bundled categories. It's powered by NetEnt and you have a choice of ten high quality, live action games.
RIZK CASINO BONUS CODE
The Rizk welcome bonus gives us the chance to expand a little on the Wheel of Rizk, a function that is prominent in the casino's promotional tools. When you register, you are given free spins on the wheel with no deposit necessary. It's essentially an interpretation of the classic Wheel of Fortune concept, offering real cash, extra spins or other bonuses based on a random spin of the wheel. If your luck's out, you might leave with nothing but that doesn't seem to happen too often from speaking to other players. It's more likely than not that you'll pocket something.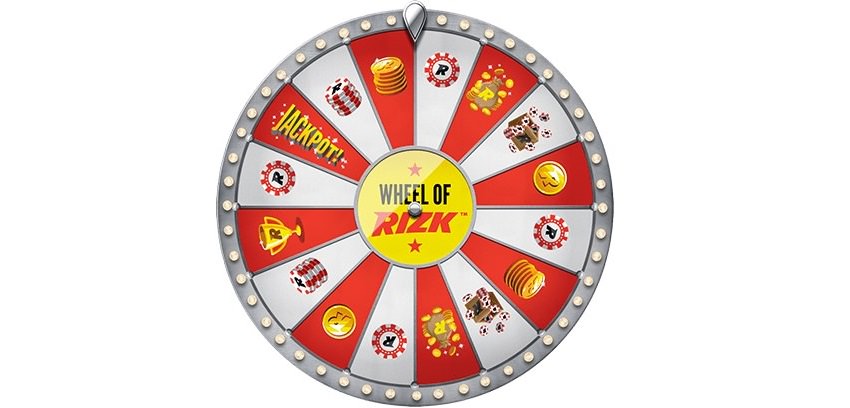 The Wheel of Rizk provides the free spins no deposit bonus but there's more to come when you make your first payment at Rizk. They have an excellent welcome bonus. They have set you up with a tasty 100% up to £50 Welcome Bonus with 40x wagering within 30 days, meaning they will double any deposit you make from £10 up to a maximum of £50. But that's not all – they will also add 50 Extra Spins on Book of Dead on top.
WHY BECOME A REGULAR AT RIZK CASINO?
It's hard to believe just how young Rizk is in casino terms. It only landed in 2016, yet has already hoovered up a few awards, including recognition as the best new casino of the year. The player journey is part of the appeal. It's not quite a full-blown adventure casino but you do receive challenges to earn rewards. What's more, you move up 'levels' as you play and when you are ready to progress, received boosted bonuses and further goes on the Wheel of Rizk. Few casinos can also match its prowess for hosting tournaments either so if you like to add a bit of spice to your playing time, look no further. This is a well-respected brand with excellent customer service and an interesting play experience.
RIZK CASINO MOBILE
The Casino has been seamlessly translated into an excellent Rizk casino mobile format. We were concerned that their busy site might not suit the smaller screen, but they have interpreted it well and their bold graphics and short bursts of text look great in practice.
There's no Rizk Casino app, it's all hosted by the browser, reflecting the trends of today (people just don't want to clog up their home screen). We've tested the casino on a Samsung S5 Android smartphone, iPhone 6 and iPad 4 and it's proved a smooth runner. It's glitch free, the functionality is great including the live chat portal and the different pages load quickly. The Rizk team have done the mobile gamers amongst you proud.
RIZK CASINO REVIEWS
I am sure our reader have by now read tons of Rizk casinos reviews, and are anxiously awaiting our verdict. Rizk Casino is certainly no shrinking violet. It's adopted a flamboyant design with a memorable theme and even chosen a name that reminds us of the risk we take every time we play. But you know what? It's also got buckets of charm and its early success shows that. It was hosting some incredible prize promotions offering dream trips within weeks of its launch and has just kept up the momentum. It won't be to everyone's taste. Whether you see Captain Rizk as strong branding or unnecessary gimmickry is down to personal preference. But with unique features like the Wheel of Rizk, a strong games catalogue, 200% welcome bonus and bags of fun, its success is easy to understand.