Norse mythology appears to be something of a muse for online slot designers. We've all enjoyed MicroGaming's classic Thunderstruck series, the second of which often features in discussions about the best game of all time. The now-defunct Playtech Thor games drew inspiration from the Marvel films about the most famous Asgardian of all, while similar themes informed the first genuinely global, progressive jackpot slot, NetEnt's Hall of Gods. Asgardian Stones is the latest installment of what's becoming something of a series, and it promises much. But for all familiarity of its theme, it shares similarities with an entirely different game altogether.
ASGARDIAN STONES SLOT REVIEW
That game is Gonzo's Quest. There are enough similarities to class Asgardian Stones as its bedfellow, even if it's not exactly a sequel. The games don't share a theme, but they do share features. I'll address those in more detail later in the review but needless to say, avalanches, colossal symbols, and multipliers underpin the gameplay. And that's something of a familiar mix. Still, when you discuss Gonzo's Quest, you're talking about one of the very best NetEnt games of all time. It's not a bad slot to imitate.
All that has everything to do with game's playability but nothing to do with the theme. Luckily, we don't think players are tired of the Norse God themes yet. Even if they are, Asgardian Stones is so beautifully rendered that it could win you back round. Make no mistake, this is a truly beautiful online slot. NetEnt's design team have excelled themselves again. The whole experience looks great, from the intro, through the main game, to the animation that accompanies the arrival of bonus features or big wins. It's the most attractive NetEnt slot released so far this year and even though I write this review in early 2018, I'll stick my neck out and predict that Asgardian Stones will be one of the best received and most popular slots of the year.
ASGARDIAN STONES BONUS FEATURES
The shadow of Gonzo's Quest looms large over the Asgardian Stones bonus features. The overall features are the same, although there are some subtle differences too. Not all of those differences are necessarily positive, unfortunately. There's no doubt that the multipliers in Gonzo's Quest slot are more lucrative, for example. Even so, the Asgardian Stones bonus features provide plenty of scope for wins, including some big ones triggered by the presence of hefty colossal symbols. Allow me to explain in a little more detail.
ASGARDIAN STONES AVALANCHE FEATURE
Rather than spinning, the symbols tumble into place on Asgardian Stones. If you form a winning line, the successful symbols then disappear and new symbols drop into replace them. If those new symbols trigger another win, the process continues. Hence the 'avalanche' moniker. The feature is a big part of Gonzo's Quest's success so it's great to see it back on Asgardian Stones.
ASGARDIAN STONES COLOSSAL SYMBOLS
Another happily rehashed feature, colossals are replicas of the standard symbol but cover 2×2 or 3×3 spots on the reel. This means they can contribute to big immediate wins. However, they also combine well with the avalanche feature because when colossal symbols vacate their spot, even more symbols can tumble down in their place. The larger symbols bash their way into position when they do appear and represent your best chance of winning in the main game. Not least because they trigger multipliers too.
ASGARDIAN STONES COLOSSAL CRUSH AND MULTIPLIERS
As I mentioned, the Colossal Symbols bash their way on to the reels. As they do so, they squash other smaller symbols. Each bash activates a growing multiplier, which can grow from x2 to x4. There's a slight catch though. If the crush doesn't create a winning line, then you will lose the value of the multiplier because it only lasts for the duration of the current turn. That can sometimes frustrate Asgardian Stones players. However, if you get on a good run then there's plenty of cash to won from the colossal crush and multiplier features.
ASGARDIAN STONES BONUS WHEEL
I haven't discussed this bonus feature at all yet and in all honesty, it sometimes feels a bit out of place in Asgardian Stones. But then I suppose that's what random features are all about! The bonus wheel can appear at any point in the main game and covers a 3×3 symbols area on the grid. You spin the wheel and win a prize depending on where the pointer lands. You can earn 5, 10 or 15 free spins or a cash prize worth anything up to 35 times your stake.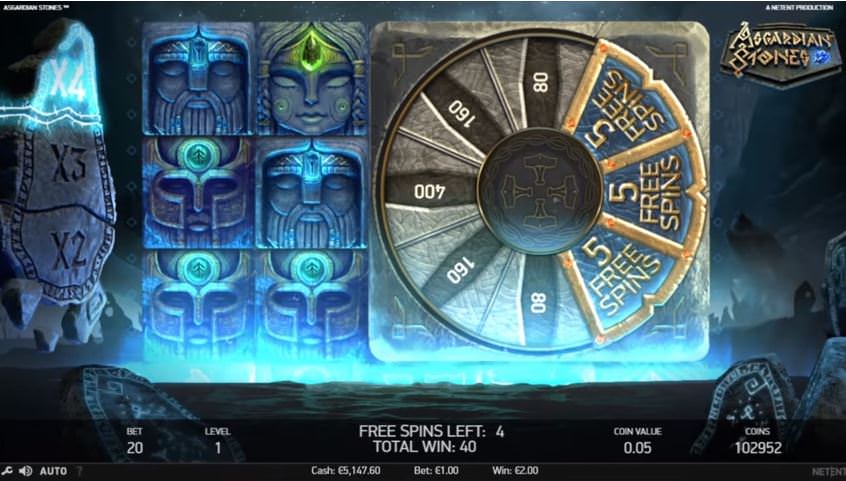 FREE SPINS ROUND
The Asgardian Stones free spins isn't as prominent a feature as it might be in other games. That's because it's triggered by the bonus wheel feature rather than scatter symbols. First, you've got to hope the bonus wheel appears. Then, you need the wheel to land on one of the free spins options. 5 or 10 free spins are much more common than 15 from my experience (I haven't seen the latter at all). Wilds can be colossal symbols during free spins, so there's potential for some hefty wins. Most of my truly big Asgardian Stones wins have come as a result of the colossal symbols in the free spins round.
WHAT ARE YOUR CHANCES OF WINNING ON ASGARDIAN STONES?
Asgardian Stones is a low to medium variance slot from my experience so far. There have been moments where I've thought big wins are just around the corner, only for the reels to conspire against me. I've also experienced the odd moment where I thought I was heading for a big win, only to crash out between x5 and x10 my stake amount. That said, on the odd occasion when I've triggered the free spins round, I've reaped the rewards. The colossal wilds are conducive to big wins.
The main game is more likely to keep you ticking over rather than line your pockets. The colossal crush does support some decent wins, but you can also lose a multiplier as quickly as you gain it should a winning line fail to come together. I don't want to paint a picture of frustration though. You can win some very decent sums on this online slot and Asgardian Stones' behaviour should keep both high rollers and beginners happy.
OUR VERDICT ON ASGARDIAN STONES
NetEnt have been on a bit of a roll in 2018, but Asgardian Stones has generated the most buzz yet. It's easy to see why too. The game makes a great first impression with its excellent visuals and combination of various bonus features. It's sits well alongside Gonzo's Quest and shares many similarities whilst maintaining its own identity. You can see why its garnered such attention from not only players, but casinos too. There were loads of Asgardian Stones free spins deals available when the game first launched, which proves that the game is held in high esteem by the industry. There's a long way to go in 2018 at the time of writing but I fully expect Asgardian Stones to end the year as one of the most important new online slots.